This is sponsored recipe for Hatch Chile Co through 15 Minute Suppers.  Recipe & opinions are my own.
I saw this amazing recipe one day while watching Trisha Yearwood on Food Network. She was fixing her yummy Hot Corn Dip, but it took like 40 minutes to cook. I kept thinking to myself, there has GOT to be a way to make this recipe and cut the time down to 15 minutes or less. I think I finally got it figured out!
This recipe is usually made with cans of diced green chiles, but I got these amazing fresh and frozen Hatch Green Chiles in to review with my recipes, so I knew that is exactly the star ingredient I wanted to use in this dish.
To use these, you just simply thaw them in the refrigerator and then pull out the amount you need. They come in bigger chunks which would work in dishes like Chicken Enchiladas, but for this dish, I diced them up to the size that I needed.
The ingredient list for this dish besides the chiles is SUPER easy and you will most likely have every single thing for this recipe already in your pantry, but just in case you don't — here is the list —
So, how did I make this dish and cut down on the cooking time? Simply bump up the cooking time from 350 degrees to 450 degrees and then throw it under the broiler for 1 minute after baking.

Hot Corn Dip Featuring Hatch Chiles #15minutesuppers #hatchChiles
Ingredients
2 (11 ounce) cans Mexi-corn, drained
7 ounces of Hatch CHiles, diced
2 cups grated Monterey jack cheese (about 8 ounces)
¾ cup grated parmesan cheese
1 cup mayonnaise (not miracle whip)
Corn chips, for dipping (Frito scoops or Tostitos scoops)
Instructions
Heat the oven to 450°F. Grease a 9 x 13-inchcasserole dish.
In a medium bowl, mix the corn, chiles, cheeses and mayonnaise until fully combined. This takes about 2 minutes to do. Spread the mixture in the prepared casserole dish and bake, uncovered, for 12 minutes, or until bubbly around the edges.
Turn the oven onto broil and leave it in the oven for another minute so that the top gets brown. Watch it and make sure that the top does not get burned.
Serve the dip warm from the oven with corn chips.
I made two batches of this — one for the house, and then one to take to a dinner party we were attending.
Enter to win!
3 winners are going to get their chance to win a Hatch Chile package of their choice.
1st Prize: 15lbs of Green Chiles
2nd Prize: 10lbs of Green Chiles
3rd Prize: 5lbs of Green Chiles
Value of all 3 prizes together is over $500!
Giveaway runs from 4/4/14 until 4/13 @ 11:59pm
You can find the form below — so be sure to enter!
Follow Hatch Chiles at any of their channels below
Follow 15 Minute Suppers on any of their channels below
Keep Reading for an Amazing Giveaway of Green Chiles worth over $400!!!
Today's 15 minute meal ideas all use Hatch Green Chiles from Hatch, NM. There is nothing better than a perfectly ripe chile and these chiles are picked, processed, and frozen within a couple hours. They are super versatile and we've created some amazing #15MinuteSuppers using these delicious chiles. There are a few appetizers and the rest are main dishes! Which one is your favorite?
Need more quick 15 minute recipe ideas? Check out these other great #15MinuteSuppers!
Follow 15 Minute Suppers on Facebook | Twitter | Instagram | Pinterest
and look for the #15MinuteSuppers hashtag too!
Appetizers
Main Dishes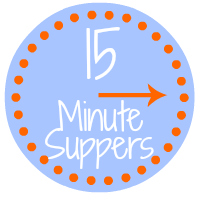 BLOGGERS: Would you like to join us at #15MinuteSuppers? We'd love to have you! Please check out the 15 Minute Suppers website or ask to join the Facebook group (for bloggers) to participate on Fridays…we'd love to have you join us.
Disclosure: This is sponsored recipe for the Hatch Chile Store through 15 Minute Suppers. Recipe & opinions are my own.