This post on 10 exciting summer reads to help you improve your life contains affiliate links. All opinions are 100% my own.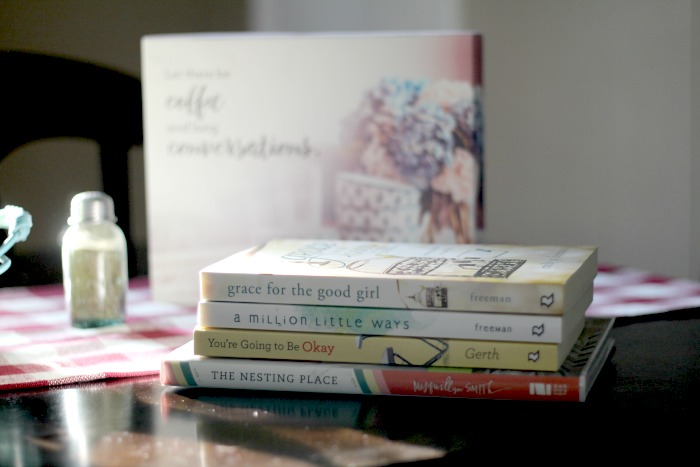 I love reading and the summer is the one time I do a lot of it. For me, reading is so relaxing. With a hot cup of coffee, my blanket and a good book, anything is possible right? Some of my favorite types of books are ones that will help me improve my life as a Christian. Many of my books I purchase from Dayspring.com., so today I thought I would share with you 10 exciting summer reads that just happen to be on sale right now.
10 Exciting Summer Reads to Help You Improve Your Life
#1 Grace for the Good Girl
By Emily P. Freeman
What would happen if we let grace pour out boundless acceptance into our worn-out hearts and undo us?  If we dared to talk about the ways we hide, our longing to be known, and the fear in the knowing?  In Grace for the Good Girl, Emily Freeman invites you to release your tight hold on that familiar, try-hard life and lean your weight heavy into the love of Jesus. With an open hand, a whimsical style, and a heart bent brave toward adventure, Emily encourages you to move from your own impossible expectations toward the God who has graciously, miraculously, and lovingly found you.
#2 Looking for Lovely
by Annie F. Downs
In Looking for Lovely, Annie Downs shares personal stories, biblical truth, and examples of how others have courageously walked the path God paved for their lives by remembering all God had done, loving what was right in front of them, and seeing God in the everyday.  Intensely personal, yet incredibly powerful, Looking for Lovely will spark transformative conversations and life-changing patterns.  No matter who you are and what path God has you on…remember the lovely, fight to finish, and find beautiful in your every day.
#3 A Million Little Ways
by Emily P. Freeman
A Million Little Ways uncovers the creative, personal imprint of God on every individual. Author, Emily Freeman, encourages readers to turn down the volume on their inner critic and move into the world with the courage to be who they most deeply are, and to see the artistic potential in words, gestures, attitudes, and relationships.  Show God to the world through the simple human acts of listening, waiting, creating, and showing up…..a million little ways!
(This book is on my to be read pile of 10 exciting summer reads — can't wait to dig in!)
#4 10 Ways to Fall in Love With Your Bible
By Shanna Noel
Click here to purchase for $10.99
Release any feelings of guilt you may have about the lack of time you spend reading your Bible and join Shanna Noel, creator of Illustrated Faith, as she gives 10 Ways To Fall In Love With Your Bible And Stay In Love!   "This is your invitation to leave the excuses at the door and join me in not only falling in love with your Bible but STAYING in love with your Bible."  —Shanna Noel
#5 Falling Free
By Shannan Martin
Click here to purchase for $13.99
In her book, Falling Free:  Rescued from the Life I Always Wanted, Shannan Martin charts her family's pilgrimage from the self-focused wisdom of the world to the topsy-turvy life of God's more being found in less. Shannan's book invites us to rethink assumptions about faith and the good life, push past insecurity and fear, and look beyond comfortable, middle-class Christianity toward a deeper, richer, and ultimately more fulfilling life.
#6 Simple Decorating
By Melissa Michaels
Click here to purchase for $11.99
Create a home you can't wait to come home to.  Jump-start your style and refresh your home with this gathering of budget-friendly and practical ideas from Melissa Michaels, in her book, Simple Decorating!  Get unstuck by embracing your style, story, and personality; reimagine your spaces with simple choices and satisfying changes; and, transform hard-to-love areas into favorite destinations.  With more than 300 tips to motivate you along the way, you'll feel confident and inspired to make your house a home you love.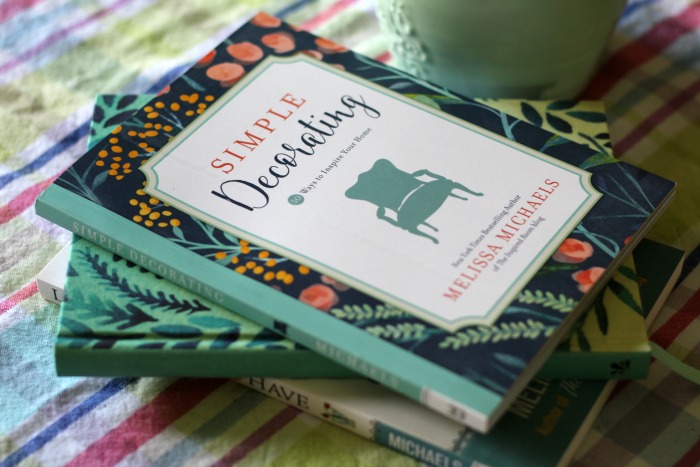 Simple Decorating is definitely one of my top 10 exciting summer reads
#7 Love the Home You Have
by Melissa Michaels
Click here to purchase for $11.99
Get ready to fall in love with the home you have!  Join Melissa Michaels, creator of the popular blog The Inspired Room, as she shares humor, lessons learned, and encouraging advise, so you can 1—get motivated with the 31-day Love Your Home Challenge, 2—declutter, organize, and decorate your rooms with ease, and 3—leap from dreamer to doer with confidence.  Dare to see your surroundings with new eyes—it just might inspire a change of heart!
#8 Coffee For Your Heart
by Holley Gerth
Click here to purchase for $10.99
In her book Coffee for Your Heart: 40 Mornings of Life-Changing Encouragement, bestselling author Holley Gerth shares forty encouraging and powerful reminders of how God sees you as His beloved daughter. You are wonderfully made, chosen, irreplaceable, strong, never alone…and so much more!  This noisy world can make it hard to hear the assurances of God.  Let His voice be the loudest one in your life as He stirs up your hope and confidence each new day.  Discover more joy, peace, and purpose as you listen to the voice of the One who delights in you.
#9 The Nesting Place
by Myquillyn Smith
Click here to purchase for $10.71
Drawing on her years of experience creating beauty in her 13 different homes, Myquillyn will show you how to think differently about the true purpose of your home and simply and creatively tailor it to reflect you and your unique style―without breaking the bank or stressing over comparisons. Full of easy tips, simple steps, and practical advice, The Nesting Place will give you the courage to take risks with your home and transform it into a place that's inviting and warm for family and friends.
#10 The Best Yes
by Lysa TerKeurst
Click here to purchase for $15.99
Are you living with the stress of an overwhelmed schedule and aching with the sadness of an underwhelmed soul?  Author, Lysa TerKeurst is learning that there is a big difference between saying yes to everyone and saying yes to God.  In her book, The Best Yes, Lysa will help you cure the disease to please…escape the shame and guilt of disappointing others…overcome the agony of hard choices…and rise above the rush of endless demands and discover your Best Yes today.
These 10 exciting summer reads will keep you going ALL summer long! #10 is my absolute favorite. What about you??