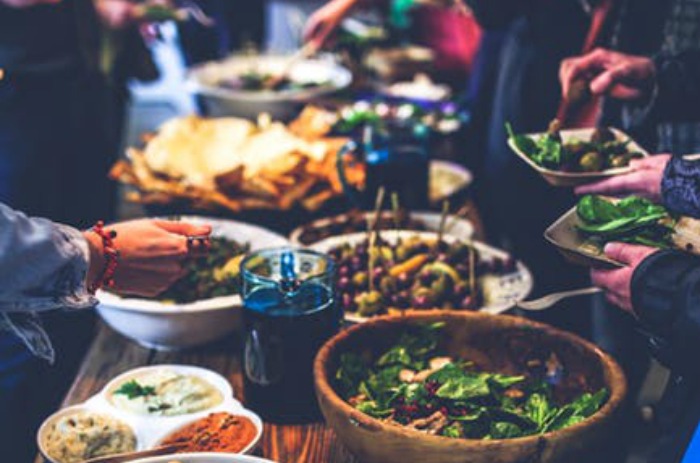 This post has been sponsored by Taut Digital Media. All opinions listed are 100% my own.
Every year I always get super stressed about Easter Dinner. There are so many components that I have to make sure are in place and just so, so that I can create the perfect Easter Dinner –without breaking the bank. This year — Food Lion is going to help me out in the process AND help me save money all at the same time.
Before I share with you exactly how Food Lion is going to help me, I wanted to share with you my 3 easy tips that will make your Easter Dinner go off without a hitch — and without breaking the bank.
3 Ways to Save Money This Year on Your Easter Dinner
#1 — Make it a Potluck
If you have a lot of family members that will be coming to your home for Easter dinner, why not make it a potluck dinner? This not only helps with your budget, but it also cuts down on the time you happen to be in the kitchen.
#2 — Let the Deli and Bakery Help You Out
One thing I am doing this year is I am purchasing a pre-cooked dinner from appetizer to dessert that will feed 10-15 people instead of me cooking all day. With my mother in law in the nursing home right now, my time is valuable and by doing this, I rid myself of extra hours spent cooking so that I can visit her on Easter. But this way — I still am able to serve my family an Easter dinner.
#3 — Let Food Lion's Exclusive Deal Help You Save Money
Food Lion is having an exclusive deal that starts TODAY -4/5 and runs to 4/18 that you will save $5 off your next grocery trip when you purchase $25 or more in select gift cards! So that means I can purchase a $25 Gift Card to some of my favorite places to eat, and save them for a date night and then I will get $5 off my grocery trip for each card I buy. That is a win-win for ME!
Participating Gift Cards:
Dominos
Buffalo Wild Wings
Nike
The Children's Place
Regal Entertainment
Xbox
Fandango
Ruby Tuesday
iTunes
Here's How:
When you purchase $25 or more in select gift cards, get $5 off your next shopping trip!
Earn Credit Card Rewards: By using your favorite rewards credit card to purchase, you can earn points, miles or a percentage back on your purchase.
Gift cards are great for Easter Baskets or save on new spring clothes.
Savings like this are a win/win
Find your local store here: http://bit.ly/2lG5O46
Enter to Win
Using the form below, enter to win a $50 Gift Card that can be used anywhere 🙂 The sponsor of this post will be sending you the card.