This shop has been compensated by Collective Bias, Inc. and its advertiser. All opinions are mine alone. #NewNutrishPEAK, #NutrishPets #CollectiveBias
A few weeks ago, I got the news most pet owners do not want to hear. My sweet fur baby has gotten old enough now that has arthritis in some of his bones causing a lot of discomfort for him most days.
I was super sad at first because no one wants to think of their pet as getting old and having medical issues, but it happens. How we handle it though is what helps our pet the most during their discomforting times.
After leaving the vet that day, my awesome veterinarian doctor gave me some simple and easy things I can do to make sure Tucker lives out the rest of his life in full comfort.
4 Ways to Care for Your Senior Pet
#1 Go For Shorter Walks
Before finding out that Tucker had arthritis, I used to make him walk as long as I walked. I couldn't understand why after only 10-15 minutes he would lay down. Now that I know, we make our walks a lot shorter these days, but walk more than once.
The extra exercise in shorter bursts keeps him active, but doesn't put more strain on his bones and such.
#2 Feeding Your Dog Rachael Ray™ Nutrish® PEAK™ Dog Food
For Tucker, what I feed him is just as important as anything else when it comes to pet health. I have always trusted Nutrish and have been a loyal user now for about 6 years.
Nutrish Peak comes in both wet and dry varieties. The PEAK dry formula is a protein-rich food for dogs with nutrient-dense meats.
The #1 ingredient is always real U.S. farm-raised chicken and never contains any by products. For a dog mom, this is one of the best things to hear. I know that when I feed Tucker Nutrish Peak, he is getting all the good stuff he deserves.
I shop a lot at Pet Smart and have always been disappointed that they carry SO many dog food brands but never Nutrish. However, the other day when I was shopping for Tucker a new shirt, I was happy to discover THIS display right front and center.
You can save a lot on pet supplies by using a Pet Smart coupon code from Groupon
I grabbed a bag of the Rachael Ray™ Nutrish® Peak™ Wetlands Recipe™ with Chicken, Duck & Pheasant and a box of the Wet Peak Variety Pack
Tucker LOVES them both so I am super glad that I was able to find him a new flavor profile he loves.
#3 Groom Your Dog Daily
Another thing you can do for your aging pet is to groom them on a daily basis.
This could include giving them a bath, brushing their fur, etc. Tucker loves to get brushed every day. It makes his skin feel good and getting off all that extra hair keeps him from scratching a lot.
If your senior dog sheds a lot, buy a pet hair vacuum to keep his hair cleaned up from the house.
#4 Listening to Your Dog's Body Response
On days when Tucker doesn't feel good at all, I can tell it. He has this look in his eyes that says, "Momma — I just need to rest". It's on those days that I let him pile up on the couch and just rest. I turn the heating pad on low and put it under a blanket and he snuggles in to rest.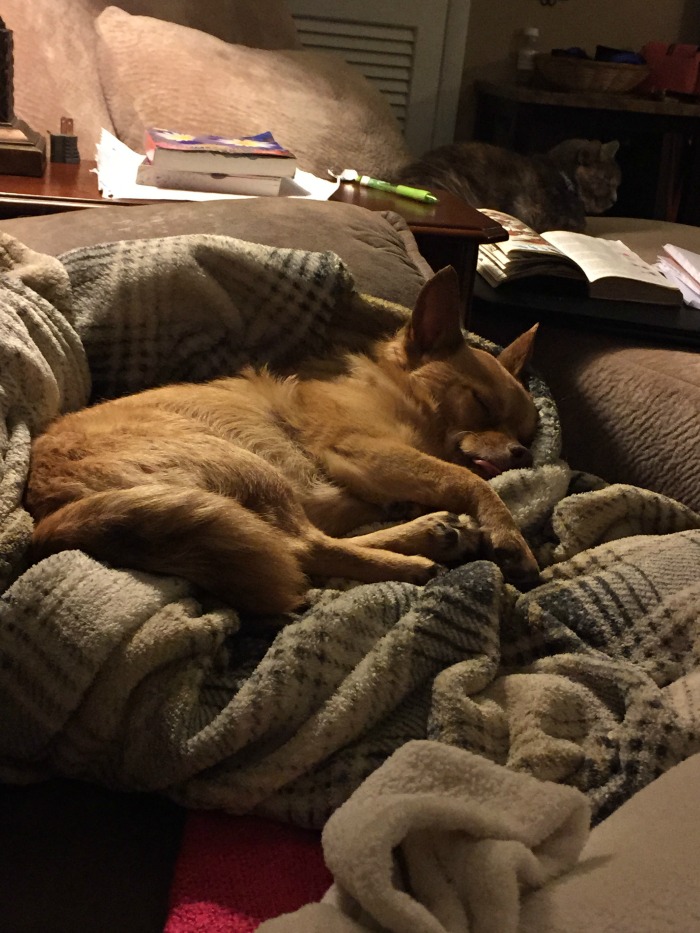 I hope that these tips help you when caring for a senior pet. Be sure to pick up your dog's favorite Rachael Ray Nutrish Peak formula from Pet Smart.
Our pets count on us for everything. And it's our duty to give them the best and never let them down. Nutrish knows just how you feel, because they're pet parents too. That's why everything they do is aimed at nourishing pets everywhere — including offering dry and wet cat food recipes made with simple, wholesome ingredients like real meat or fish, and do not contain poultry by-product meal or fillers.
But this is the real reason why I love the Rachael Ray Nutrish for Pets brand.
A portion of proceeds from each sale of Nutrish is donated to The Rachael Ray Foundation, which helps animals in need. Through December 2017, more than $23.5 million dollars have been donated to animal charities and other organizations that do good for animals. The funds are used for food, medical supplies, treatments, and more. Many more animals around the country need help, and through The Rachael Ray Foundation, together we can make a real difference in the lives of many four-legged friends.
Follow Nutrish for Pets
If you are interested in switching your fur babies to Nutrish, click here for an exclusive coupon and then click here to find a store near you.