This shop has been compensated by Collective Bias, Inc. and its advertiser. All opinions are mine alone. #WhatMattersToU #CollectiveBias
I have discovered a couple of things recently when it is my time of the month. Yes — we are going to tackle this topic today because I want to be able to help you relieve any discomfort you may be having. We have all been there — and I know I don't like to hurt so I do everything in my power when it's my time to relieve the stress and discomfort I may be feeling.
One thing I have discovered is that yoga is a definite help in making some of my discomfort go away. The other is that I am IN LOVE with the new U by Kotex® products available at my local Walmart.
No – they won't make my discomfort any better, but if there is a way to make me feel more protected during this time of the month, I am ALL for it.
The Style N' Store packs are a new everyday item at Walmart and they come in 4 unique designs to choose from.
My favorite part though is the convenient drawer feature for easy storage.
When I was out buying my new yoga mat and yoga pants (because I LIVE in these daily y'all), I headed over the ladies feminine aisle because it is getting about that time of the month and I needed to stock up.
The packaging immediately caught my eye.
My daughter loves the liners, but I love the U by Kotex® Cleanwear® Ultra Thin Pads. I used to buy the regular design in this brand, but the new Cleanwear® brand has me excited because it offers a unique 3D Capture Core* with Xpress DRI* cover for crazy fast absorption to help stop leaks.
They also stay secure with uniquely shaped Tru-Fit® wings and they are super soft which means it is a more comfortable wear for me.
You can even get $25 in rewards if you choose to do the SNIPP program. First, you have to purchase 2 packs of U By Kotex products from Walmart. Once you do that, visit UbyKotexrewards.com and register.
Then you only have to text UbyKotex to 811811 and upload a photo of your receipt – and you could get $25 in rewards!
Okay — enough about that 🙂 let me tell you about these 4 yoga poses that are my favorite to do during my time of the month.
#1 Head to Knee Forward Bend
Start on the floor in a seated position with your legs extended forward. Bend the right knee outward to a 90-degree angle and press the right foot into the inner left thigh. Grab the left shin or foot, inhale, square the hips, and lengthen the torso over the straight leg.
Exhale, fold forward slowly from the groins. Extend the spine and lengthen through the chest. Allow your back to lengthen instead of round.
Pull your left toes back towards you and extend through the left heel while firmly pressing the right foot into the left thigh. Press your sit bones down towards the floor. Continue to breathe steadily while gazing at the left foot. Stay in this pose for 1 to 3 minutes and then switch sides.
This pose reduces anxiety, fatigue, headache and menstrual discomfort.
#2 Child's Pose
Begin on your hands and knees. Spread your knees wide apart while keeping your big toes touching. Rest your buttocks on your heels. Sit up straight and lengthen your spine up through the crown of your head. On an exhalation, bow forward, draping your torso between your thighs. Your heart and chest should rest between or on top of your thighs. Allow your forehead to come to the floor.
Keep your arms long and extended, palms facing down. Press back slightly with your hands to keep your buttocks in contact with your heels. Lengthen from your hips to your armpits, and then extend even further through your fingertips.
Child's Pose helps to stretch the hips, thighs, and ankles while reducing stress and fatigue.
#3 Camel Pose
Kneel on the floor with the knees hips-width apart. Turn your thighs inward slightly and press your shins and feet firmly into the floor. Rest your hands on the back of your hips. Inhale, lift your chest, and press your shoulders down, towards the ribs.
Exhale, push the hips forward as you lengthen the front of the body and arch back. Keep your hands on the back of your hips or on the back of the heels. If you place your hand on the heels, press your toes into the floor to lift the heels higher. Use your hands to stabilize, push the hips forward, and lift the chest. Drop the head back, gaze upward, and breathe steadily. Stay in this pose for 30 to 60 seconds.
Therapeutic for mild back pain, fatigue, anxiety and menstrual discomfort.
#4 Corpse Pose
The final pose of any yoga class is one of deep restoration: Corpse Pose, also sometimes called Final Relaxation Pose.
Lie on your back with your legs straight and arms at your sides. Rest your hands about six inches away from your body with your palms up. Let your feet drop open. Close your eyes. Allow your body to feel heavy on the ground.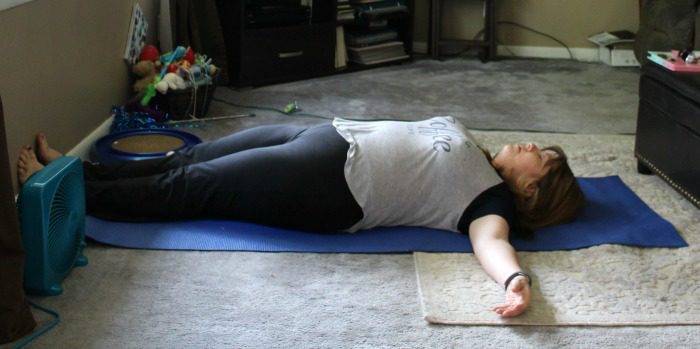 Working from the soles of your feet up to the crown of your head, consciously release every body part, organ, and cell. Relax your face. Let your eyes drop deep into their sockets. Invite peace and silence into your mind, body, and soul. Stay in corpse pose for five minutes for every 30 minutes of your practice.
So — these are the 4 yoga moves that really help my discomfort every month during my time of the month. Yoga is a great way to relieve stress and tension in your body and make you feel more one with yourself — and being in love with me is something that truly matters to me.
What matters most to you when you're on your period? Get up to $25 in rewards just for you by purchasing U by Kotex® at Walmart!