These 5 easy lunches will keep your mind sharp while you are busy studying.
Many of us spend most of the day away from home – we work, study, help with writing papers for our friends, drive to college and do a million things. And then the question arises – what to eat for lunch.
It's not always possible to go to cafes or restaurants every day. First of all, it's expensive, and secondly, there may simply be no good places near where you are going to school. In such cases, you can take food to go to eat for later!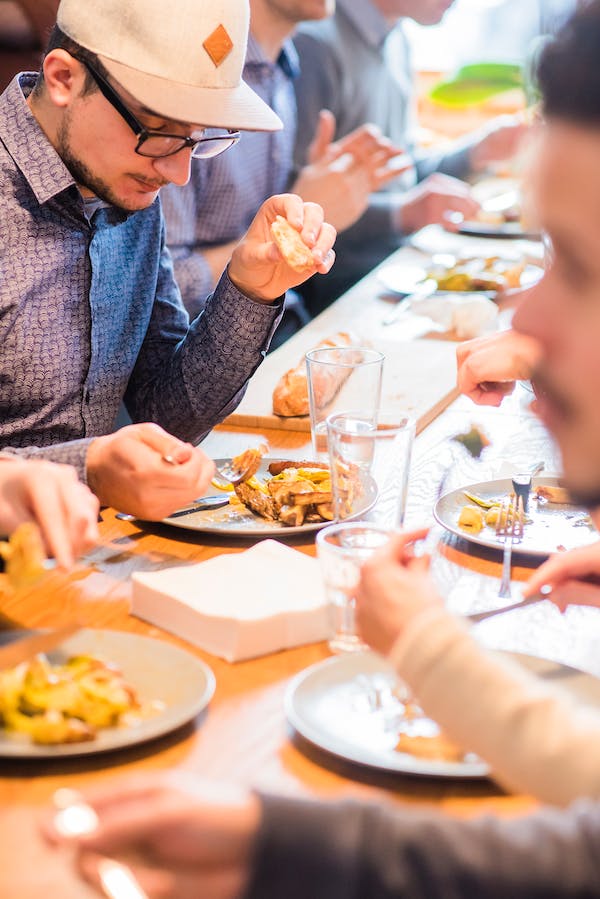 If you are bored with fruit, buttermilk rolls, nuts, and sweet bars, and you want something more substantial, take note of the ideas in this article, get inspired, and expand your menu.
You don't need exact recipes to prepare these dishes – take the idea itself as a basis and make it your own. There you have it:) And then it's up to your imagination – don't be afraid to experiment!
1. 2-in-1 Salad
Salad is a versatile dish that can be very tasty and hearty. If you need a solid meal and salad is your only meal for lunch, you can make a 2-in-1 salad.
You'll need an airtight lunchbox to take with you – take your pick.
A salad is easy to make: as a base, you can choose any vegetables, salad leaves, and herbs that you have on hand and that you like.
Then add some tomatoes of different varieties, cucumbers, radishes, peppers, avocado, and baked or fried potatoes.
Other good options are pumpkin, eggplant, beets, zucchini, broccoli, cauliflower, Brussels, red cabbage, corn, and any flavored herbs you can find.
The dressing can be anything – unrefined oil with lemon juice, honey + mustard + oil, sour cream + mustard, balsamic vinegar with oil, yogurt, etc.
If you want to make a salad with meat or seafood, prepare them the way you like – fry, roast, boil, not forgetting to salt, and add the appropriate spices.
Adding chopped nuts, seeds, or sesame seeds to the salad is also great – they give the salad a nice crunchy texture.
Instead of meat and seafood, you can add your favorite cheese to the salad – it will be just as tasty and filling!
2. Sandwich
There's a lot of room for experimentation here. You can make a sandwich with any kind of bread, you can make a burger, pita, or bagel, or you can wrap all the ingredients in a flatbread like shawarma.
But conventionally let's call it a sandwich – for either option we need some type of bread and of course, toppings. You can choose anything – any vegetables and even fruit, lettuce and greens, baked vegetables, various sauces and pates, all kinds of cheeses, meat or vegetable patties, ham, baked meat or chicken, etc.
Choose the classic combination: bread + sauce + vegetables + cheese/meat, or you can make an unusual contrasting combination – for example, add a sandwich with fruit (apple or pear), salty cheese, and spicy-sweet dressing (such as mustard-honey or ginger-based).
Use jam + salty cheese or meat, or you can make a neutral, hearty sandwich – with vegetables, sun-dried tomatoes or cream cheese, and avocado.
Don't be afraid to combine sweet and salty flavors-you'll love it! You can make the easiest, fastest, and cheapest sandwich or you can get fancy and make a real masterpiece – it's up to you.
3. Pizza
What could be better than homemade pizza, made with love from natural ingredients? If you have a free evening, you can make this delicious dish. Then, eat some for dinner and take some to work the next day. The pizza can be cut into triangular or square pieces. You can also stack them on top of each other, and wrapped in foil or parchment. Or you can just put it in a lunchbox, adding a handful of cherries or sliced cucumber and peppers.
You can buy yeast-ready-made pizza dough and even puff pastry! Most importantly look, the composition was as simple and natural as possible.
As a sauce, you can use the classic tomato-bought, homemade, or just pureed tomatoes, flavored with chopped herbs and peppers. You can use pesto, spicy salsa, or something creamy.
Ingredients for the pizza can be absolutely anything! You can use tomatoes of different varieties, roasted or baked mushrooms, peppers, and different types of onions. Add olives, all kinds of cheeses, ham, meatballs, slices of baked or roasted chicken, etc.
The same principle can be used to make a semi-enclosed pie or galette. Bake the ingredients with sauce and cheese in a tortilla rolled up like a strudel.
Ideas are limited only by your imagination – don't be afraid to experiment.
4. Casserole
A great option for dinner is a vegetable casserole. It can be vegetarian like ratatouille, or it can be with cheese or meat.
These types of casseroles will be tasty even when cold. The more so that you will eat them not from the refrigerator, but at room temperature. If you have an oven, stove, or microwave at work – then your lunch will be even tastier.
These types of quick and easy lunches will have you studying like a champ in no time flat!