This shop has been compensated by Collective Bias, Inc. and its advertiser Honeywell. All opinions are mine alone. #ConnectYourHome #CollectiveBias
I don't know about you, but laundry room becomes the catch all for everything in the summer time. Between the kids, the husband, and our youth camp stuff, there are always piles everywhere. What's worse than that is when you go to straighten it up and you realize that your washer decided to overflow soaking everything in the floor.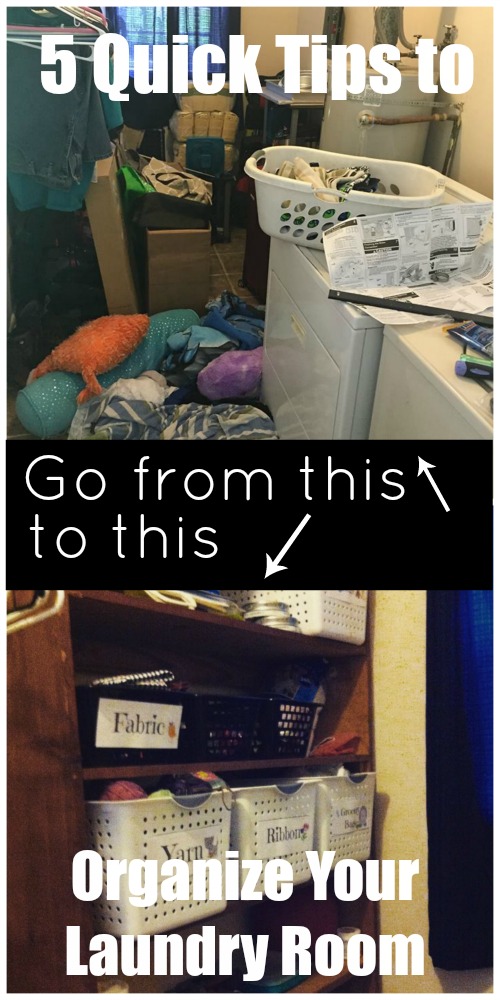 Today, I am going to share my 5 quick tips for keeping the laundry room organized and also tell you about a product that can help alert you to possible water leaks and how that can help you reach a possible flooding issue in time.
Mine has flooded countless times in the past. Having this in place could have helped slow the process. It's super simple and you will definitely want to put this hack into action.
5 Quick Tips to Organize Your Laundry Room
#1 Purge Your Stuff
In our home, my rules are simple – treasures in, junk out, meaning if you keep bringing new treasures in, the old junk has to go. We live a simple life around here and that means we do not keep tons of stuff.
When the family starts piling things in my laundry room because they have run out of space in their own rooms, then I make the announcement that I am going to purge. If there is stuff in the laundry room they want to keep, then they have to come and get it before I ship it off to a donation center.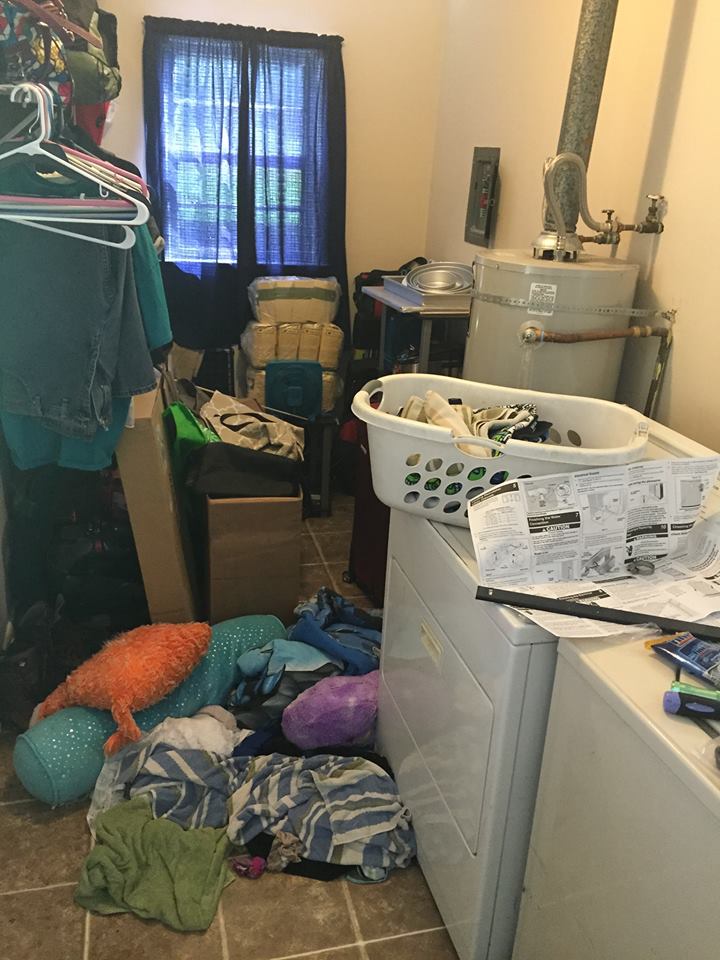 #2 Invest in Shelving
One of the best things I ever did for my laundry room was to invest in an old wood shelf. It was going to be tossed when someone did a remodel of their garage, so we got it for free.
My daughter is going to be painting it and putting some art on it to help dress up the laundry room some, but it has tons of shelving on it, which helps me to organize better and keep things picked up and stored better.
#3 Everything Should Have a Home
In our house, every room, including the laundry room has a designated area for each specific thing. For instance, all of our grilling supplies – charcoal, tongs, baskets, etc all have one shelf in my laundry room where we place those things.
This helps my hubby to find what he is looking for quickly, and it also helps me keep things organized. My kids and husband know that if you take something down, put it back where it goes. This helps to keep messes at bay.
#4 Organizer Baskets are a Must
Since I live in a small home, we have to utilize every single area of our home, so my laundry room is also a closet, is also my craft room, is also my pet storage area, so I have to make sure I have storage for everything.
That is why I invested in some dollar store baskets to help me organize – especially when it comes to my craft supplies.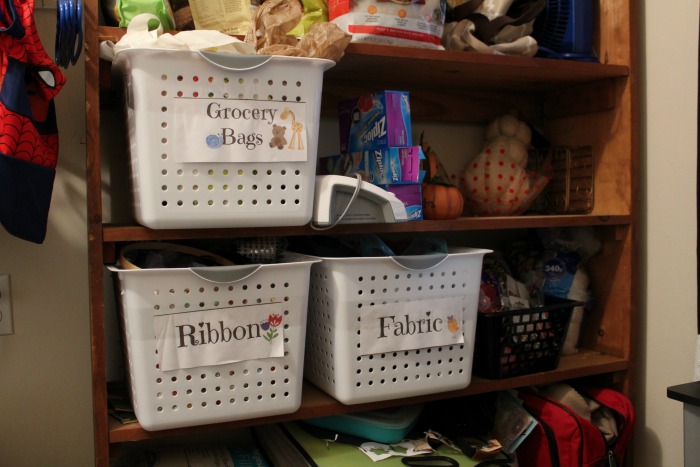 Once you keep everything organized, then you can breathe a little easier when you walk in your laundry room.
#5 A Lyric™ Wi-Fi Water Leak and Freeze Detector by Honeywell is a MUST
Last year before I started keeping my laundry room as organized as I do now, I went down to put my clothes in the dryer after washing them, only to find out that my washing machine had overflowed and instead of just switching the clothes out, I now had a flooded laundry room floor, and tons of boxes soaked completely through.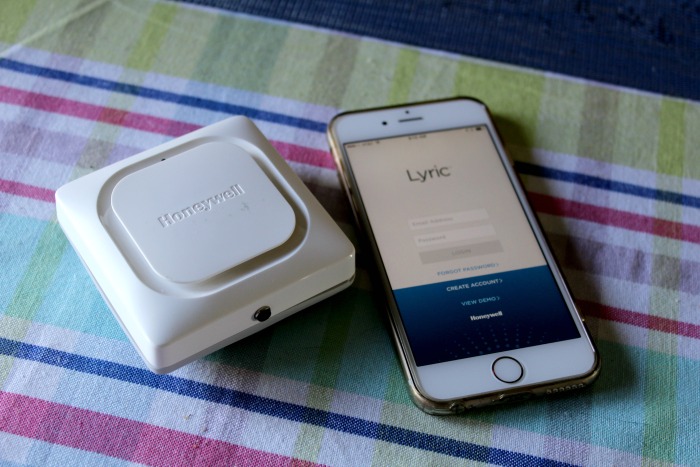 Had I had the new Lyric™ Wi-Fi Water Leak and Freeze Detector installed, I could have easily known right away there was a problem and stopped the load of clothes in their washing process.
So what is this new Honeywell gadget?
This amazing wireless device helps detects leaks and frozen pipes with your water related appliances. In the last year, I have had a water leak in my water heater, washing machine, and when the snow melted, it completely flooded my laundry room.
It was a hot mess.
So – how does this work?
The Lyric™ Wi-Fi Water Leak and Freeze Detector by Honeywell installed in less than 5 minutes. It syncs with an app you download and then it will alert you to potential leaks or freezes.
It is battery operated and no extra hub is required. It's perfect and it gives me a peace of mind knowing that I do not constantly have to worry about flooding issues in my laundry room – which was a constant worry before.
The Lyric™ Wi-Fi Water Leak and Freeze Detector can help by –
Keeping an eye on the culprits: Monitors areas where water leaks may occur, such as: near water heaters, washing machine, dishwashers, toilets, sump pumps and under sinks
Monitoring dampness: Detects conditions that can lead to freezing pipes or impending moisture issues through built-in temperature and humidity sensors;
Installing easily: Connects directly to Wi-Fi and does not require a hub, making it easy to install within minutes, and place around the home.
Allowing homeowners to lean on others: Allows homeowners' trusted circle – from friends and family to neighbors – to monitor water-related issues in the home when owners are away; via the Lyric™ app or email notification.
Being reusable: After the Lyric™ Detector has sensed water, it can be reset to continue monitoring for future water and moisture problems. For the best performance, it is recommended that the detector is wiped clear of any debris, dried, and the batteries are replaced before reuse. So it doesn't need to be 'reset' but definitely dried, wiped clear of debris and batteries replaced.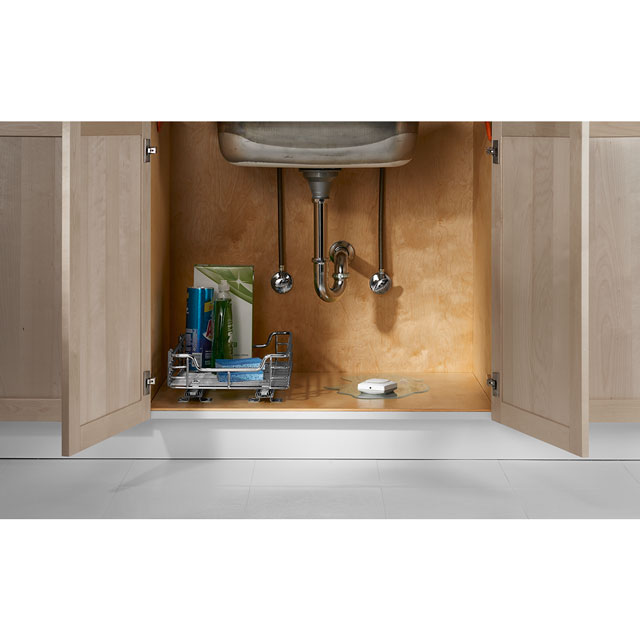 This product can be purchased on the Honeywell website as well as Home Depot.
To learn more about Honeywell and this product, follow along on social media.
I am super stoked to have this product installed. Now, whenever there is a potential problem, I will be alerted immediately.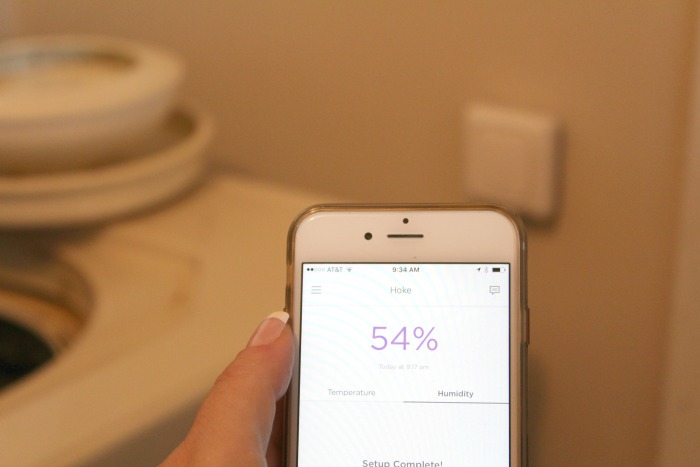 How do you keep issues like this at bay? Head to the Honeywell website and get your Lyric™ Wi-Fi Water Leak and Freeze Detector today.