If you don't live near a major city it might be hard to see your favorite bands, sports, and Broadway shows because they never come to you(ask me how I know!). In fact, they rarely come anywhere close. Hamilton is one of the most successful shows ever to hit Broadway, but unless you are ready to spend a weekend (at least) traveling to the venue, seeing the show, and coming home, it isn't happening.
That said, there are shows you'll drive hours to see. I've driven half a day before to see a concert for one of my favorite bands. And I am seriously contemplating on traveling back to New York to catch my first ever Broadway show. Those productions are worth making the trip, because once they are gone, they may never come back again.
But the logistics that go into traveling to see a show can be overwhelming. Here are five things to keep in mind when planning your trip from beginning to end.
5 Things to Remember When You Travel to See a Show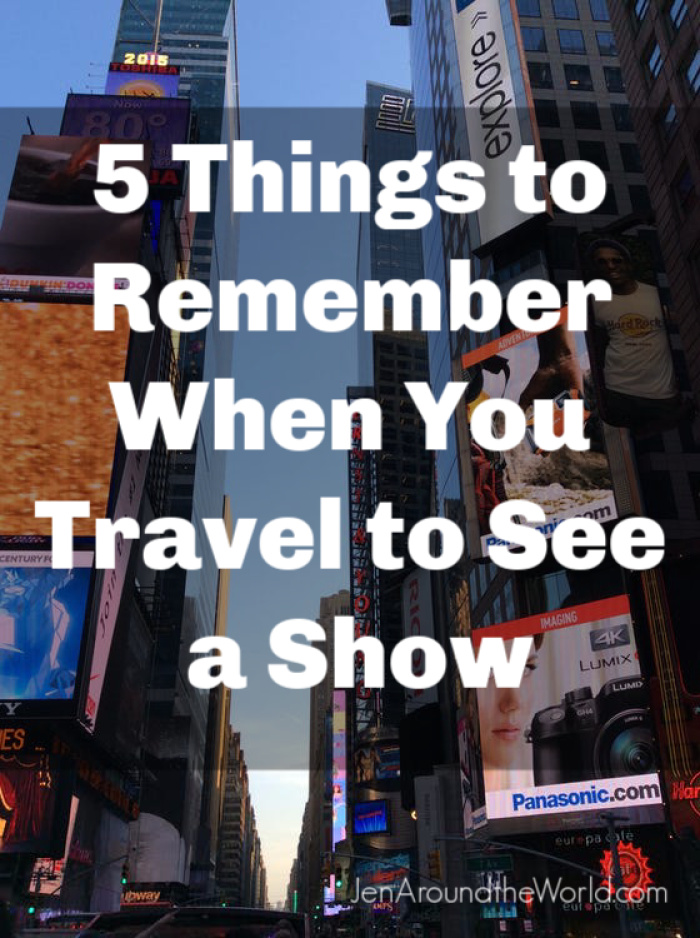 #1 Buy the Tickets Online to Save Time and Money
Online Ticket Marketplaces like StubHub and SeatGeek provide hundreds of options for sports, music, theater, and more. Even if you can't find what you're looking for in your area, you can search by your location, and they will find the closest show to you.
The most fun about this step is picking your seats. Price is always an issue, so shop around for the best deals, but there are also websites out there that recommend certain sections and certain seats to make the show as enjoyable as possible.
#2 What Mode of Transportation Will You Take?
This is one of the easiest tasks on the list, but you need to account for it. If you plan to drive, see below for some helpful hints. If you are flying in for the show, it's time to decide whether you want to rent a car or just use rideshare options like Uber or Lyft.
If you're in areas where walking from a destination to destination is an easy choice, one or two (maybe three) Uber rides may be worth the money. If you're facing a lot of distance and public transportation isn't an option, renting a car may be the only option. Again, renting a car means you're driving in, and look below for some guidance.
#3 Where Will You Park?
Many people overlook parking as an essential part of planning a trip. Going to see a show in a city like Denver or Phoenix make parking easy because of several public lots, garages, and street parking. Chicago, New York, and Washington D.C. are entirely different.
Your best option here is to reserve a spot. Ticket Reservation apps like ParkWhiz make booking a spot easy and very helpful. You can search by venue, view a map of places, and find the right one. The best spots are inexpensive, close, and near dining, shopping, and hotel options.
#4 Where Will You Eat?
Depending on when you get to your destination, you may have hours to kill waiting on your show, and sometimes you want to keep the party going afterward. Planning here is a huge help.
Apps like Google Maps and Apple Maps are great for finding dining options. You can find locations, reviews, and links to the menus. Hopefully, you took the time to figure out a parking spot close by, so you don't have to walk far, but choosing somewhere to eat before the show, or a few drinks after can take the guessing game out of figure out a place for everyone.
#5 Where Will You Stay?
Unless you're planning a long drive home or catching the redeye, it's time to find a place to stay for the night. Thanks to new options like Airbnb and VRBO, you can avoid the chain hotels, and have a house to yourself.
If you'd rather let someone else do the cleaning for you, you can almost always find a place to stay nearby. Again, planning out where to park is essential since you can keep the hotels within walking distance.
Dozens of travel sites will try to grab your hotel business, so shop around and find the best deals in the area. You might want to also get out of the mainstream and find boutique hotels that offer unique experiences. These smaller hotels have specific themes to offer that might add a little touch to make your stay a little more entertaining.
There is a lot of planning going into what should be an easy trip to a concert. This only covers the before and after the show. Make sure you study up on how to be safe during the event and what to expect inside.
I hope that this article will help ease the stress that comes with the preparations. You can plan and plan and plan and still get a few curveballs thrown your way, but at least you'll be ready!