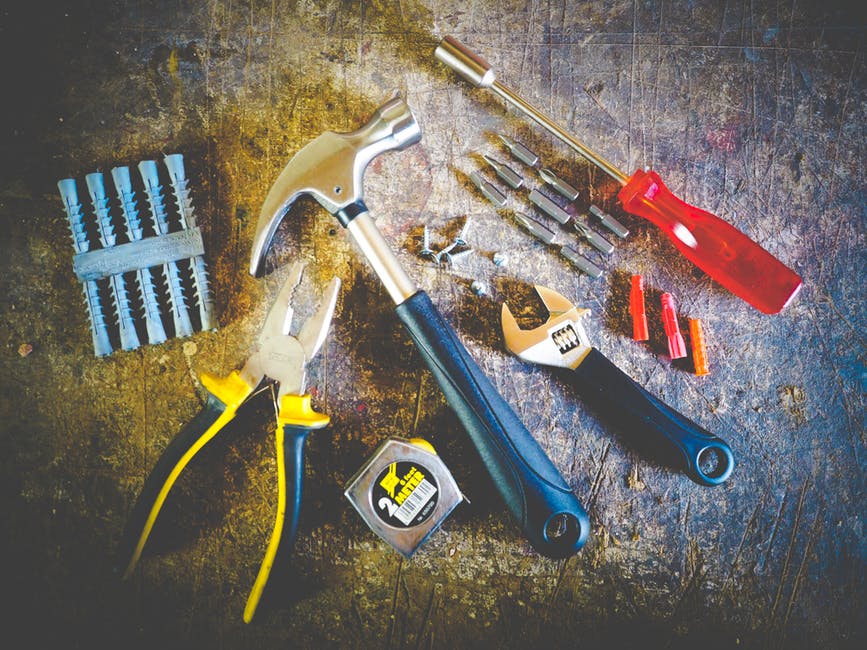 DIY renovation comes with a lot of challenges that you cannot cope with bare hands. Having the right tools in your arsenal will not only make the job easier and faster but you will also be at lesser risk of receiving any kind of injury. Take a look at these 8 basic tools that makes DIY renovation tasks a breeze.
#1 Hammer with Ripping Claw
This is the most essential tool for DIY renovation projects. It comes in handy in different situations, especially when you are working on a project that involves wood and nails. It is always recommended to choose a medium-size hammer with anti-slip rubber grip for ease of use.
#2 Tool Pouch
A tool pouch can hold almost everything that you need handy throughout your renovation project. Tool pouch arrives in a variety of shapes and sizes to choose from. You can strap it around your waist or place it beside you – however you find it convenient. Our recommendation would be a heavy-duty tool pouch with dedicated pockets for different types of tools.
#3 Extension Cord
If you are required to use power tools during your renovation project, an extension cord should help you stretch your reach by several metres. Most electric cords are fire-retardant and durable enough to stand up to regular abuse. It is recommended to pick an extension cord in bright colours, like orange, yellow, red or green so that it can be easily spotted from a distance so as to avoid tripping hazards.
#4 Demolition Bar
Demolition is inevitable in any renovation project and having the right tool on hand is important to get the job done safely and efficiently. Demolition bar makes the job less of a hassle and more of fun. If you are using it for the first time, be very careful, lest you hurt your toes or fingers.
#5 Scaffold or Ladder
While scaffold is a safer alternative to ladder, you can choose either of them depending upon the availability. Stay clear of those precarious ladders that require another person for the support. Buy, rent or borrow the ladders that are firm, durable and lightweight. This should make your task easier and risk-free.
#6 Canvas Drop Cloth
In order to strike out the hassles of post-renovation cleanups, using canvas drop cloth is a great idea. The canvas cloth sits firmly on the floor, just like a carpet, and keeps dirt and debris off the ground. The canvas cloth offers non-slip surface that prevents tripping hazards significantly. Canvas cloth is any day better than plastic sheets, in terms of durability and convenience.
#7 Saw Blades
Saw Blades with serrated edge can come in handy in a variety of metal or wood cutting jobs. Whether it's the nut-bolt that won't open or an extended length of wood that needs to be cut down, saw blades can do the job easily and neatly. Saw blades are available in different forms, as shown in the picture above. Your supplier should be able to provide the right saw blade based on your requirements.
#8 Safety Gear
Safety gear is the most important thing you need to have before taking up renovation or any other similar job. This may include safety glasses to protect your eyes from dust and debris, safety boots, gloves, helmet and coverall for an all-round protection. Protection against on-job mishaps is also important to keep yourself at peace. You may enquire about owner builder insurance in NSW or elsewhere to get the best insurance cover to suit your needs.
Conclusion
DIY home renovation should never be taken lightly. Be prepared for the unexpected and seek help whenever necessary. All the best for your upcoming project.