Do you love making sushi rice at home? We do it here at our house! We make it all the time so having the right sushi rice cooker on hand is important.
Japanese sushi rice is truly mouth-watering when cooked correctly. Actually, there is a simple trick of cooking sushi rice with less amount of water so that it doesn't lose its real texture.
On top of that, the 8 tips below will help you to find the best sushi rice cooker. Once you are able to make the perfect sushi rice, you can create delicious sushi like these recipes and then my amazing eel sauce for sushi.
Of course, you can visit this page that has everything you need to know about making sushi at home. It has recipes listed, equipment and more. Every post on my site that has sushi recipes can be found here.
Sushi rice contains a vinegar flavor and can be combined and served with eggs, vegetables or seafood. The properly cooked soft rice will make perfect sushi rice and a quality sushi rice cooker will make it possible.
Tips To Find the Best Sushi Rice Cooker
There is really a simple trick to prepare sushi rice. When you prepare sushi rice, remember that water quantity should not be much to avoid excess softness of rice. If you blend it with vinegar it will appear crushed due to which your sushi rice can lose its quality texture.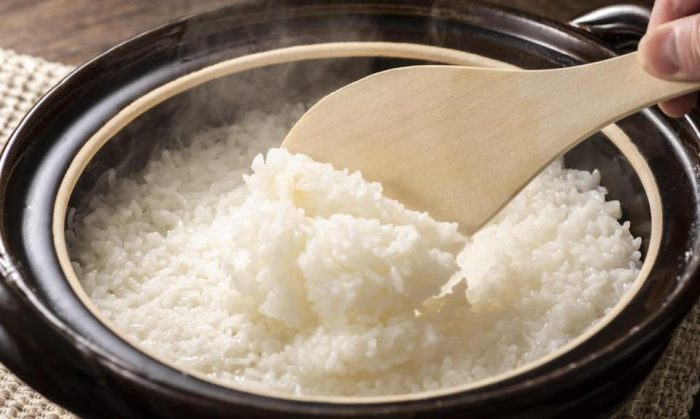 In such situations, if you buy a special rice cooker consisting of sushi rice settings then half of your complications get solved here only.
For other essential equipment needed for making sushi at home, check out this post.
1. Sushi Rice Cooker function
Most of the pressure cooker models consist of a sushi rice setting. In this function, you may also find the settings for preparing hard sushi rice or soft sushi rice. In this way, you can easily prepare the desired dish. So options are many and the choice is yours.
2. The Capacity of the Rice Cooker
If I talk about the rice cooker capacity then a small size cooker or one with around 3 cups of uncooked rice cooking capacity will prepare for only 1 or 2. A large size cooker will prepare for many.
If you are comfortable to invest more, then a large size with at least 10 cups of uncooked rice capacity cooker will do.
Also, the cooker size matters because you also have to store it. So you need to consider your cooking needs and your kitchen space that can manage to fit the rice cooker easily.
In various brands rice cooker descriptions, you will find details of both uncooked rice and cooked rice capacity of the cooker. Once you cook rice it becomes fluffy and the quantity of rice is enhanced. So check how much rice your cooker can hold. It should neither be less nor too much so that all can be served.
Related article: How to Make Tempura Fried Sushi Roll
3. Electrical grades
The selection of sushi rice cooker should also take electrical grades into consideration. Firstly, checking the voltage category is important as it confirms the compatibility of the unit and electrical grid in a particular region.
Second, comes the watts or wattage. It shows the power consumed by the pressure cooker. High ratings of watts indicate high power consumption which will also cost you more.
Related article: How to Make Eel Sauce for Sushi
4. Nonstick internal pan
The nonstick inner pan is also an important component to be checked. Make sure your rice cooker consists of the nonstick internal pan. It is beneficial in making the cleaning easy for you and also the rice that could have been stuck and wasted will also be saved.
5. Easy cleaning
As I already discussed the nonstick coating inner pan is essential for easy cleaning. Make sure the inner pot and the cooker lid are removable to make cleaning easier.
On another hand, the stainless steel can be more problematic to clean in comparison to the nonstick.
Related article: Sushi recipes you can eat while pregnant
6. Cooking period
The cooking period depends upon the type of rice you will cook and also the cooker model you want to pick. The time range of 40-60 minutes is sufficient for preparing sushi rice.
7. Method of rice cooking
The rice cooker has different heating methods. The electric rice cooker will utilize the underside heating plate, with convection &pressure combination. The gas rice cooker cooks with the cooking method of an open flame.
It cooks faster but also demands high maintenance and prepares sushi rice with better flavor. Next, the induction cookers use electric current, resistance and, magnetism. It offers accurate temperature and reacts promptly.
Related article: San Diego Sushi Restaurants
8. Brand
Now choosing a reputed rice pressure cooker will satisfy you with the right product in hand. Some popular Japanese brands are Zojirushi and Tiger. Other competitors are cuckoo, Panasonic, Hamilton beach, aroma, etc.
Japanese pressure cooker cost more due to special rice types cooking functions. The importing of the product also adds to the cost.
Related article: Essential Equipment needed for making sushi at home
Conclusion
Tips to find the best sushi rice cooker are listed with tips that will work great while you purchase your pressure cooker. There are ample competitors of the pressure cooker in the market with a wide range of prices, features, functions, quality, design, versatility, etc.
This will offer different sushi rice cooking styles. Your needs are the ruler here, so whichever pressure cooker you purchase should be as per your needs & mandates.