I am part of the Dayspring Affiliates. I received A Heart That Receives Bible Journaling Kit in exchange for my review. All opinions listed are 100% my own.
God is moving more in my life in the last 3 months than He has moved in the last 16 years. I think that is because in January when I started praying for God to change me, I opened my heart to answer Him more with "Yes Lord".
In 2016, I put my Christian life on hold so that I could pursue what I thought God wanted of me — for me to be busy building my online business, helping my husband with His and staying busy making money and a name for myself.
Don't you just love how what WE think and what GOD thinks are two totally different things?
During the holidays during 2016 when I was worn out and tired, on the verge of burnout, God whispered to my heart —
"Aren't you tired of just getting by?"
Yes Lord.
"Aren't you tired of always feeling like you are fighting to just keep your head afloat?"
Yes Lord.
"Aren't you tired of running from the calling I have placed on your life?"
Yes Lord.
It was in those early morning hours as God whispered these things to my heart, that I found I was ready to really receive His calling on my life — that calling of being a writer and share my heart with other women.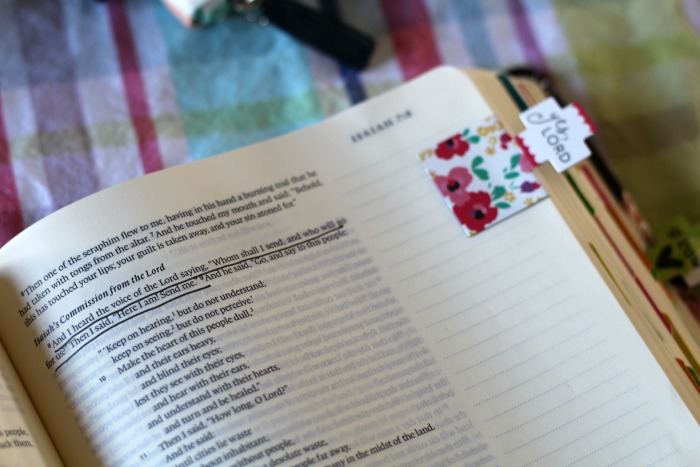 I found myself whispering "Yes Lord" to everything He was offering me at that moment.
That meant that there were some windows and doors I had to close in order to make room for my new calling. I will be honest with you — that wasn't easy. But God has shown me over and over again, by opening my heart to receive everything He is offering me, I am more at peace with myself and I am beginning to really walk in this calling He has placed on my life and honestly — it has never felt better.
A Heart That Receives Bible Journaling Kit
This month, Dayspring is offering a brand new Bible Journaling Kit from Illsutrated Faith. Isn't it ironic how God will speak to you through things like this? The kit is called " A Heart That Receives".
"It's pretty easy to receive the 'good' of life!  But what happens when the offering being presented is bad news, a heavy load?"  With Scripture and biblical insights, Kim Marquette invites all to join her on a 14-day journey of discovering a little about a heart of receivership.  "While we do not know what the future holds, we do know who holds the future."  —Kim
This kit contains:
1 plastic pouch
1 devotional booklet
1 clear stamp collection
1 roll of washi tape
1 sheet of cut-out paper pieces
2 cardstock sticker sheets
3 tip-ins
1 magnet
1 thank you card from Shanna
If you are looking to purchase one of these kits, I encourage you to check this one out. You can see my unboxing video here:
Don't forget to use the code 25FORYOU to get 25% off your order through March 31.
How has God been speaking to your heart lately? Will you answer "yes Lord"?