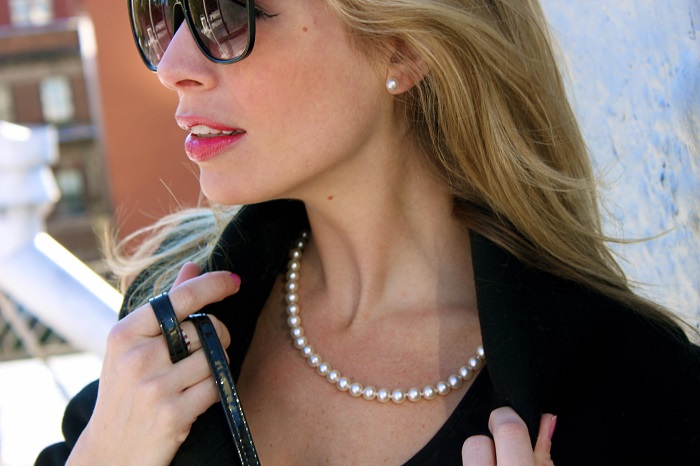 Pearl jewelry has made a huge comeback in the past few years, becoming the to-go fashion accessory for women of all ages. Modern moms are probably the greatest wearers of pearl jewelry as they, just as pearls, can reinvent themselves any time they want. If we are talking about fashion over 40, there is nothing better than pearls to refresh your look and make a memorable appearance on any occasion – even when you go shopping.
Moreover, modern moms have the femininity, the elegance, and the fiber of making pearls look glamorous in the most effortless of manners. If you do not believe us, let us delve in the following modern mom's guide to wearing the forever-fresh and versatile pearl jewelry!
1. Pearls and Denim for Everyday Wear
Modern moms are busy bees, but this doesn't mean they can't be stylish every single day at work or while running errands.
For this purpose, mixing a few pieces of Akoya pearl jewelry with a pair of jeans is the best way to stay ahead of your game. Akoya pearls come in a handful of colors, but the most famous are the white ones you will find in necklaces and bracelets. Small, versatile, and with a delicate luster, such pearls will compliment your skin tone and make you look young, fresh, and ready to take over the world.
Jeans and pearls work miracles together if you layer some pearl necklaces over a demure blouse and complete your look with a natural, light, and feminine makeup. You cannot go wrong with Akoya pearls and stacked chains no matter what denim combo you choose to wear!
Either you go pick up the kids from school or go to work, Akoya pearls – in single or stacked strands and layers – guarantee you a jaw-dropping look.
2. Pearls and Animal Prints for Hot Business Outfits
Animal prints are back in fashion, just like pearls, and it takes a particular type of woman to pull off such an amazing, fresh, and stunning office look. You need a few strands of white pearls (mix in a few South Sea golden ones for a dash of glam if you need to rock a business meeting) and some layers of pearls around your wrist.
New pearl jewelry is versatile and fresh so that you will find multiple-strand bracelets easily. Moreover, stacking strands of pearls with metal chains and other beads is the go-to choice for modern women, so do not hold back. If delicate bling is what you are looking for, remember that pearls are a mature woman's best allies.
3. Oversized Pearls for Casual-Chic Days
Modern moms have the right attitude to wear oversized pearls and look stunning and elegantly flashy. South Sea pearls and Freshwater pearls come in generous sizes, and the new generation of designers know how to mix pearls, metals, and montages in unique pieces of jewelry. Big, bold, and beautiful, you can blend such pieces with your casual-chic work outfit or your street-smart outfit without a worry in the world.
Since in this case size matters, do not forget about the heavy office bag we wear these days and the oversized sunglasses that give us a mysterious and powerful look. The more stacked pieces of jewelry (bracelets, rings, etc.) you wear, the more glam you will inspire. Are you ready to shine everywhere you go?
4. The Devil Wears Prada Look for When You Love Being a Woman
If anyone tells you modern moms cannot look posh and cool – turning heads everywhere they go – make sure you show them they are wrong. Special occasions and events these days require the feminine glamour of pearls. You can pull off any baroque look with a generous strand of pearls styled up with a fancy clasp.
Modern moms are busy, dynamic, and active, unstoppable even. But when night comes, and you want to remind everyone you are a woman nobody messes with, pick up the dress and the pearls matching the occasion and shine like royalty!
5. The Little Black Dress and the Designer Pearl Earrings
We all have a black dress around for special events – if the baroque style of clothing does not suit our fancy. A staple of timeless fashion, the little black dress is a woman's most prized possession. It can turn us instantly into icons of style at any age and the way we accessorize it is always our choice and the expression of our tastes.
For this reason, a black dress and a pair of pearl designer earrings (large, naturally), is the fastest way out of a tricky situation: we have to attend a formal event, but all we have are jeans and t-shirts. Pick the black dress out of the wardrobe, style it up with those massive and elegant pearl earrings you have, and be out the door in a minute!
Conclusion
Modern moms can wear pearls any way they like. Forget about the myth saying these gems are grandma's pieces. On the contrary, pearls are making a huge comeback, and modern moms took the pearl-wearing trends on new heights.
You can always wear a massive chunky pearl bangle at work or a refined pearl pendant on date night with the hubby – you will look stunning no matter what.
Look for the new models and designs and pick the pearls that illuminate your skin and your eyes. You might even find some at sleekwristbands.com. From sweet pink shades to seductive tones of purple and chocolate, your gems are just like you: elegant, gorgeous, and always surprising!