This shop has been compensated by Collective Bias, Inc. and its advertiser. All opinions are mine alone. #AlignedDaily #AlignDaily #CollectiveBias
The moment that Spring has sprung in Kentucky, I get the itch to plant flowers and garden. This year, however, is a little different.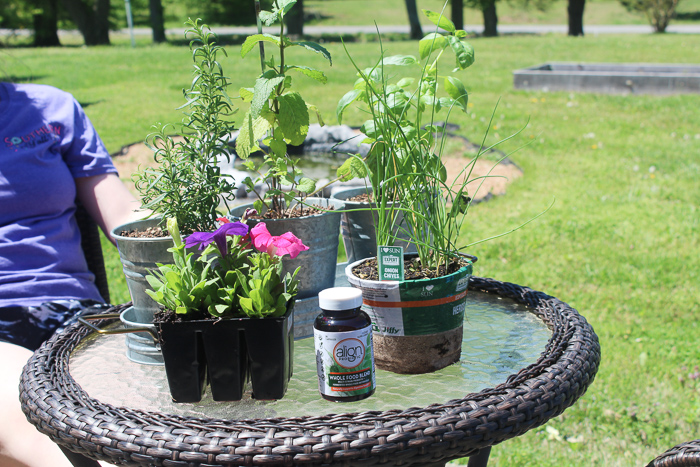 We are moving from Kentucky to South Carolina so my normal gardening is changing up. I did some container gardening. I rediscovered my love of planting! Not only that, I am remembering the country girl in me who loves to get her hands in the dirt. It is such a glorious feeling.
Container gardening is easy and I love that by doing this, I can travel and take my plants and herbs with me so that when I get to my new home in South Carolina, I have the option to either transplant into the ground or leave them in their pots.
How to Start a Container Garden
Interested in trying out Align Probiotic Whole Food Blend? Hover over the photo to click through and buy it!
Starting a container garden is simple and easy. Start by finding the exact plants you want — for me, I love fresh herbs (because I cook all the time) and those little inexpensive flowers that at Walmart.
From there, you just need a few pots, some good potting soil, and your ability to sit outside in the warm sun and do some planting.
How Align Whole Food Blend Is Bringing Joy to My Life
Want to know what else you can find at Walmart that will bring a little joy and health to your life? The NEW #1 Doctor recommended Align Probiotic Whole Food Blend. 
Align now offers a probiotic that has no artificial flavors or ingredients. Available at Walmart, this product is a must-have!
Align Whole Food Blend is the #1 Doctor Recommended probiotic to help keep your digestive system running smoothly by supplementing the good bacteria, which helps support your body's digestive system.
This clinically studied bacteria naturally help to*:
Fortify your digestive system.
Promote and support a healthy digestive system.
Maintain digestive balance.
The best part about these probiotics is that they are vegan with no artificial flavors/ingredients, so you can feel great about doing something good for your body.
Connecting with Yourself Through Container Gardening
I told you that getting outside in the warm sun and getting my hands into dirt really helps me to reconnect with who I am. There is no one around to fill my head with all the negative news going around. There are no family members around asking me for things at that moment.
No –it's just me and my plants and my dirt. As I am planting them, I am dreaming of all the yummy dishes I will make with my basil. I smell the flowers and think of all the adorable hummingbirds that will come to visit.
These things make me feel alive. They make me feel like myself. And once I get them all planted, I set them on my porch and allow myself to bask in their beauty.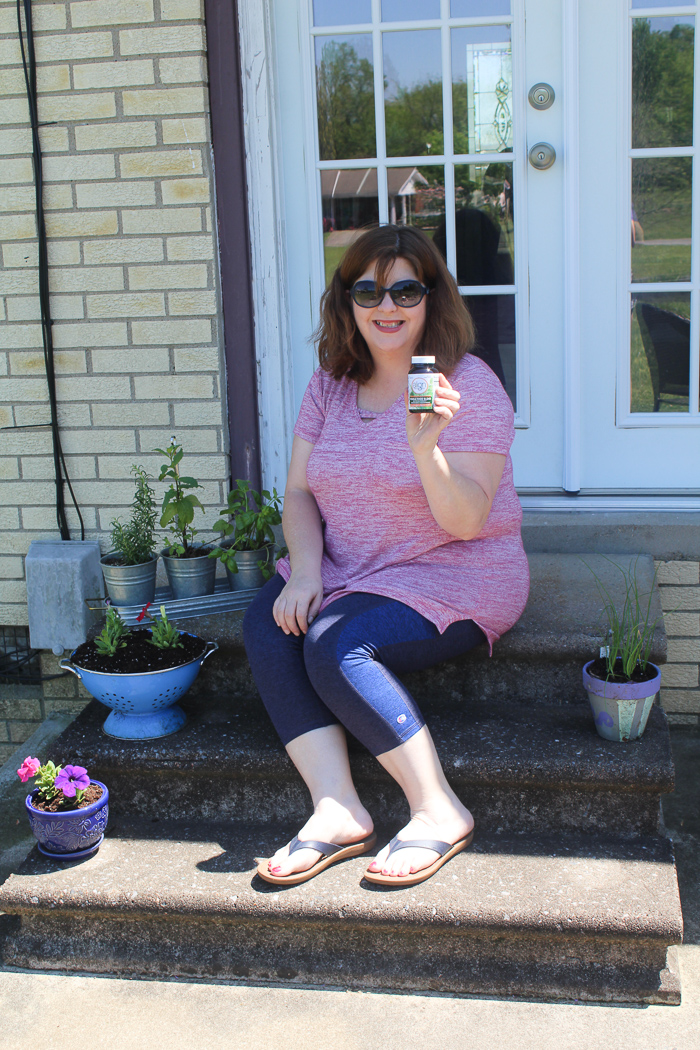 I hope that if you are thinking about gardening, this year you will give container gardening a try. It's fun and an easy way to get started with some of your favorite fresh herbs and flowers.
Don't forget to stop at Walmart and pick up a bottle of Align Probiotic Whole Food Blend. Use this coupon to snag $2 off a bottle.
*This statement has not been evaluated by the Food and Drug Administration. This product is not intended to diagnose, treat, cure, or prevent any disease.