Last month, I started a new feature on the blog sharing my reading list for the month. I did this as a way to help hold me accountable for reaching my reading goal this year. In my July reading list, I was able to finish every book!
Now — here it is August and I have a brand new list for you. Here is my August reading list
My mother-in-law is still super sick and has been in and out of the nursing home and the hospital, so I have had a lot of time to pick out selections and read them. I finished one in just a couple of days and now I am already on book two for the month.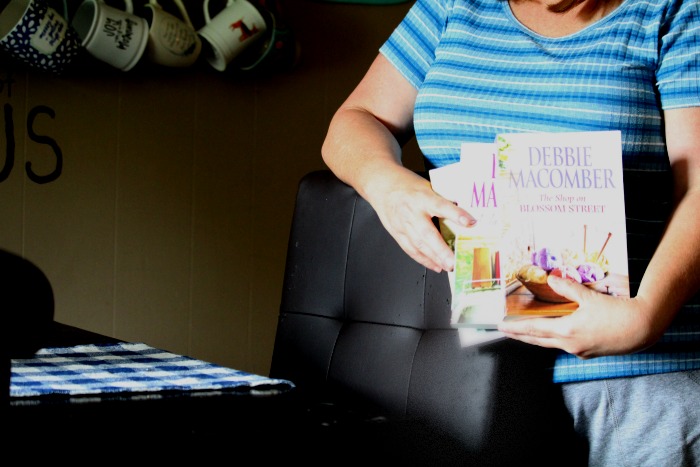 August Reading List
This post contains affiliate links. If you click-through and make a purchase, I may receive a commission at no additional cost to you.
#1 Caught by Surprise by Jen Turano
I actually won this book on Facebook! I have never read any of Jen Turano's books, so I am super excited to be reading this one.
It is set back in the olden times and this genre is always a favorite of mine. I cannot wait to read this one.
#2 Why Her? By Nicki Koziarz
I have always been a huge fan of Nicki's. I read her other book and have followed her for years on Instagram. She is so enthusiastic and REAL. I relate to her stories of failure and comparison and I know this book is going to really speak to me.
#3 The Shop on Blossom Street by Debbie Macomber
One of my all-time favorite authors is Debbie Macomber. Her books make me fall in love with writing all over again. I just finished reading this one and if you love knitting or crocheting, you will not be able to put this one down.
Debbie is actually going to be at the ACFW conference in September in NASHVILLE Y'all and I don't have the money to go. I am so bummed. Maybe next year huh??
#4 Susannah's Garden by Debbie Macomber
This one sounds like a great one too and my next read!
#5 A Turn in the Road by Debbie Macomber
I think all three of these books I ordered from Guideposts one year. They have been sitting on the shelf for a few months. I brushed them off and added them to the stack this month.
#6 Her Fear by Shelly Shepard Gray
I have read all the books in this series. They have been excellent. I am reading this one this month so that I can review it for you all and let you know what I think. If it is anything like the other ones, I know it will be a page-turner!
About the book
In New York Times bestselling author Shelley Shepard Gray's latest novel of suspense in her Amish of Hart County series, an EMT falls for a woman with ties to an Amish community where people are dying similar, suspicious deaths.
Sadie Detweiler never imagined she'd move to Kentucky, yet here she is a pregnant, unmarried Amish girl banished by unforgiving parents to live with kin she barely knows. The men are gruff and her cousins are secretive. Worst of all, elderly matriarch Verba becomes mysteriously ill shortly after Sadie moves in. When EMT Noah Freeman arrives, Sadie immediately notices he's unlike any other Amish man she's met. Noah is warm, confident, and has an easy way with practically everyone in the community, both Amish, and English. Though Sadie is drawn to him, she has little hope he will reciprocate her feelings once he learns she's with a child.
Noah can't understand how a girl as sweet and lovely as Sadie ended up sleeping on a cot in Verba Stauffer's kitchen. He also senses Sadie is terrified of something. Concerned, he checks up on her. Eventually, they strike up a friendship and soon their attraction is undeniable. When Verba later dies at the hospital and her death is followed by two others, Noah's boss wants him to dig around the Amish community for clues. He agrees—for Sadie's sake—because only the truth will keep her safe and by his side.
#7 Self Deliverance Made Simple
I am always looking for books that help me to deal with issues in my life and this one was given to me by a friend. She and I pray for each other all the time, so she knew that I would love this book as much as she did.
So there you have it! That is my list for August. Yes — I have 7 books on my list, but I read A LOT! If I finish all of these, I do plan on adding a couple of more from my Kindle. I have about 50 novels stored on there for extras when I finish my list.