This month for the Improv Cooking Challenge, we were given Bacon and Eggs to work with. Now — there are SO many things you can make with bacon and eggs because they are two versatile ingredients. I chose to find a way to incorporate them into a sweet recipe instead of a savory one, so I created Bacon Chocolate Chip Cookies.
Looking for more easy recipes? Check out my huge database of delicious, homemade goodies.
If you have ever had salty and sweet in the same bite and fell head over heels in love, then you will LOVE this cookie recipe. The key is getting your bacon good and crispy without overcooking it.
Bacon Chocolate Chip Cookies - Improv Cooking Challenge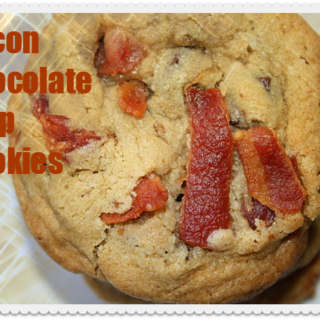 Ingredients
1 egg
1 stick butter, room temp.
1 box of chocolate chunk cookie mix
8-10 slices of bacon, cooked and crumbled
Instructions
Preheat oven to 375 degrees.
Place two sheets of paper towel on a microwave safe plate. Place 4 strips of bacon on top of the paper towel thencover your bacon strips with one more layer of paper towels. Microwave for 3-5 minutes. Be sure to check your bacon periodically as all microwave ovens vary.
Bacon must be crisp, not chewy. Repeat with remaining strips and set aside to cool.
Mix room temperature butter and egg until combined and then add the cookie mix.
Chop your bacon strips. Try to get them all the same size. If you do not, no worries. Big chunks of bacon make for delicious bites of cookies 🙂
Gently fold the bacon into cookie dough.
Scoop cookies out onto a baking sheet in 1 inch proportions (or bigger if you want bigger cookies).
Bake for 12-15 minutes or until just golden around the edges. Cool on a cookie rack and then enjoy!
Beware -- you will eat more than one!
I am now in cookie heaven! Be sure to check out all the other amazing recipes in the Improv Cooking Challenge.