This recipe for bbq chicken nachos with avocado ranch dressing is simply delicious and makes for the perfect lunch or dinner.
During the summertime, when everyone is at home ALL THE TIME, my grocery budget can go out the window, especially around the 1st and the 15th of the month.
When weekends like the one that just past hit, I head to my arsenal of recipes to create some budget-friendly meals, so that we can get back on track and back on our normal spending routine. That was how I came across this delicious new recipe I created for BBQ Chicken Nachos with Avocado Ranch Dressing.
How to Make BBQ Chicken Nachos

Before I tell you how to make these nachos, let me tell you how I save a little money at the grocery store.
There are a few things that I do beforehand to help cut the cost of our food, so I thought I would share a few of those tips with you here — and maybe they can help you too!
Many times, I have been able to feed my family of 4 people for around $100 a week, sometimes less. I use these steps every week before I grocery shop.
How to Stretch a Buck at the Grocery Store
Make a Meal Plan Using Sales Flyers
I cannot stress enough how important meal planning is. This is the very first step in creating a grocery budget. Write down the meals you will be making all week long. If you use the sales flyers from the stores, you can create many low budget meals by purchasing what is on sale.
Create a shopping list and stick to it
I have found that when I do not create a shopping list from my meal plan that I tend to overbuy and blow my budget completely out of the water. Make a list of all the items you are going to need and then DON'T deviate from that list.
Search for coupons and savings
I always search online, in magazines, and in the newspaper for coupons for products I buy. I don't clip every single coupon. I only clip the ones I actually will use. Some people like to buy everything, but to me, this is above and beyond my budget, so I just clip what I can use to help with our grocery budget.
Choose Meals that Don't Use Whole Cuts of Meats
One of my favorite tips for making budget-friendly meals is simply by stretching the meat involved. Instead of serving whole chicken breasts (which would usually take about 8-10 for my family), I will buy a pack of chicken breast tenders and boil them to shred for meals like my delicious BBQ Chicken Nachos recipe that I am sharing with you today.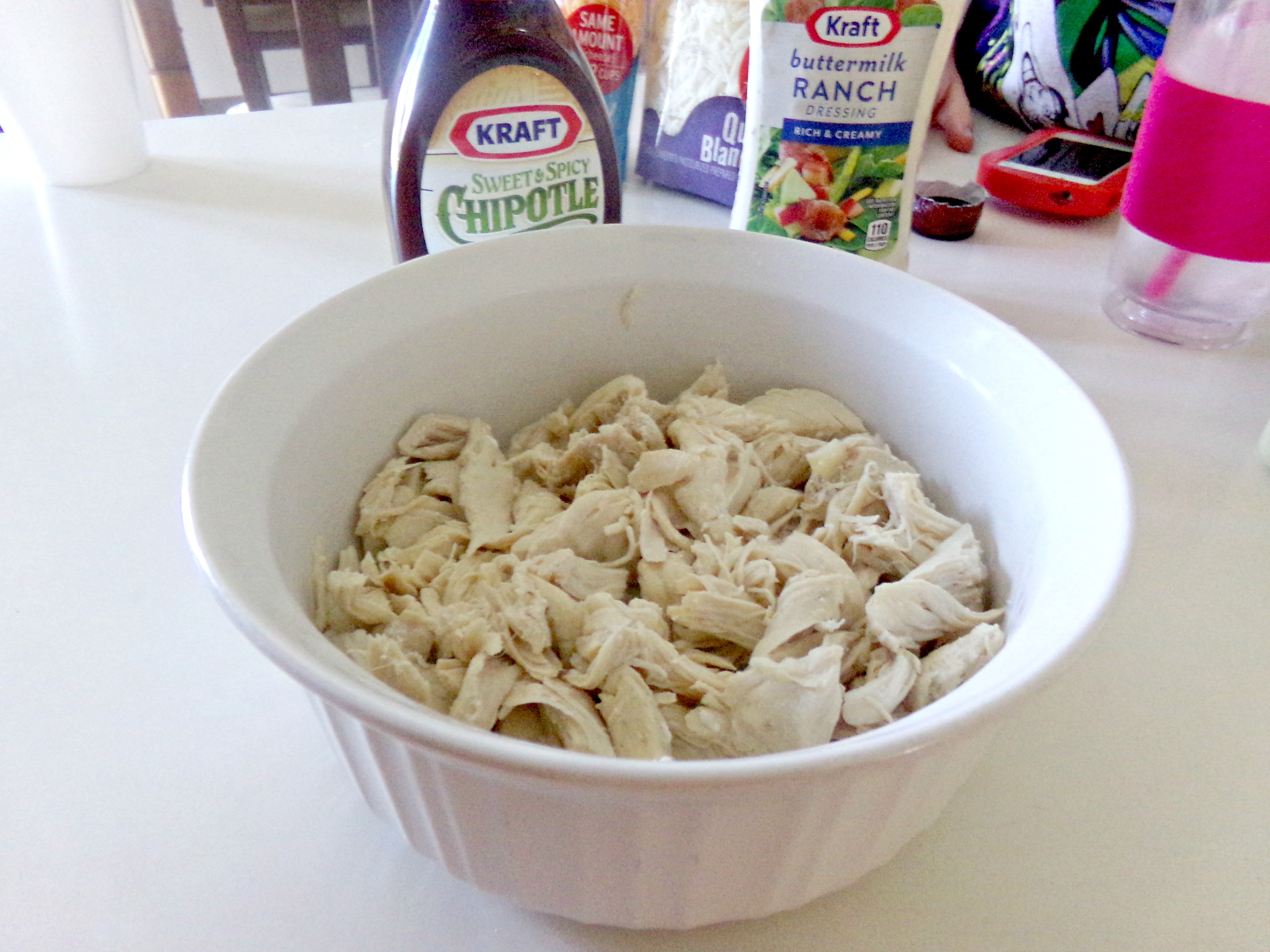 Those are tips that I always use and I am telling from experience, they allow me to create delicious low budget meals that my family loves and enjoys, without sacrificing flavor or anyone leaving the table with an empty tummy.
BBQ Chicken Nachos with Avocado Ranch Dressing
Ingredients
1 bag of tortilla chips
1 package of chicken breast tenders
1/2 cup of Kraft BBQ Sauce
1/2 cup of Velveeta Cheddar Shreds
1/2 cup of Velveeta Queso Blanco Shreds
1/2 cup of Kraft Buttermilk Ranch Dressing
1 avocado, ripened
1/8 cup of olive oil
1/2 teaspoon salt for taste
Instructions
Take chicken and place in a microwave safe bowl. Add enough water to cover the chicken and then cook in the microwave for 10-12 minutes, until cooked through.
While the chicken is cooking, put oven on broil and let it pre-heat.
Take the tortilla chips and place on a cookie sheet and spread out.
Once the chicken is done cooking, drain from the water and shred with two forks. Add the BBQ sauce and mix well together.
Sprinkle chicken all over the tops of the chips. Take both flavors of cheese and sprinkle on top and then place under the broiler to melt cheese.
While cheese is melting, slice avocado and place in the blender, along with the ranch dressing, olive oil, and salt. Blend and then pour into a squeeze bottle for drizzling onto the nachos.
Once the cheese has melted, remove from the oven, sprinkle with salt and pepper, and then drizzle the Avocado Ranch dressing over the top of the Nachos. Top with cilantro for garnish and sliced tomatoes.
My BBQ Chicken Nachos uses a small number of ingredients — just a handful — and is less than $12 for 4.
One of my favorite aspects of this dish was the Avocado Ranch dressing I made to drizzle over the nachos. Two ingredients pureed together can create a delicious and mouthwatering taste.
Here is a quick tip for you —
Instead of boiling your chicken on the stove and making your house hot, simply put your chicken in a microwave safe bowl, cover it with water, and boil for 10-12 minutes. You will get juicy succulent chicken that can be shredded easily with two forks.
Once you shred your meat, then simply add your Kraft BBQ Sauce and mix together and then sprinkle over your nacho chips.
Now that you have a few tips under your belt and a delicious and easy recipe to make for your family — what low budget meals will you be making for your family?
Be sure to shop Walmart and all the amazing rollback savings that they have going on — and be sure to grab a few Kraft products in the process. It is a brand that you know you can trust for full flavor, amazing deals, and honest to goodness love for your family. You will definitely #RollIntoSavings with Kraft!
What meal will you create next?
This post has been linked to Full Plate Thursday.