Thank you Nokia for sponsoring this post and my tips for being the bulge this year. Visit the Nokia Body+ site for more info and start the new year off right!
Every year I make this proclamation – I am going to lose weight. And just like every year, I fail. For the past couple of years I could not understand why, but when I was doing some research and taking long hard looks at my habits over the last 24 months, I discovered a few things. My consistency level was – well inconsistent.
I sat down and made some hard decisions about my life and my health and I decided that there were 5 things I was going to really focus on doing better. I have 50 pounds to lose this year and I am not going to do it by just making a proclamation at the beginning of January.
#1 Use the Right Equipment to Help Me
I was recently introduced to the Nokia Body+ Scale and I have to tell you that I am super impressed with every single thing it does.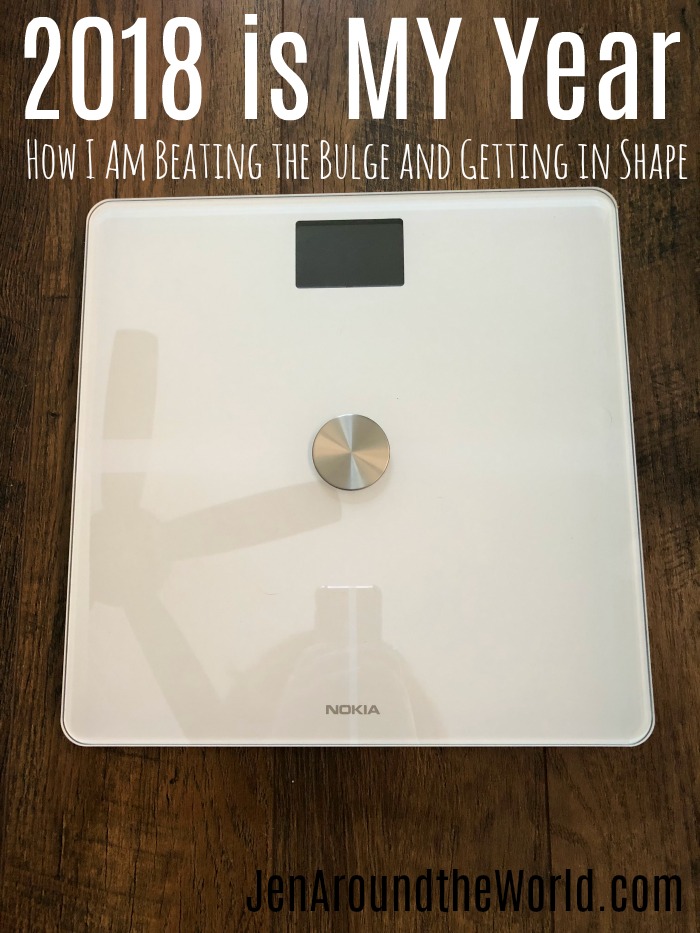 This scale is SO amazing that it measures everything you need to know about your body – weight, muscle mass, water mass, bone mass, BMI, and more. This scale analyzes so much! It can also tell you the weather.
And it works great with the Health Mate app and shows you on a daily basis what your stats are and offers tips and suggestions to reach your potential maximum weight loss.
The cool thing about this scale is that I have set my daughter up on it as well. She's been wanting to get in shape too, so I added her as a user and now we can both get fit together. In fact, you can add your whole family – up to 8 users.
It is going to be a great tool to help me lose the weight and stay in shape!
(Get 10% off at the Nokia Health store through December 1, 2018 here with this code: NEWYOU-JOI-IJD)
#2 Set Goals
One of the things that I did not do in the past is set a goal of how much weight I wanted to lose. I finally sat down and came up with a number – 50 – I want to lose 50 pounds. Now, if I just say "I want to lose 50 pounds" but set no other goals to go with it, I am setting myself up to fail.
So I decided to set smaller goals each month, and even further than that, each week.
I want to lose 5 pounds a month. That means by the end of October I will have reached my goal weight. That allows me the ability to break it down even further and say – I want to lose 1.25 pounds per week.
#3 Find an Accountability Partner
Anything you try to do on your own, especially when it is hard – you will likely quit doing it when the going gets tough.
I remember last year when I was doing cardio kickboxing that I was more eager to do it when my friend did it with me than when I was doing it myself. Hover here for more info on kickboxing.
An accountability partner helps hold you accountable to the goals you set for yourself and will help keep you on track.
#4 Walking It Out
It is a proven fact that the more you walk, the better you feel and the more in shape you will get. Notice I did not say "lose weight" because the goal here is to feel better.
Walking does that. During the summer, my family and I walked 3 times a week. We walked 3 miles a day on a trail by the dam. The cold weather stopped that and I can tell you that I am feeling it. My body has been craving movement more and more these days and it is high time I get back to it.
#5 Don't Give Up
In the past, I have always given up when the scale doesn't move that much. This year – I am not giving up. I am going to hang on and see this thing through.
Don't base everything on the scale like I did. Take in to stride everything going on – did you go down a size in pants but the scale hasn't moved? That is a victory! Let's count those as well and don't ever give up.
Keep pressing on!
I hope these tips help you in making 2018 your year and reaching your health goals. I plan on getting rid of this weight and keeping it off.
Sometimes the scale may not move. What about all the non- scale victories you accomplished? Things like getting the right amount of sleep, exercising the number of days you set in your goals list. Or even better than that – you ate healthy for an entire week?
I was selected for this opportunity as a member of CLEVER and the content and opinions expressed here are all my own.