My daughter loves baking more than any 18 year old I have ever seen. One of her favorite things to do is find a recipe, tweak it to her tastes and recreate something so amazing and delicious. That is how we discovered the best cupcakes you will ever taste on this planet.

Some of our best memories as mother and daughter have been right in my kitchen making yummy food to share with the family. Of course, we have to taste test everything 🙂 including these delicious cupcakes.
What makes these the best tasting cupcakes ever is the fact that they are not overly sweet. They are moist and just have the most amazing vanilla flavor in a cupcake.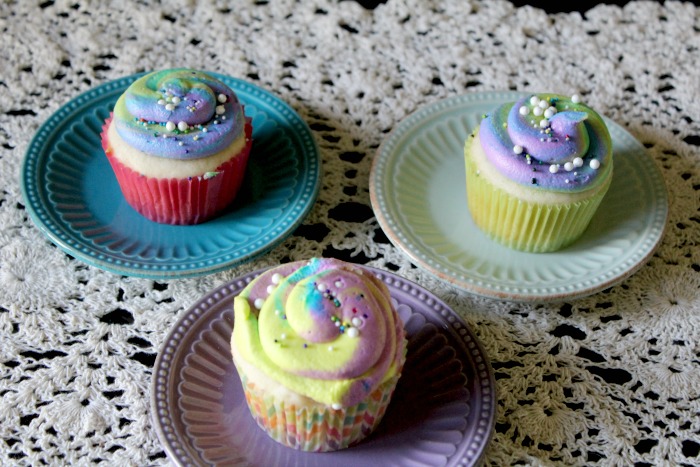 She has always wanted to play around with the icing as well making it into her favorite galaxy style looking icing. Basically you color your buttercream in three different bowls then layer them in your piping bag and squeeze them out. They make the prettiest colors.
Okay — so here is our recipe for the most amazing cupcakes you will ever put in your mouth. I promise — you will never buy store bought cupcake mix again after making these.
The Best Cupcakes Ever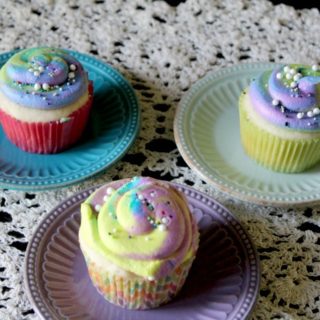 Ingredients
For the Cupcakes
3 cups of all purpose flour
2 sticks of butter
2 1/2 teaspoons baking powder
1 3/4 cups of sugar
2 teaspoons vanilla extract
1/2 teaspoon of salt
2 large eggs
1 1/2 cups of whole milk
For the Buttercream Frosting
2 sticks of butter softened
2 tablespoons heavy cream
3 cups of confectioners sugar
1 1/2 teaspoons of vanilla extract
food coloring
sprinkles for decorating
Instructions
Preheat the oven to 350°F. Line cupcake tins with wrappers. In a medium bowl, sift together the flour, baking powder and salt.
In the bowl of a stand mixer fitted with the paddle attachment, beat the butter and sugar until light and fluffy, about 2 minutes.
Add the eggs one at a time then add the scraped vanilla bean seeds and vanilla extract and beat until combined.
Alternately add the flour mixture and milk, beginning and ending with the dry ingredients, and beat just until the batter is combined.
Fill each cupcake cup 2/3 full with batter then bake the cupcakes for 15 to 18 minutes until a toothpick inserted comes out clean.
Remove the cupcakes from the oven and transfer them to a rack to cool completely while you make the frosting.