Travel is in my blood this year more than ever before. I am so excited about some things on the horizon. For starters, I am attending the TBEX North America Travel Conference this year and I am SO ready to learn all about the ins and outs of being a travel blogger.
Of course, as a travel blogger, that means that my iPhone is going to be with me and will definitely be of use to me. I recently read an article from Forbes that talked about some of the best travel apps for 2016. I have used a couple of these over the past few years and I know that they will come in handy this year as well.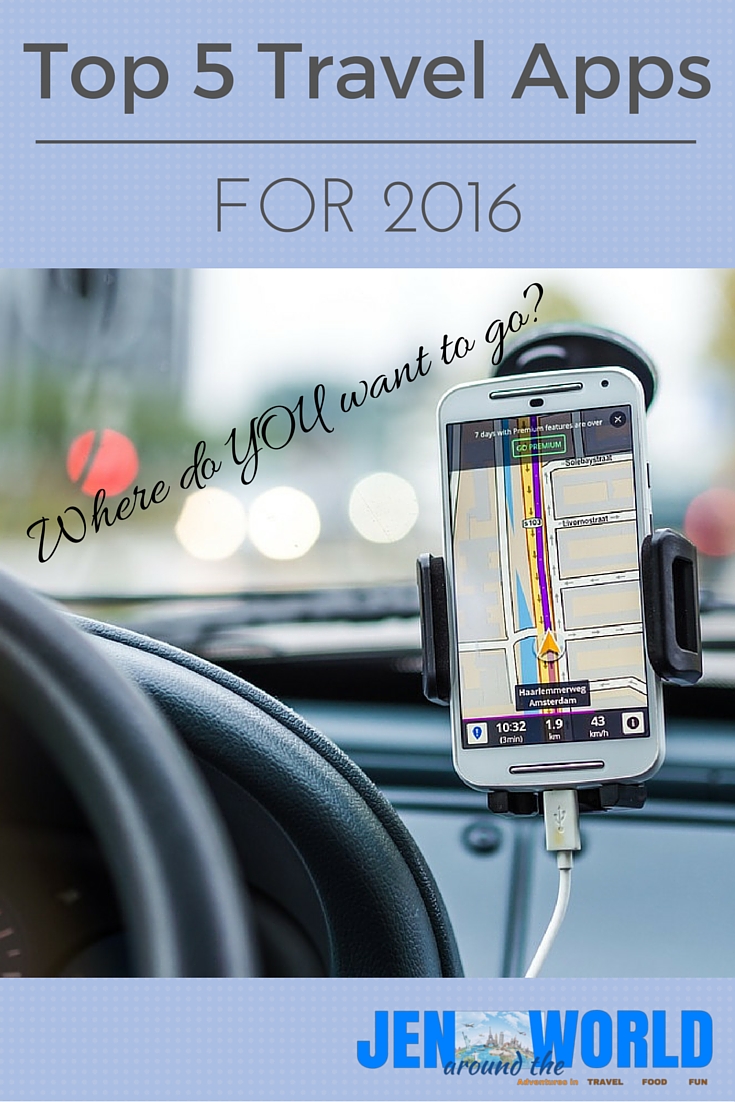 Since Forbes listed their top travel apps for 2016, I thought I would share the ones that I use and the ones that I know will come in handy this year.
For many people they like to unplug when they go on a trip, but not me. I use my phone a lot taking photos and sharing with my readers about where I am and all the fun things that they can do.
When we traveled to Gulf Shores last year, I used Periscope to give a tour of the beach house that we stayed in. This year, I am excited to explore Snapchat even more and find out how to use it for traveling as well.
In fact, when I attend TBEX this year, they have a teaching track on using snapchat for travel.
Best Travel Apps for 2016
#1 Snapchat
I am really new to the Snapchat movement (you can follow me @jennifersikora). It has taken the place of Instagram for 2016 according to Forbes. Where last year, it was all about Instagram, this year, it is about SnapChat.
I follow a few travel bloggers on SnapChat and I love what they are doing. Right now, I am learning all about Israel thanks to @TripIt.
One thing I love about Snapchat are the fun filters they have for Geotagging. They change for each location you travel to, and they can range from snow falling or crazy things like raining money for a visit to Las Vegas.
All you have to do is swipe left on the picture in the application and get those fun filters going.
#2 Periscope
Periscope is a great way to connect in a live stream video with your readers. It automatically gets shared to Twitter so by using the right hashtags and a great headline, you can gain a lot of new readers and watchers. This is great for when you are working with PR and brands who want to see you in action!
I use Periscope a lot when I am visiting an area. I have a Katch.me account which captures those videos for playback for more than the alloted 24 hour period that Periscope allows. I can them send those links to the brand and I can also include them in the article I write up and share on the blog.
#3 Walc
The Walc app is like your Google Maps. I use Google Maps mostly when I go places. In fact, when I went to New York last summer, we put it on the walk by foot version and we used it to get all around the city.
However, with Google Maps, it only does street names, but with the Walc App — it gives you turns and directional walking with landmarks — which in my mind is MUCH easier than street names.
#4 Trip Case
I love, love, love, Trip Case. Anytime I am flying anywhere, I download all of my travel info to Trip Case. Once a flight or hotel booking is made, all you do is forward the confirmation to an email address and the app automatically loads the booking into its system.
If your flight is delayed or changed, notifications are automatically shared. It is wonderful — especially if you don't always use the same airline. Instead of having 5 different airline apps, I just use Trip Case to cut down on that.
#5 CityMaps2Go
I love taking a city map and touring a city. But when you do that, and use paper maps, they can mount up pretty quickly. With the CityMaps2Go app, everything is stored electronically.
You can download detailed maps of the city, and customize what kinds of places show up on the map (restaurants, bars, shopping, museums, etc). Once the city map is downloaded, you obviously do not need to worry about a wifi signal or being in a network. In addition, the GPS will show you where you are on the map and update continuously as you walk.
Apps Make Travel SO Much Easier
Now that you know my best travel apps for 2016 that I plan on using, what about you? What are your favorite apps for travel? Be sure to check out All Green ITAD.
Put that smart phone to good use and share with your followers about your travels. Sometimes that is the only way some people ever get to travel so make it exciting for them.
Be sure to follow me on Snapchat @jennifersikora and on Periscope @jennifer_sikora.