While our family was in Gulf Shores and Orange Beach this time around, we ate at a lot of restaurants located within The Wharf. You might remember my post about Ginny Lane and then last year we ate at Villaggio Grille, but when our friends called who live there, and asked us if we wanted to meet them for dinner at Bimini Bob's, we jumped at the chance to try a new restaurant in the area.
The minute we pulled up and saw the restaurant I knew I was going to like the vibe and feel here. It is RIGHT on the water, which means there is outside seating — which is my favorite way to eat when I am visiting Gulf Shores.
Here is a cool fact that I learned about Bimini Bob's when I visited their website —
Bimini Bob's has been featured on the Food Network for the Beachside Eats USA "Dockside Dining" episode. Celebrity Chef Curtis Stone sets sail to discover the ultimate dockside dining along the Gulf Coast of Alabama where he joins our very own Chef Steve Zucker at Bimini Bob's!
The inside is funky and fun, but like I said, the outside is what really caught my attention.
They have regular seating, but they also have these swings — y'all swings — where you can sit, relax, have a drink and enjoy the beautiful sunset.
Even though we were here with family, it totally made me want to come here on a romantic date with my hubby!
The inside was just as gorgeous.
The music is fun, but the food y'all – the food is PHENOMENAL!!!
When it was time to order, our friends ordered the shrimp tacos. I almost got the shrimp tacos, but I settled on the Caribbean Jerk Chicken since I had not had that in a while.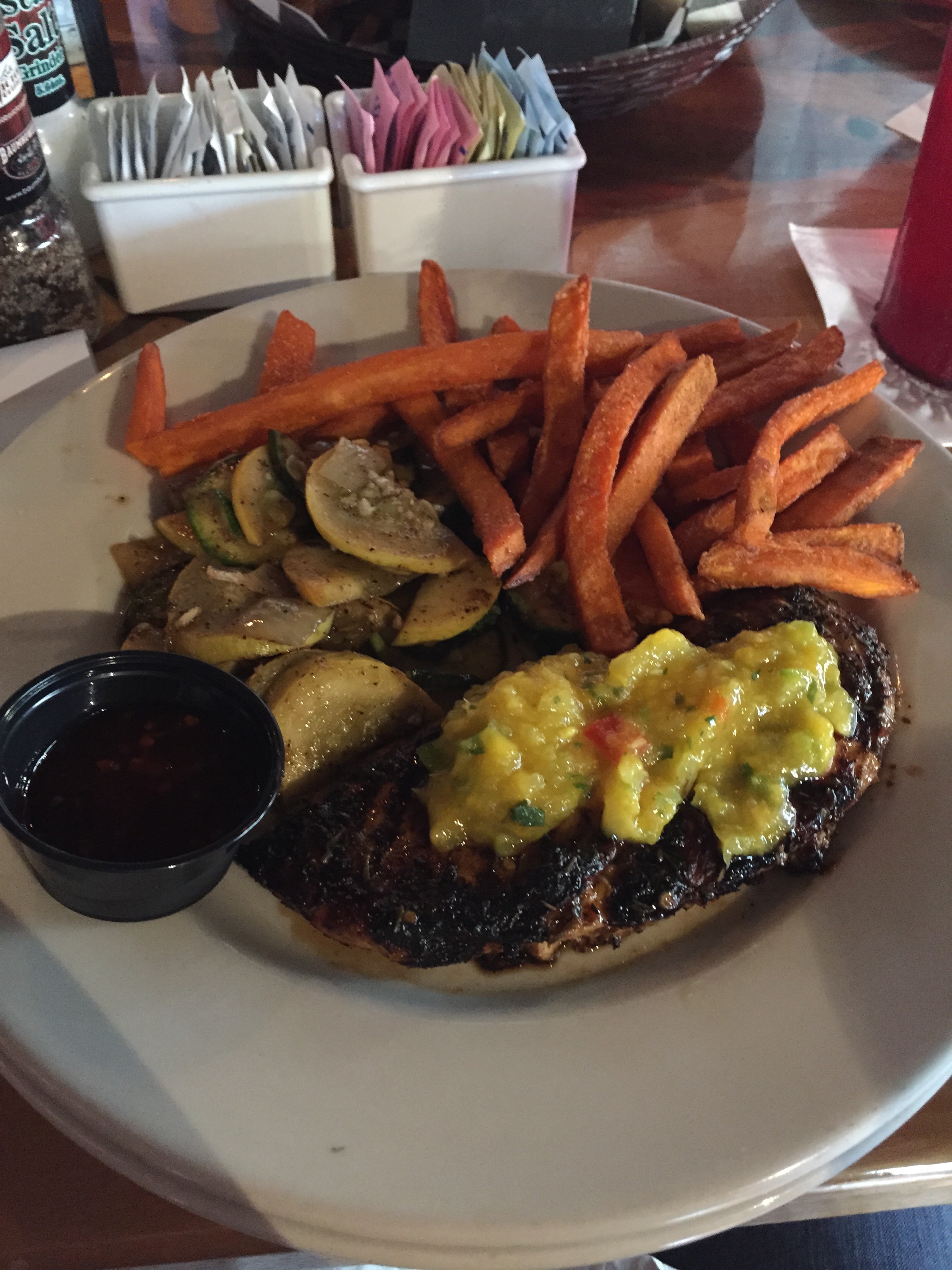 It had a mango chutney on top and then served with sauce on the side and sweet potato fries that were out of this world.
After eating this scrumptious meal I knew I was going to have to have dessert. I ordered my favorite — key lime pie! You may remember the Key Lime Pie dessert I posted about when I visited Lulu's last year that was good, but I do believe that Bimini Bob's was even better!
I seriously could not get enough of this dessert. I ordered coffee to go with it and it was like I was heaven for a moment.
I definitely plan on going back here again the next time I visit. I am hoping that I catch it on a night when there is live music, because I do love a good band!
Have you been to Bimini Bob's before?
Be sure to check out all my other favorite places to eat on my Ultimate Gulf Shores Trip Planning Guide.