Y'all — I have never been more excited about a movie — and a Marvel movie at that — than I am about Black Panther. To me, this is THE BEST Marvel movie to date. Be sure to head out today and grab your blu-ray combo pack!
The Marvel Cinematic Universe first welcomed T'Challa/Black Panther (played by Chadwick Boseman) in 2016, which is when the iconic character was introduced to movie audiences in Captain America: Civil War.
Marvel Studios' "Black Panther," the highly celebrated story of T'Challa (Chadwick Boseman), a young African prince who takes on the mantle of King and Super Hero, has thrilled and inspired generations of moviegoers around the globe.
Now, fans can bring home the phenomenon, packed with light-hearted fun, pulse-pounding action and a powerful message, and watch it over and over again, Digitally in HD and 4K Ultra HD™ and Movies Anywhere on May 8 and on 4K Ultra HD™, Blu-ray™, DVD and On-Demand on May 15.  With both Dolby Vision and Dolby Atmos immersive sound, 4K Ultra HD offers consumers a transformative viewing experience. 
Download this fun activities pack for your kids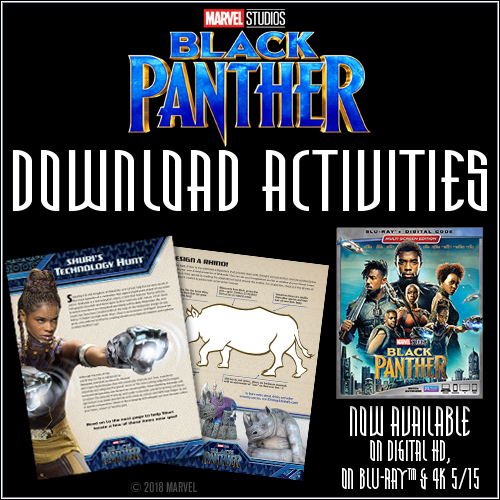 Marvel Studios president and Black Panther producer Kevin Feige couldn't be happier for audiences to witness the iconic new Marvel movie. "When the Black Panther character debuted in the '60s it was a daring move for the Marvel bullpen of Stan Lee and Jack Kirby to introduce this new character, an African character who is smarter than many of our other heroes and is stronger than most of our other heroes," Feige explains. "To be able to put that on the big screen FIFTY years later is incredibly exciting for us."
The in-home release of Marvel Studios' Black Panther is packed with never-before-seen featurettes on the making of the movie, as well as a director's commentary, a gag reel and FOUR deleted scenes. U.N. Meet And Greet, Okoye And W'Kabi Discuss The Future Of Wakanda, T'Challa Remembers His Father and Voices From The Past are the names of the exclusive deleted scenes.
Since its theatrical release in early 2018, Marvel Studios' Black Panther has dominated the box office charts across the globe. In the USA, it was the first film in eight years to spend FIVE weeks at No. 1.
Get your copy of the movie today!!