Thanks to Rachael Ray Nutrish for Pets for sponsoring my trip and first ever BlogPaws 2017 Conference experience.
Last month I attended my first ever BlogPaws — a yearly conference dedicated to all the pet bloggers out there. Now, granted — I knew a couple of pet bloggers because of my interaction with Nutrish for Pets, but seriously?? I discovered a whole new world of blogging that I completely fell in love with thanks to the BlogPaws Conference.
I have been in the conference world for many years now and have attended my fair share of mom blogging conferences, but a pet conference? This was my first and definitely will NOT be my last.
This year's BlogPaws event was held in Myrtle Beach, South Carolina — and we stayed at the Sheraton Convention Center — which is just blocks from the beach.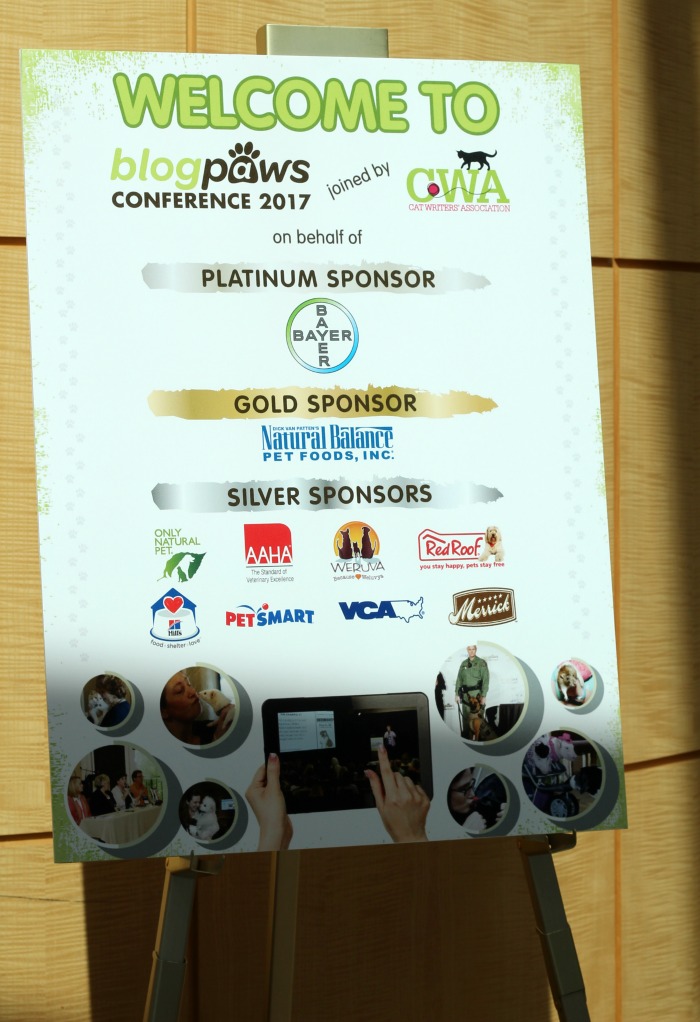 One thing I learned for sure is this — if you love pets as much as I do and plan on attending an event like this, your heart for animals will constantly be doing a flip flop.
I could not concentrate because of all the cuteness roaming around. But there is so much more than the cuteness that I realized while attending this conference.
4 Things I Learned While At BlogPaws
#1 I Am Missing Out on a Whole World I Never Knew Existed
From the moment of walking into the Sheraton for the BlogPaws conference, I felt like I had been missing out — that this whole pet blogging world had been a secret to me.
The BlogPaws Vendor area was full of amazing products like this one!
I dabbled in it a little bit with Tucker and Mittens, but the more I chatted with people and listened to them talk about their pets, their blogs, their missions and causes? My heart immediately connected with them.
I kept thinking "YES! This is what I have been missing all along. These pet bloggers are simply amazing."
#2 Many Brands Like Working With Non Exclusive Pet Bloggers
You know that here on the blog I write about everything — including my pets. While talking to many of the brands, they told me how unique my blog was and that those were the types of places they really liked to work with. It made me feel really good because I always worry about whether or not I should narrow it down, or that my focus is too wide.
They assured me that I should keep doing what I was doing and not try to start a pet blog by itself. They really liked the uniqueness of my space.
#3 Don't Be Afraid to Meet New People
Okay — if you have ever been to a mom blogging conference, then you know how snarky they can get sometimes. Some bloggers are not happy about you asking them about sharing their expertise or secrets on something, and they are most definitely not excited to share brand contacts, etc — like we are all in competition with each other.

Because of that and that being the only experience I had, I was skeptical at first to talk to the other pet bloggers. I was an outsider coming into their realm, but from the moment I said my first hi (I was all alone at this conference), I found myself being swept up and included like I had been here all along.
Everyone was quick to share info with each other, exchanging business cards, working on collabs with each other and more.
Seriously — I was BLOWN AWAY by community and love here. I mean, blown away. I had never seen this type of commitment from such a large group of men and women who only wanted each other to succed.
#4 It's Okay to Not Always Work for Money
I learned a lot about causes and missions while I was at BlogPaws. I have always been told that as a blogger, you should never put yourself out there without pay, but I found myself chatting with so many people that made me want to help them get the word out about what they were doing.
I fell head over heels in love with Ivvie! She's one of the most gorgeous Malamutes ever.
For instance, I spoke with the AAHA and learned so much about what I can do to help spread the word and get the vets in my area to get accredited. There is no money in that for me, the value it brings to my pet is worth every word and social media post I publish.
In Conclusion
Y'all – I have found a great place where I connect even more and I cannot wait to go to BlogPaws next year. My daughter is going with me and we are going to be bringing both Tucker and Mittens. They are PUMPED that they are going with us!
If you have ever wondered about a pet conference, take it from me — go. You will not regret it one single bit!