Blueberry Cream Cheese Pinwheels is the perfect summer dessert. Flaky puff pastry crust, blueberry sauce, and sweetened cream cheese make the most delicious dessert.
This dessert may look over the top sweet, but with the addition of the puff pastry, every bite of my Blueberry Cream Cheese Pinwheels will have you drooling.
If you missed yesterday's recipe, you can click here to get my Rustic Cherry Galette.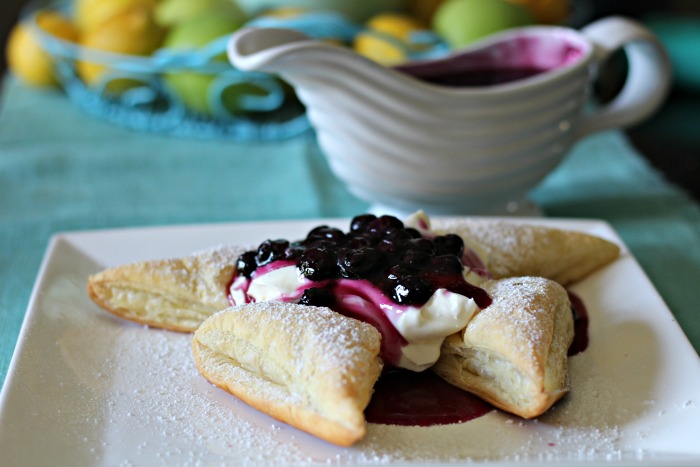 One day I went over to the local donut shop to pick up some apple fritters for my mother-in-law. That was when I noticed this amazing dessert sitting on the counter.
I asked the lady what it was and she said they had been playing around with flavors and had created a blueberry pinwheel.
I thought to myself, "I can totally make that for summer dessert week", so I set out to do that, and guess what– I did?
How to Make Blueberry Cream Cheese Pinwheels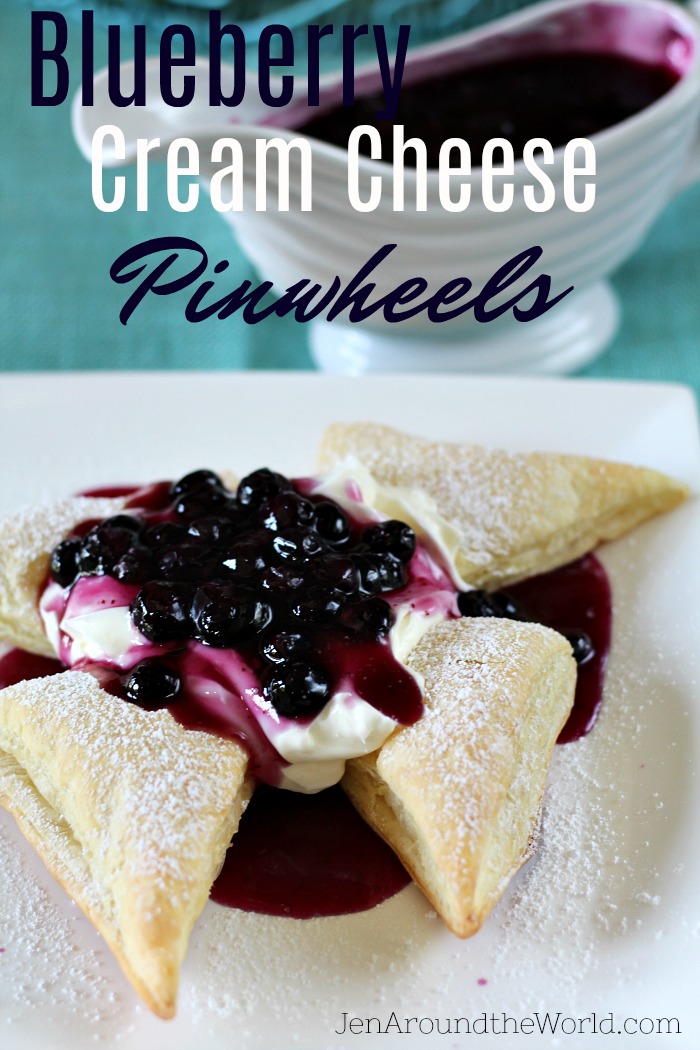 The stars of this recipe involve Dixie Crystals sugars, Rainier Fruit Blueberries, and Adams Spices and Extracts.
To start off, you need to thaw your puff pastry and cut it into squares and then into triangles. One sheet is enough to do one pastry.
Once you get all your squares cut, then you are going to preheat your oven to 400 degrees and layer the triangles on top of each other to create a pinwheel effect.
Once they get done cooking, they should all be hooked together and the center should have a dip in it.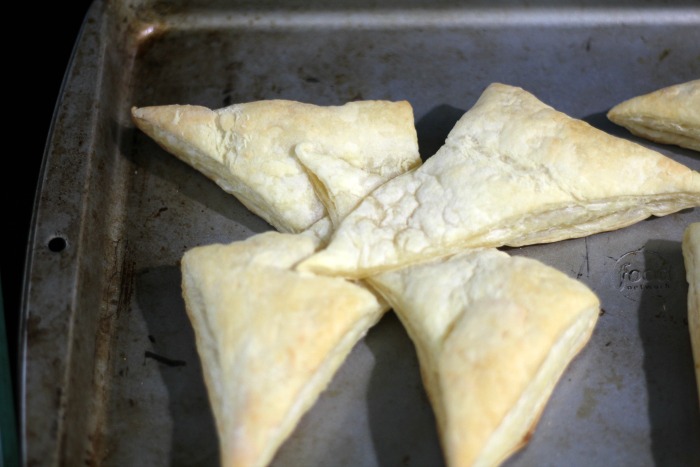 To make the cream cheese mixture, you add 1 block of cream cheese to 1/4 to 1/2 cup of powdered sugar. If you want it sweeter, just keep adding powdered sugar until you get it the sweet you want it.
Then, with a little milk, thin the cream cheese mixture out a bit until it is creamy — but still thick enough to hold its shape. You will have to be the judge of this. Just eyeball it.
Set this aside while the puff pastry cools.
Let's Make the Blueberry Sauce
Now — let's work on that blueberry sauce. It's a simple sauce of blueberries, water, and my favorite – Dixie Crystals Pure Cane Sugar.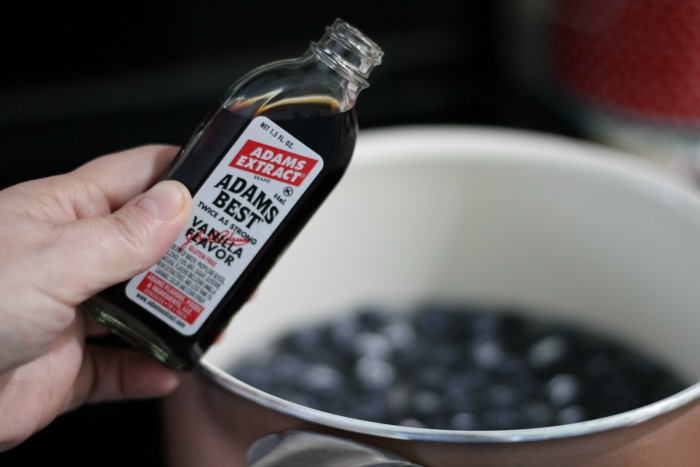 Of course, what really makes this dish so amazing are the Rainier Fruit Organic Blueberries. These are the heartiest blueberries I have ever tasted in my life.
In the pan, place the blueberries, sugar, water, and my favorite spice — Adams Vanilla Extract for that extra kick of flavor.
Then you are going to allow your blueberries to bust open and create this delicious deep blue color and flavor.
While the blueberries are cooking, take your puff pastry and pile the cream cheese all on top. You can smear it out up the pinwheels if you want, or you can leave it piled right into the middle.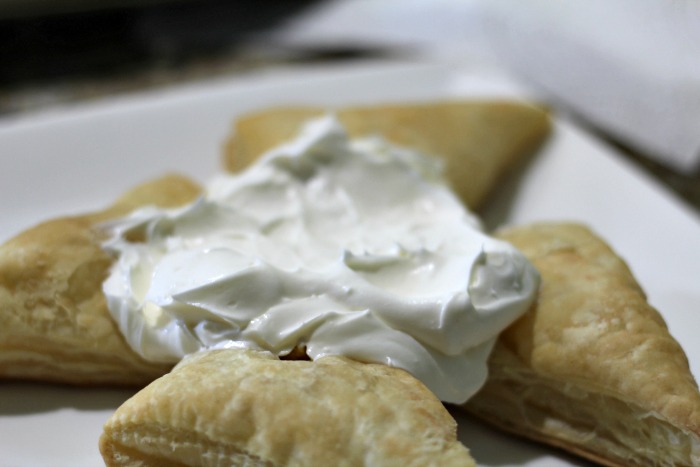 Once the blueberry sauce is done, remove from the heat and drizzle on top of the cream cheese mixture. The heat from the sauce will help soften any hard cream cheese you have going on.
Now — you are going to finish it off with a dusting of powdered sugar. It is pure perfection I tell you. We finished off 2 of these during dinner. We had enough left to make a third one 3 nights later!
Check out these other delicious summer dessert recipes
Blueberry Cream Cheese Pinwheels #SummerDessertWeek
Ingredients
1 package, 8 oz cream cheese, softened
1/4 - 1/2 cup of Dixie Crystals Powdered Sugar
1/3 cup Dixie Crystals sugar
1/4 cup of water
1 teaspoon vanilla
1 cup Rainier Fruit Organic Blueberries
1 package, 17.3 oz frozen puff pastry sheets (2 sheets), thawed
Instructions
Preheat the oven to 400F. Line 2 baking sheets with parchment paper.
In a small bowl, beat the cream cheese until smooth. Add the powdered sugar, and milk and beat until combined.
In a sauce pan, combine the blueberries, sugar vanilla and water. Cook over the heat until the blueberries have popped and the sauce has thickened and coats the back of a spoon.
Lightly flour a work surface and roll out each of the sheets of puff pastry to about a 10-inch square. Cut each piece into 4 rectangles,and then cut those into triangles. Transfer the triangles to the prepared baking sheets, allowing them to lap each other and create a pinwheel effect.
Using a fork, prick the centers of the triangles of puff pastry, leaving a 1/2" border unpricked around the edges. Bake until done -- about 10-12 minutes. Remove from heat and allow to cool.
Take a spoonful of the cream cheese mixture and place it in the center of each pinwheel of puff pastry, distributing equally among the pieces. Spread over the rectangle, leaving a 1/2" border. Top each with a spoonful of the blueberry mixture, spreading it evenly over the cream cheese layer.
Now -- dust with powdered sugar and serve.