I made a new recipe this past week. I usually make regular blueberry muffins, but this time I wanted to try my hand at Blueberry Oatmeal muffins using Better Oats Oatmeal packs.
Looking for more easy recipes? Check out my huge database of delicious, homemade goodies.
I think my treat was a success 🙂

Blueberry Oatmeal Muffins made with Better Oats Blueberry Muffin Flavored Oatmeal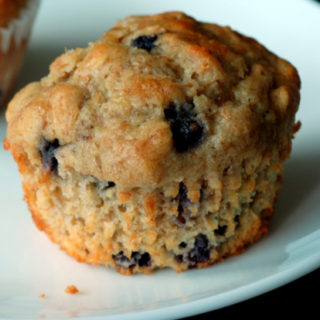 Ingredients
2/3 cup wholewheat flour
2 packs of Mmm Blueberry Muffin Better Oats Oatmeal
1/2 cup brown sugar
1 cup milk
2 large eggs, separated
3 tablespoons of vegetable oil
3 teaspoons of baking powder
1 teaspoon of cinnamon
1 teaspoon of salt
Instructions
In a large mixing bowl, combine the flour, Better Oats, baking powder, cinnamon, salt and sugar.
Create a well in the dry ingredients and add the egg yolks, milk and oil.
Mix everything gently until a wet batter forms.
In a separate bowl, whisk the egg whites until they form soft peaks.
Fold the egg whites into the muffin batter until everything is mixed evenly.
Divide the muffin mix into individual paper cases and place in an oven for
minutes at 400°F.
I used the Mmm…Muffin Better Oats Blueberry flavor to make these delicious muffins. I was really surprised how moist these turned out. The oatmeal is like the old fashioned type, yummy and hearty. In fact, in each packet you will find
Thick and hearty texture
Made with real blueberries
30 grams of whole grains per serving
220 mg of ALA Omega-3 per serving
Excellent source of antioxidant vitamins A & E
Good source of Fiber
I am a long time oatmeal eater, so when I discovered the Better Oats brand, I realized how much healthier and better for me this version is, than the one I was eating. There are a ton of flavors to choose from! I am sure that even the pickiest eater in your family will love Better Oats.

Better Oats instant oatmeal comes in many delicious varieties– 23 flavors in fact, including RAW Pure & Simple, Pomegranate and MMM… Muffins Blueberry Muffin. Kids love Better Oats because it's fun and delicious, and parents love it because it is not only nutritious, but also convenient. Better Oats uses up to 35 percent less packaging than traditional instant oatmeal boxes (so there's more room on the pantry shelf), and the pouch doubles as a measuring cup!
Made with 100% whole grain oats and flax seeds, this complete line offers a simple and healthy option when it comes to instant oatmeal. But it's not only a great breakfast (or lunch… or snack…) but also a better ingredient to spice up a cookie or other baked goods.
You've got to try Better Oats. If you've been settling for ordinary oatmeal, then you're in for a treat because Better Oats is just… better! Try it and see for yourself.
Visit the Better Oats website!
and be sure to follow the Better Oats Facebook page and their You Tube Channel so you can stay up to date on new flavors, and more. Right now, you can snag a $1.00 off coupon if you like the Facebook page 🙂
This sponsorship is brought to you by Foodie Blogroll who I have partnered with for this promotion.