I was sent promotional materials in exchange for this post. All opinions listed are 100% my own.
I don't know about you, but any chance we get to hug our cats around here, we take it. Today– there are two things happening! It's national hug your cat day and Captain Marvel will soon be available for purchase on Blu ray and DVD.
We love spoiling our cats, and anytime we can include some of our favorite movies in the process — we do it! If you have had the chance to see Captain Marvel, then you know about Goose — the crazy Flerken (aka cat but not really) that Nick Fury finds so amusing.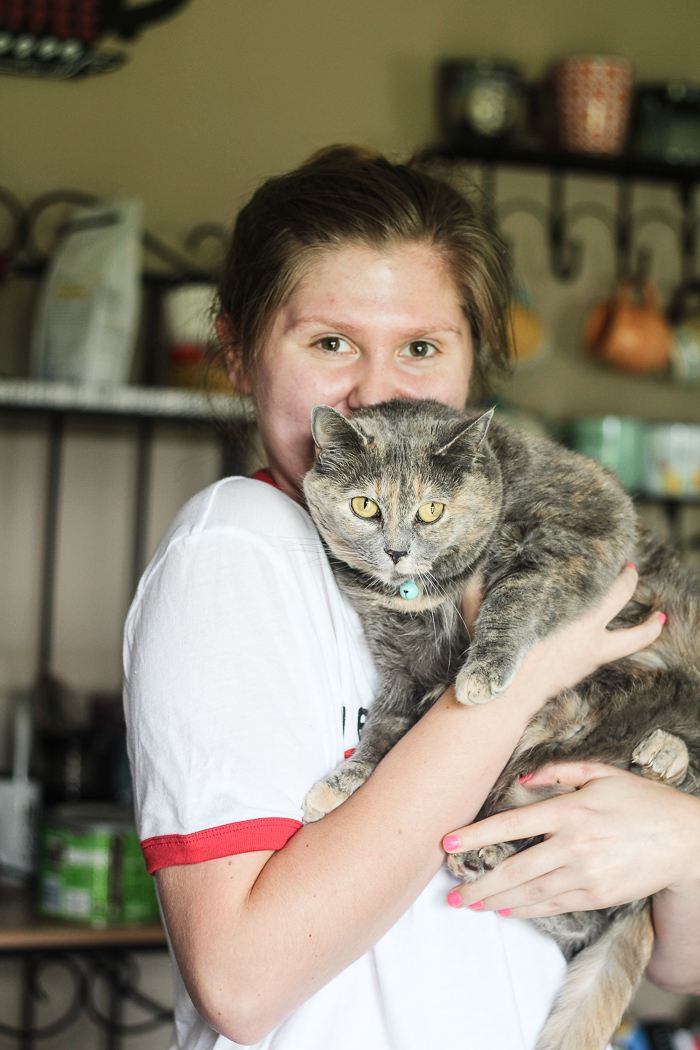 We were sent a fun Caturday box to show off to our fur babies and of course, our cat Boots is always the most curious when new things are brought into the house.
He did not really know what to think about Goose, especially when his flerken came out!
Mittens decided the flerken wasn't for her. She was more satisfied being in her mommy's arms than she did investigating it all.
We had fun watching the kitties explore their new finds and of Kayla decided to take her poster and put it with the rest of her Marvel memorabilia.
And for us, we decided to pop in Captain Marvel and watch it again. We simply cannot get enough of this movie!
Bring Home Captain Marvel Today
Discover deleted scenes and over an hour of bonus content when you bring home Marvel Studios' CAPTAIN MARVEL on Digital.
The in home release includes featurettes that highlight —
the transformative journey of Brie Larson (

Captain

Marvel

) and her character's impact on audiences around the globe
the influence of Nick Fury (Samuel L. Jackson) on significant events within the MCU
the perfect pairing of directors Anna Boden & Ryan Fleck
the ongoing conflict between the Skrulls and the Kree
and the raw talent behind the fetching feline named Goose.
Viewers also gain access to six deleted scenes, director commentary, a gag reel loaded with funnies, flubs and Flerkens, and never-before-seen concept art and production photography.
You can bring home the film two weeks early on Digital 4K Ultra HD, HD and SD and gain access to two exclusive features, including a behind-the-scenes visit with the Visual Effects team that makes the filmmakers' visions of the MCU come to life.
You will also get an inside look at the epic team effort that goes into an action-packed sequence within a Marvel Studios film. A physical copy of "Captain Marvel" is available as either a 4K Cinematic Universe Edition (4K UHD+Blu-ray+Digital Copy) or a Multi-Screen Edition (Blu-ray+Digital Copy), granting fans the flexibility to watch on devices of their choice.
The spectacular, 1990s-era Super Hero adventure, which electrified and inspired audiences worldwide and surpassed $1 billion in ticket sales, is available on Digital in HD and 4K Ultra HD™ and Movies Anywhere May 28, and lands on Blu-ray™ and Blu-ray 4K Ultra HD™ June 11.
Make Your Own Goose the Cat Puppet
Now that you've seen #CaptainMarvel, I'm sure you want your very own Flerken, right? (Trust me, we all do…) Well, you're in luck! Download this awesome activity and make your very own Goose puppet!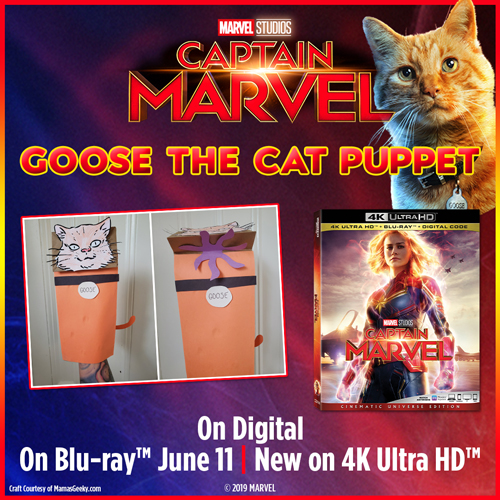 http://bit.ly/CaptainMarvelGoosePuppet
CAPTAIN MARVEL is On Digital! On Blu-ray™ June 11 | New on 4K Ultra HD™