Today is reveal day for the Behind the Curtain Dessert Challenge. We were given the ingredients this month of caramel and pretzels. I have TONS of recipes on my site for caramel and pretzels, but they were in cookie form. I decided to spend some time looking around and I found a yummy recipe from Martha Stewart for Caramel Popcorn and Pretzel Bars — the perfect recipe for this challenge.
Looking for more easy recipes? Check out my huge database of delicious, homemade goodies.
Caramel Popcorn Pretzel Bars - Behind the Dessert Challenge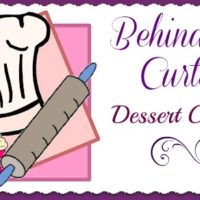 Ingredients
Nonstick cooking spray
12 cups plain popped popcorn, from 1/2 cup kernels or 2 microwave packages
4 cups coarsely chopped small salted pretzels, 7.5 ounces
2 cups sugar
Coarse salt
2/3 cup heavy cream
2 cups miniature marshmallows
1/2 cup of peanuts
Instructions
Coat a 9-by-13-inch baking dish with cooking spray. In a large bowl, toss together popcorn, peanuts, and pretzels. In a medium saucepan, bring sugar, 1/2 teaspoon salt, and 1/2 cup water to a boil over medium-high. Boil, undisturbed, until mixture is amber in color, 8 to 12 minutes. Remove pan from heat and slowly pour in cream (mixture will sputter). Immediately add marshmallows; stir until melted.
Pour caramel mixture over popcorn and pretzels and quickly stir with a rubber spatula to coat. Transfer mixture to dish and use a piece of wax paper coated with cooking spray to press evenly into dish. Sprinkle with coarse salt. Let cool completely before cutting into 12 bars.
NOTE! Be sure to cook your caramel mixture UNDISTURBED! The first time I made this it was an epic fail because I missed that little word and stirred my sugar mixture constantly. Needless to say I had a HOT mess on my hands.
See what others are making on this challenge by checking out the links below!
What yummy caramel and pretzel recipes have you made recently?
Powered by Linky Tools
Click here to enter your link and view this Linky Tools list…