Last night for dinner I decided to make Chinese. I normally serve white rice as a side dish, but I decided to buy a head of cauliflower and try my hand at making Cauliflower Rice. Now — I will always use this version when I need rice now instead of the regular stuff.
This dish is so delicious and so easy to make, that you will find it on your menu several times in a week. And — if you are trying your best to eat healthy, then this will make that so much more easier.
Cauliflower Rice - A Delicious and Healthy Side Dish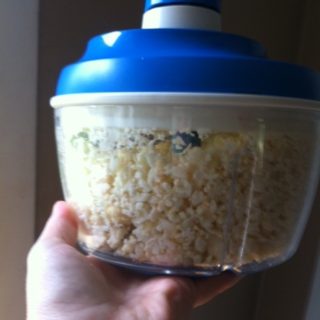 Ingredients
1 head of cauliflower
salt to taste
pepper to taste
1/4 cup of olive oil
Instructions
Shred your head of cauliflower using a food processor or a large side of a grater. Set aside.
In a skillet, heat the olive oil on medium high and once it is hot, throw in your cauliflower.
Season with salt and pepper and continue to saute until you get it the desired doneness you are looking for -- about 7-8 minutes.
Serve alongside your favorite dishes.
To shred the cauliflower, you can use a box grater on the largest side, a food processor, or this cool Quick Chef Pro System I got from Tupperware.
The Quick Chef Pro System takes food processing to the next level. Versatile, quick and easy to use, it now features three sharp blades for chopping vegetables, herbs and fruits fast; a paddle for mixing and whisking; a funnel with measurements for making dressings; a small basket to dry fresh herbs and small salads; an ergonomic cover with easier-turning handle; and an airtight and liquid-tight seal for storing.
Cutting up my cauliflower was SO easy. I just took the florets off of the head, threw them in with the blade attachment and then with a few turns of the handle, my "rice" was all minced up.
I love how easy it is to use the Quick Chef Pro. Since getting it, I have used it to make a potato and Zuchinni Hash, guacamole, salsa, and a chopped salad. It is PERFECT for everything you need. It's like a million little gadgets all in one.
What about you? Have you ever used this handy little item from Tupperware?