Have you ever been to Cedar Point, the roller coaster capital of the world? OMG I LOVE that place. We went a couple of years ago when we took our youth group for a two-day fun-filled excursion. Seriously — I have been to a lot of theme parks in my life, but Cedar Point is one of my favorites.
They have SO many roller coasters to ride — a thrill ride for every kind of rider out there. From the daredevils like my son who took the plunge and rode the Wicked Twister and Millenium Force, to the more milder rides like the swings and Carousel. They have a ride for everyone.
And this year — they have FINALLY opened the Steel Vengence.
About the Steel Vengence
When we visited a couple of years ago, they were in the process of building this roller coaster, and I knew right then it was going to be awesome.
The three are bringing with them a roller coaster forged so big and so bold, an entirely new category of thrill ride has been branded: the hyper-hybrid – the world's first steel-on-wood hybrid roller coaster to stand over 200 feet tall. Mirroring Blackjack's impressive height, Chess' unconventional and wild personality and Digger's blazing speed of the draw, this new machine is now the force to be reckoned with. The law-abidin' folk of FrontierTown has a new leader – Steel Vengeance.
This Wild West thrill comes action-packed with a height of 205 feet above the prairie, a 90-degree initial drop down to the earth, almost 30 seconds of airtime (the most on any roller coaster on Earth), 4 head-over-boots inversions, ricocheting movements left-to-right, up-to-down and side to side.
I cannot wait to go back so I can watch my kids tackle this roller coaster! They have ridden every other one there, so this will be an exciting ride for them.
Steel Vengence won the award for Best New Ride at the 2018 Golden Ticket Awards! Additionally, Steel Vengeance came in third for Best Steel Coaster, right behind Millennium Force (2nd) and Fury 325 (1st).
Halloweekends are here!
HalloWeekends is an annual Halloween event at Cedar Point amusement park in Sandusky, Ohio. It was introduced in 1997 and takes place during the Halloween season.  This year the dates are from September 14- October 28.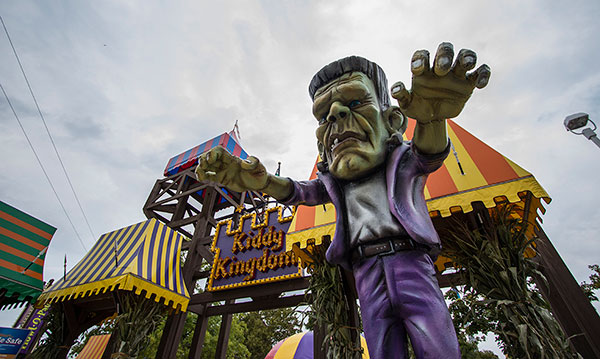 The event is open on Friday nights, Saturdays and Sundays. It is included free with park admission.
HalloWeekends features 11 haunted houses and nighttime scare zones, and there are several children's attractions including a parade that takes place on the main midway. It is a place to enjoy yourself, have a spooky fun time and really relish in all that Halloween has to offer!
NEW For 2018 – Trail of the Forsaken
What's your worst phobia? Claustrophobia? Arachnophobia? The residents of FrontierTown have had a spell cast upon them and have turned into their worst phobia. Seek refuge or you might become your own worst nightmare!
If scary is not your thing, don't worry! They've added two new mazes.
NEW For 2018 – Two Hallo-Tween Mazes
Not ready for scary indoor haunted mazes? Venture through Hexed: Spellbound along with two brand new Hallo-Tween mazes – The Mystery of Eerie Estate and Zombie Jr. High.
Test your brain power and wit as you solve puzzles and accomplish feats to navigate your way through not-so-scary mazes. And don't worry – there are no monsters here. Recommended for ages 14 and under.
Make plans to attend this year. Cedar Point is one of the best places IN THE WORLD for a ton of fun! For more information about all the fun this season, visit Cedarpoint.com for details.