This is a Sponsored post written by me on behalf of Avocados from Mexico for SocialSpark. All opinions are 100% mine.
This is a new concept for me, but I love avocados so I am totally trying this! Did you know that Avocados from Mexico can make great foods taste even better? When using avocados in baked goods, just replace the butter or oil with an equal amount of pureed avocado. It's that simple. Your goodies will come out richer, healthier and more moist than ever before.
Looking for more easy recipes? Check out my huge database of delicious, homemade goodies.
I am seriously going to try this the next time I buy avocados.  I learned that you can do this with applesauce too, but I have never heard of doing this with avocado. Totally putting this on the menu next week to try.
In fact, I am going to make these brownies for a friend of mine and see if he can tell the difference:
Chewy Fudge Avocado Brownies (yes -- Avocado)
Ingredients
1 box of your favorite brand's brownie mix*
2 eggs
1/4 cup water
1/2 cup pureed Avocados from Mexico in place of oil
Instructions
Preheat oven to 350°F for glass or metal pans, 325°F for dark or non-stick pans. Grease bottom of pan with shortening or cooking spray.
Combine brownie mix, eggs, pureed avocado and water in large bowl. Stir until well blended (about 50 strokes). Spread in greased pan and bake immediately.
Bake for amount of time per instructions on box. Brownies are done when toothpick inserted 1 inch from edge of pan comes out clean. Cool completely in pan before cutting and serving.
I cannot wait to try these brownies!
In the meantime, I am going to enter the Avocados from Mexico's Better Baking Sweepstakes!
Avocados from Mexico is running a Better Baking with Avocados From Mexico sweepstakes! Enter the sweepstakes from now until 12/31/12. (Sweepstakes runs from 11/30/12 until 12/31/12)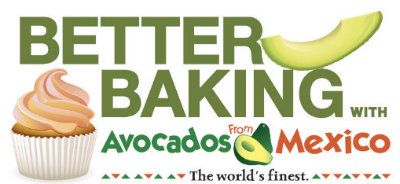 Just visit the Avocados From Mexico Facebook page and enter there for a chance to win one of over 500 prizes!
(1) Grand Prize – $2,500 iCard Gift Card
(10) Second Prizes – $100 iCard Gift Card
(500) Third Prizes – $25 iCard Gift Card
Hop on over and enter to win.