This is a sponsored conversation written by me on behalf of Chex®. The opinions and text are all mine.
I don't know about you, but anytime I can take a Chex cereal and turn it into a delicious recipe, I get all excited. I am a cereal lover by heart, so being able to create delicious snack mixes and desserts makes my taste buds sing! They did plenty of singing this week when I made some yummy Chex Caramel Chocolate Drizzles.
Chex Caramel Chocolate Drizzles
Ingredients
3 cups Corn Chex cereal
3 cups Rice Chex cereal
1/2 bag, 14-oz size caramels (about 25)
2 tablespoons butter or margarine
2 tablespoons milk
1/4 cup semisweet chocolate chips
Instructions
In large microwavable bowl, mix cereals.
In medium microwavable bowl, microwave caramels, butter and milk uncovered on High 2 to 3 minutes, stirring after each minute, until caramels are melted a nd mixture is smooth. Pour over cereals; gently stir until evenly coated.
Microwave on High 3 to 4 minutes, stirring after each minute, until just beginning to brown. Spread on waxed paper to cool.
In small microwavable bowl, microwave chocolate chips uncovered on High about 1 minute or until chocolate can be stirred smooth. Drizzle over snack. Refrigerate until set. Store in airtight container.
I was out and about in Clarksville, TN this week and found out that they had a Publix grocery store. I remembered my experience there when I vacationed in Florida, so I stopped in to see what savings I could find.
Right off the bat, I noticed a sale on the Chex cereal — $1 off when you buy 3 from 12/10-1/6 and BOGO offer from 12/14-12/21 (just click here to grab that coupon deal).
That got me to thinking about that delicious Chex Caramel Chocolate Drizzles recipe. I grabbed up 3 boxes and headed down the baking aisle where I found even more bargains! In fact, all the items needed for this recipe were on sale.
$1.00 Off Any 3 Chex Cereals 12-14 oz
2 for $6 Ghirardelli Baking Chips 10-12 oz
2 for $5 Smart Balance Natural Peanut Butter 16 oz
$1.99 Dizie Crystals Extra Fine Granulated Sugar 4lb
2 for $4.99 Spice Islands Pure Vanilla Extract 2 oz
2 for $5 Ziploc brand Container 2-4 ct.
Chex Party Mix recipes make it easy for you to throw together easy party planning recipes or have-on-hand for surprise guests.
So how do you make these amazing Chex Chocolate Caramel Drizzles? I am so glad you asked!
Honestly — this is the easiest recipe ever. Simply measure out into a bowl, 3 cups of each kind of Chex cereal. Set that aside.
Then, in a microwave safe bowl, add in caramels, butter, and milk and microwave until it is melted.
After you melt the caramels, simply pour that over your Chex cereal and mix it all together.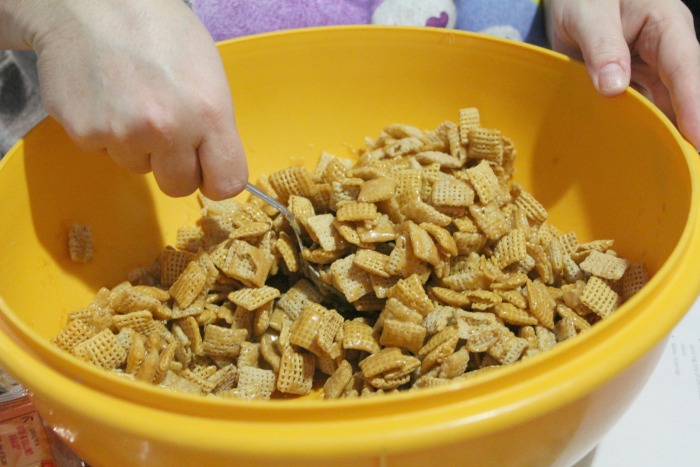 Then place it on a cookie sheet so that the caramel can set.
Now, all you need to do is melt your chocolate chips in the microwave and drizzle onto the top of the caramel covered Chex. To make drizzling the chocolate easier, you can add it to a Ziplock bag and snip off the end. It will drizzle super easy and make your dessert look fantastic!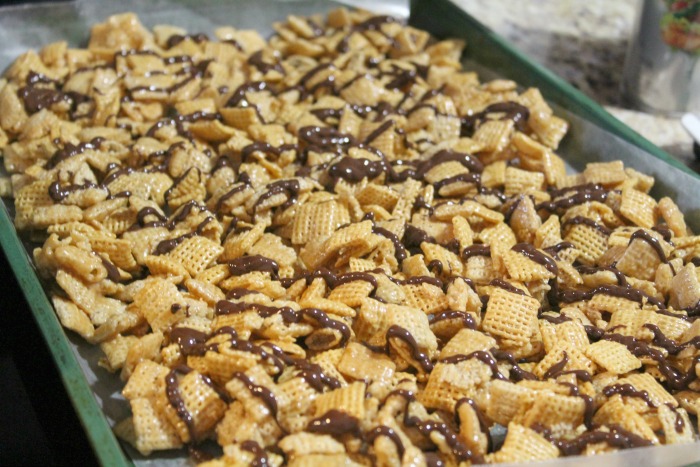 Then let it set up and the chocolate harden and serve it to your guests. They will love everything about this sweet snack!
I chose to make mine to take to our church potluck dinner — and you know what? There was not a drop left! Everyone loved it!
Other fun ideas you can use are —
Make a reindeer food bar – make Muddy Buddies and have bowls of candies, chocolate chips & other extra mix-ins to customize their treats.
Make it & take it – baggies for road trips, snacks to take when cutting down the Christmas tree, special school party treats, etc.
Host a taste test – a few family members try different recipes and everyone votes for their favorite to win a prize (ornament?)
Give a gift – make big batches of Chex Party Mix to package up and give – to the mailman, trash collectors, neighbors, stocking stuffers, Secret Santa, etc.
Cookie exchanges – for a different twist on your cookie exchange contribution, try Chex Party Mix! Leave it out for Santa too.
A couple of other fun recipes you can make is  Gluten-Free Chex Muddy Buddies made using  Rice Chex, Corn Chex or Chocolate Chex.
Then you cover them in Ghirardelli semisweet chocolate chips and Smart Balance Peanut Butter and coat them with Dixie Crystals Powdered Sugar.
The other recipe is Gluten-Free Sugar Cookie Chex Mix using the Rice Chex, and Ghirardelli white vanilla baking chips.
I grew up eating these mixes and just about every party I have ever attended Chex has been involved. For me, when I see a big bowl of Chex mix or one of these Muddy Buddies recipes at get togethers, it instantly brings me into a place of fun and fellowship with friends. Who doesn't want to sit around laughing with their girlfriends while chowing down on Muddy Buddies??
All three recipes sound amazingly delicious and I plan on making a few more batches before Christmas gets here.
You can download the coupons needed to get these great deals on your next shopping trip to Publix.