I participated in an Ambassador Program on behalf of Influence Central for P.A.N. Cornmeal. I received product samples as well as a promotional item to thank me for my participation.
My niece married a Venezuelan man who recently got his American Citizenship finalized. They are one of the most amazing couples I have ever had the privilege of knowing. She is a great mom and he is a devoted husband and father.
Because he is Venezuelan, she is always posting pics of the authentic food she makes for her family — and that is where I was first introduced to what arepas where.
What got our conversation started was the day I posted a picture of my P.A.N. Cornmeal mix on Instagram and I was talking about how excited I was for being a food explorer and finding a new sandwich to make.
It was then that she started schooling me on all the different ways you could make them — and that everyone needed to include fried cheese in an arepa sandwich.
After doing some thinking, I decided that since I LOVE chicken and bacon, my arepas sandwich was going to include those two things, but then my daughter said — let's top our sandwich with caramelized onions and feta cheese.
So what is an arepa you ask?
Arepa are a cornmeal flatbread that are perfect for your favorite sandwich recipes. They are normally made with the number one cornmeal in South America – P.A.N. Cornmeal.
You may not be familiar P.A.N. Cornmeal, but it has been around for many years.  I am SO glad that it is making its way into our kitchens here in the US.
Even though corn is native to the Americas, it has become a staple worldwide due to its rich nutrients and versatility.
Arepas are little cornmeal patties that you cut to create a pocket and stuff with your favorite fillings. Making arepas is quick and easy.  Only three ingredients are needed to make the corn flatbread:  P.A.N. Pre-cooked Yellow Corn Meal, water and salt.  Once you have combined the ingredients and let it rest for 5 minutes, you divide the dough and pat it out into circles.
Fry the cornmeal discs over medium heat for 5 minutes on each side. While they are still warm, stuff them with your favorite fillings.
I hope you enjoy taking this culinary journey with me. These sandwiches are simply amazing and I will definitely be making these again for our next sandwich night.
Chicken Bacon and Caramelized Onion Arepas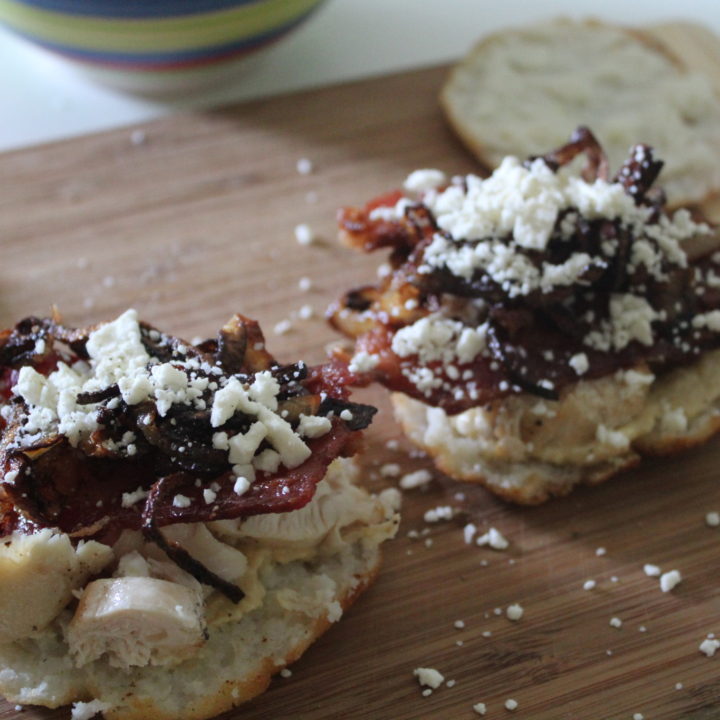 Ingredients
2 cups P.A.N. Pre-cooked Yellow Corn Meal
2½ cups water
1 teaspoon salt
grilled chicken sliced
cooked bacon strips
caramelized onions
prepared hummus
feta cheese
Instructions
Pour water and salt into a large bowl. Slowly add P.A.N. Pre-cooked Yellow Corn Meal and stir well. Knead for 1-2 minutes until the dough becomes smooth. Allow the dough to rest for 5 minutes.
Divide the dough into 8 equal portions and flatten with your hands.
Cook for 5 minutes on each side over medium heat.
Slice each arepa to form a pocket
Stuff each with grilled chicken, cooked bacon strips, caramelized onions, prepared hummus and feta cheese.
Enjoy!
Be sure to look for P.A.N. Pre-cooked Yellow Corn Meal the next time you go grocery shopping.  To explore more recipes and get inspiration, check out the P.A.N. Tumblr page by clicking here.