This week during our #15minutesuppers post, we all collectively decided to share with you all our quick 15 minute dessert ideas. I honestly had NO clue what to make, because most everything I make dessert wise takes 30 minutes to an hour. I started digging around my pantry and fridge, and when I landed on some croissants, I immediately came up with Chocolate Almond Butter Croissants and knew that it would take 15 minutes or less to create this dessert.
Making this dessert is really quick and easy. You only need a few supplies to get you started —
can of crescent rolls
your favorite nut butter
chocolate chips
white and chocolate candy bars
slivered almonds
Start out by turning your oven on to 400 degrees. Line your cookie sheet with parchment paper or use a silpat so that if any of the filling spills out, it won't make your dough stick to the pan.
Divide each crescent roll into a triangle and then slather on some nut butter and sprinkle on a few chocolate chips on each crescent roll.
Roll them up and put them in the oven to bake for 10 minutes.
Once they come out of the oven, set them aside to cool. While the crescents cool, melt your white and milk chocolate so you can drizzle it on top of the crescent rolls.
For a quick melting tip, you can put your chocolate in the microwave in 30 second increments (usually takes about 1-2 minutes) until melted.
Once the chocolate is melted, drizzle it across the crescent rolls and then sprinkle crushed up slivered almonds on top.
This is the tastiest and easiest thing I have made in a very long time. AND the best part is that ALL of these items came right out of my pantry.
Yield: 6
Chocolate Almond Butter Croissants #15minuteSuppers
Ingredients
1 can of crescent rolls
your favorite nut butter
1/4 cup of chocolate chips
1 ounce each of white and chocolate candy bars
1/4 cup of slivered almonds
Instructions
Preheat the oven to 400 degrees.
Separate each crescent roll and slather on the nut butter on to each triangle.
Sprinkle a few chocolate chips on each triangle.
Roll up like you would a regular crescent roll and bake in the oven for 10 minutes.
Remove from the oven and set aside to cool. While the crescents are cooling, melt your chocolate in the microwave.
Once your chocolate is melted, drizzle on each crescent and then top with crushed up slivered almonds.
We are having so much fun today on #15MinuteSuppers! We are all sharing quick and easy Valentine's Day Dessert ideas that are ready in 15 minutes or less! I know, super awesome right?!?!? So check out what everyone else made this week…
Follow 15 Minute Suppers on Facebook | Twitter | Instagram | Pinterest
and look for the #15MinuteSuppers hashtag too!
Valentine's Day Strawberry Rice Krispie Treats from Better in Bulk
Cherry Biscuits from Lizzie Jane Baby
Easy Heart-Shaped Desserts for Valentines Day from Around My Family Table
Strawberry Rhubarb Sauce from Confessions of an Overworked Mom
No Bake Cherry Cheesecake from Just 2 Sisters
Molten Chocolate Cakes from Songs Kate Sang
Chocolate Almond Butter Croissants from Jen's Journey
Quick and Easy Valentine's Dessert Skewers from Celebrating Family
Quick Valentine Cookies from East Valley Mom Guide
Head over to our #15MinuteSuppers Pinterest Board to see all the past recipes and more delicious goodness!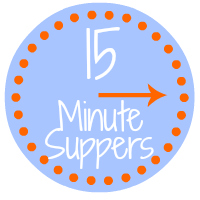 Bloggers…would you like to join us at #15MinuteSuppers? We'd love to have you! Please check out the 15 Minute Suppers website or ask to join the Facebook group (for bloggers only) to participate on Fridays…we'd love to have you join us.