This post has been sponsored by Rachael Ray Nutrish for Pets. All opinions listed for the brand are 100% my own.
Christmas this year was super special. I think it has been the best Christmas by far for all of us. Not because of all the stuff we got, but because we really put a lot of thought into the gift giving this year, and how excited each and every person was about watching the other person open their gifts. Our tree was completely filled to the brim with presents because of the fact that my grown kids now have jobs and were able to buy presents as well. Even the cat and the dog got to get in on our Christmas morning gift giving.
Stephen and I got up a little earlier than everybody else just so we could spend some extra time together before the madness began to happen. We sat and talked about the upcoming year and things we want to do differently in 2015 as well as how excited we were for the kids to open their presents. My hubby is a rock star at surprising the kids with things that they asked for but totally forgotten about.
It wasn't long until all the babies made their way to the living room.
We decided to let the Fur Babies open their gifts first. Tucker seemed like the most excited. We wrapped his gift earlier in the week and he would go up to it at the tree and sniff it like crazy. He loves to open his own packages.
He will not play with toys that much so we always get him treats. My favorite are the Savory Bites and Mini Soup Bones from Nutrish. They are the perfect size for his little mouth.
Mittens was the next to open her gift. She was not in the best mood (she is NOT a morning cat). Kayla tried to get her to open her gift but her idea was to crawl on the box and go to sleep.
Those ears say everything that needs to be said.
After letting the dog and cat open their gifts, then we all set about opening our gifts. The kids got a lot of all kinds of stuff they wanted. The faces I captured for each of them are priceless.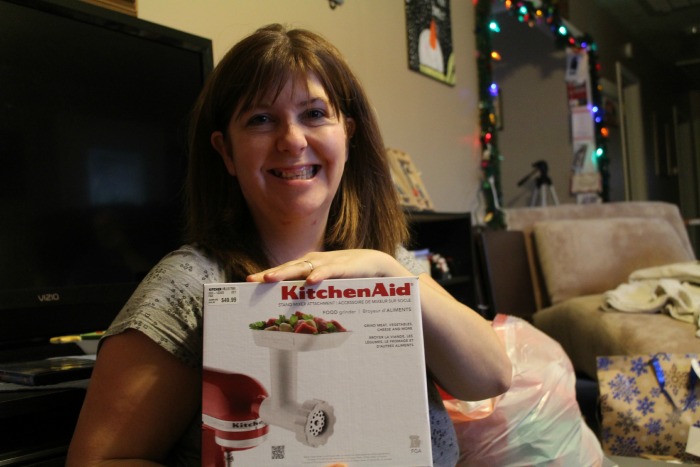 We had a great Christmas and I love how everyone, including the dog and the cat got into the holiday Spirit.
I want to take a moment to give a shout out to Nutrish for Pets. Never in a million years did I think I would find a brand of pet food that I would completely fall in love with, but I have. I LOVE everything about this brand. My favorite part is that all proceeds — 100% of it — made from the selling of their product line, goes to help Rachael's Rescues find forever homes for pets around the world.
Get a coupon if you are ready to switch to Nutrish!
If you think that Nutrish is something your dog or cat will love, head on over the site where you can get some awesome coupons and find out more about Rachael's Rescues (100% of the proceeds of the sale of her pet food line go to fund this cause to make sure all dogs and cats can find a good home).