Around here, Mexican food is a food group all on its own. My daughter and I could live on tacos, chips and salsas, fajitas and more, so anytime I get the chance to try a new Mexican recipe, I do. I recently discovered Cilantro Lime Chicken Tacos. I serve it with my Cilantro Rice and it makes for a quick and easy, but tasty meal.
Cilantro Lime Chicken Tacos with Rice#15MinuteSuppers
Ingredients
12 soft taco flour tortillas
½ head romaine lettuce, shredded
4 plum tomatoes, cleaned out and cut into ½-inch dice (about 1 cup)
1/3 cup finely chopped yellow bell pepper, or any color
1 cup Mexican cheese, cojita
Fresh cilantro sprigs for garnish
Cilantro Lime Marinade:
3 Tablespoons rice vinegar
2 Tablespoons fresh lime juice
1 Tablespoon honey
1 small clove garlic, minced
1 teaspoon taco seasoning
pinch kosher salt
1/3 cup olive oil
½ cup chopped fresh cilantro
Chicken Taco Filling:
2 Tablespoons olive oil
1 lb ground chicken
1 teaspoon kosher salt
½ teaspoon freshly ground black pepper
2 cloves garlic, minced
½ cup chopped fresh cilantro
2 Tablespoons fresh lime juice
1 Tablespoon soy sauce
Instructions
In a bowl, add the lettuce, tomatoes, bell pepper and cojita cheese. Set aside.
For the marinade:
Place all of the ingredients in the blender and process until smooth.
For the filling:
In a skillet, heat oil over medium heat and add the chicken. Cook until done. Add the salt, pepper, garlic, lime juice, cilantro, and soy sauce and cook an additional minute.
To assemble:
Fill each tortilla with chicken and top with some marinade. Add some of the lettuce mixture on top. Enjoy.
These tacos are really easy to make and take no time to put together. You can serve it with a side of rice or refried beans, whichever you choose. The rice is what takes the longest, but if you do it in the microwave, you can make sure to have this meal on the table in 15 minutes flat!
Need more quick suppers? Check out these other great #15MinuteSuppers!
Follow 15 Minute Suppers on Facebook | Twitter | Instagram | Pinterest
and look for the #15MinuteSuppers hashtag too!
Head over to our #15MinuteSuppers Pinterest Board to see all the past recipes and more delicious goodness!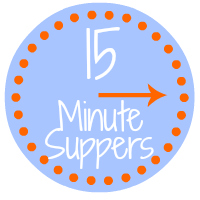 BLOGGERS: Would you like to join us at #15MinuteSuppers? We'd love to have you! Please check out the 15 Minute Suppers website or ask to join the Facebook group (for bloggers) to participate on Fridays…we'd love to have you join us.