This post has been sponsored by BSM Media for Monk Fruit in the Raw and Mom's Night Out. Party supplies were provided. No other compensation was given. All opinions remain 100% my own.
I love getting the ladies of our church together to chat and have a good time. We did that a couple of weeks ago — and not ONE photo was taken, no program was provided, no craft was made. It simply was a mom's night out party where we just laughed, talked about being a mom, and ate some delicious food that I prepared like these Cream Cheese Filled Strawberries.
Cream Cheese Filled Strawberries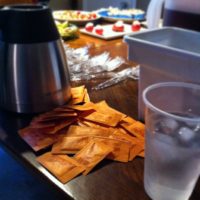 Ingredients
1 pint of strawberries hulled
1 8 ounce block of cream cheese
4 packets of Monk Fruit in the Raw
1 teaspoon of vanilla
Instructions
Hull out your strawberries and set them aside.
Get your cream cheese to room temperature and then add all the other ingredients. Mix well.
Once you have mixed the ingredients together, place the cream cheese mixture in a piping bag fitted with a star tip and fill the strawberries.
If your cream cheese does not stay in star shape form, place the bag in the freezer for about 10 minutes and then try again.
Once they are filled, place in the refrigerator until ready to eat.
I made these using Monk Fruit in the Raw — a sweetener that is made from delicious vine-ripened monk fruit, also called luo han guo, it's the zero-calorie* sweetener that tastes like sugar.
The ladies all arrived at my house around 6:15 and we chatted until the last guest arrived at 6:30. We went around the table getting yummy food — all prepared using a form of the Monk Fruit in the Raw.
After filling our plates, the ladies had NO clue what we were doing as I had kept everything hush hush. As I pulled up my chair, I asked them — "So — you want to know what we are doing tonight? NOTHING. Mom's need a break too — and that is what we are doing tonight. Taking a breather."
We told so many war stories of birth, those crazy toddler years, tears during those teenage years — and then what it's like when your babies grow up and leave the nest. It reminded me of the post I wrote recently about being enough all the way around (just click that link to read it)
After everyone left, I was sad, because I did not get one photo of all of them for this post, but then God reminded me that sometimes, you don't need to commemorate every get together with a photo. Sometimes the conversation and food is plenty.
More about Monk Fruit in the Raw
Monk Fruit In The Raw® has the closest taste to sugar of any non-caloric sweetener with the least aftertaste. Monk Fruit In The Raw® lets you taste the other ingredients in dishes clearly, from the briskness of iced tea and the richness of chocolate to the tang of berries.
If you are new to Monk Fruit in the Raw, simply visit this site to get more baking tips and how you can start using this new sweetener in your next meals and desserts.
Be on the lookout for a coupon here for $1.00 off.