My husband and I will be attending a banquet on Friday evening. My friend Rachel made these delicious Cream Cheese Sausage rolls for a homeschool meeting once and I was instantly hooked! Anytime you mix bread, cheese, and sausage together I am in heaven!
The first bite of these will have you hooked. There is just something about sausage and cream cheese inside of a crescent roll that gets my taste buds super excited.
The first time I had these I swear, I think I ate most of them. I kept apologizing for not leaving more for everyone else. It was then and there that I vowed to make them at home.
Here is the recipe:
Cream Cheese Sausage Rolls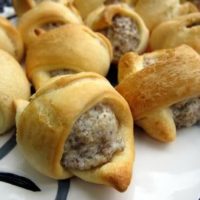 Ingredients
1 pound fresh, ground spicy pork sausage
1 8 ounce package cream cheese
2 8 ounce packages refrigerated crescent rolls
Instructions
Preheat oven to 350 degrees F (175 degrees C).
In a medium skillet, lightly brown sausage and drain. While sausage is still hot, add cream cheese and stir until cheese is melted and mixture is creamy. Cool completely.
Unfold the cresent rolls and place a spoonful of mixture on each cresent and roll up. Place on baking sheet and bake according to package directions.
Remove from oven and cool completely.
Slice in half and serve.
There is nothing more delicious than hot sausage, creamy cheese, and crescent rolls. YUM!
Speaking of crescent rolls, why not try this recipe for homemade crescent rolls. Back in the old days they were called butterhorn rolls.