Thanks to Lentils.org for sending me a delicious box of goodies so I could make this amazingly delicious Creamy Red Lentil Roasted Carrot Soup.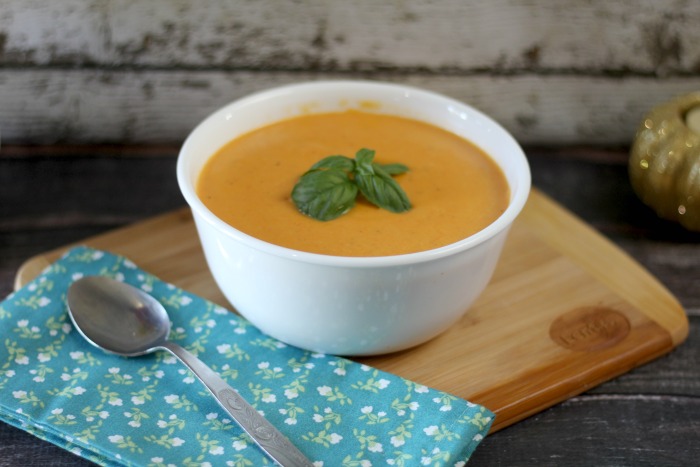 Y'all — I have to tell you about a new food I discovered that I like. Are you ready for this? It's lentils. Yes. You read that right.
I really didn't know I liked them until I met the wonderful people behind Lentils at the Mom 2.0 conference back in May. They had sponsored a lunch one day and everything was made with lentils.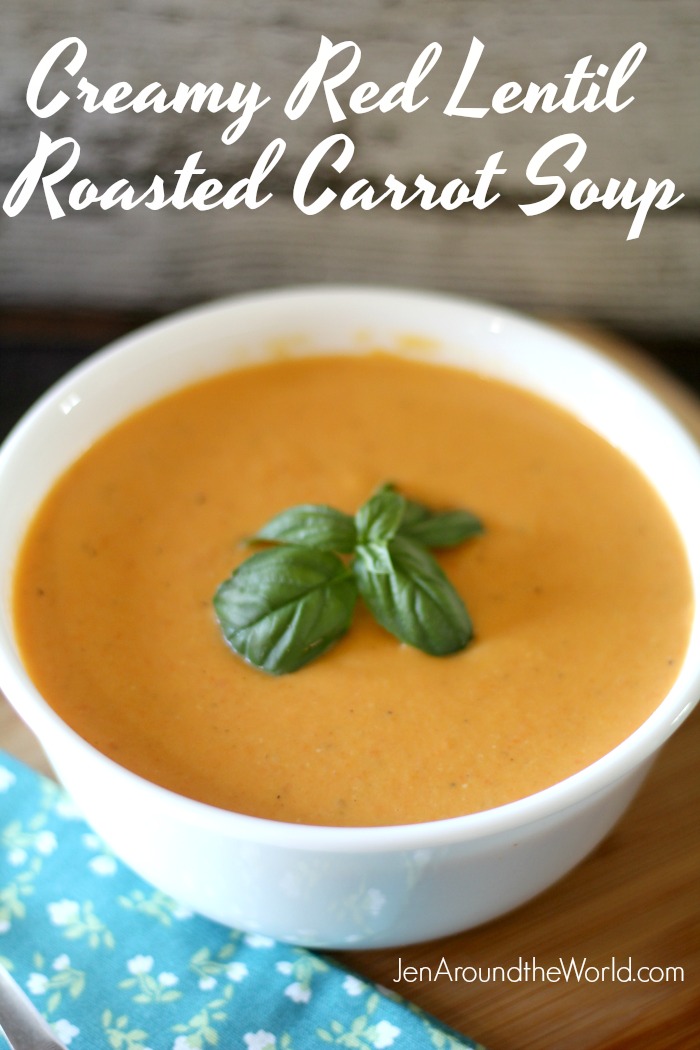 At first, I turned my nose up at them, but I made a plate anyway. I was not expecting to like them. I bit into my taco and this delicious burst of flavor hit my mouth.
At that moment, I fell head over heels in love with lentils.
Making Soup with Lentils
A few weeks ago, I got a box in from the fine folks at Lentils.org and inside I found a new cutting board, a few cooking utensils, and a beautiful white bowl. Inside I also found 2 different flavors of lentils — regular lentils and red lentils.
I decided to browse the cookbook they sent as well and inside I found a recipe for Creamy Red Lentil Roasted Carrot Soup. Y'all know how much I love my soups, so I chose that recipe to make to share with you.
The health benefits of lentils are what really caught my attention when I talked to them at Mom 2.0 this year. Behind every serving of lentils, I get 26 grams of protein and only 1.5 grams of fat. I also get 18 grams of fiber, 25% of the potassium I need daily, 45% iron and 50% of my daily recommended intake of folate.
How to Make Creamy Red Lentil Roasted Carrot Soup
Making this Creamy Red Lentil Roasted Carrot Soup was simple and easy. From start to finish, it's about an hour but most of that is just cooking time on the stove. The ingredient list is small which makes this a fantastic and hearty dinner.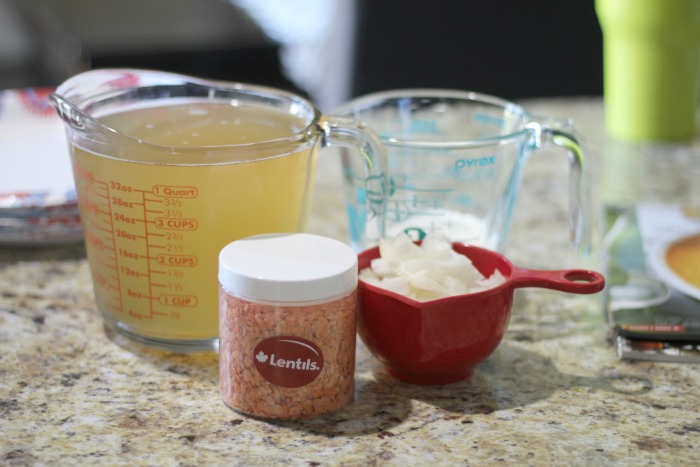 Start by peeling and chopping your carrots. A rough chop will do on them since in the end you are going to puree everything together.
On a pan, you are going to roast your carrots with some garlic and olive oil. Once they are done roasting, you are going to throw your carrots and garlic in a pot with some chopped onion and let it sweat for a bit.
Once they sweat out a bit, you are going to throw in your red lentils and let them cook for a little bit.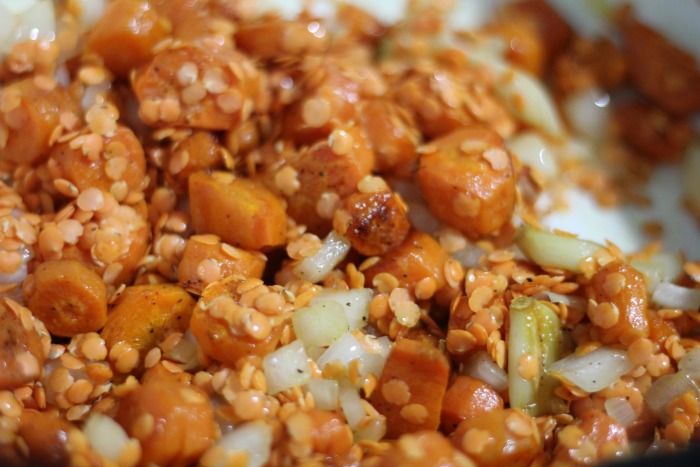 At this point, your kitchen is going to smell like heaven because of this concoction. Now, simply add in your chicken broth and let it simmer until your lentils are soft.
Once they are soft, take an immersion blender and blend everything together.
Then serve this soup with chopped basil, dill, or even a creme fresh sauce on top. My daughter topped hers with a dollop of sour cream and it was fantastic.
This soup is very good for you and you will find yourself going back for seconds and thirds and fourths.
Looking for Other Soup Recipes? Check These out!
Yield: 4 cups
Creamy Red Lentil & Roasted Carrot Soup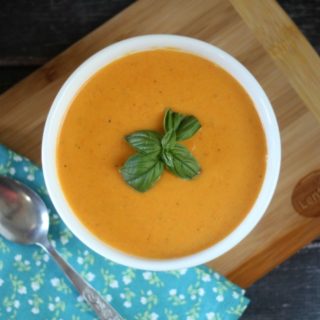 This delicious soup is full of lentils and sweet carrots. It is hearty and healthy all in the same punch
Ingredients
4 cups peeled and chopped carrots
4 garlic cloves, minced
5 Tbsp canola oil, divided
1/2 tsp salt
1/4 tsp pepper
1 onion, diced
1 1/4 cups split red lentils
5 cups of chicken or vegetable stock
3/4 cup heavy whipping cream
salt and pepper to taste
Instructions
Preheat oven to 400˚F. Line a baking sheet with parchment paper.
In a large bowl, toss together carrots, garlic, 3 Tbsp (45 mL) canola oil, salt, and pepper.
Dump onto the prepared baking sheet and arrange in a single layer. Roast for 30 minutes, until carrots are lightly caramelized and tender, stirring occasionally. Remove from the oven.
In a large pot or Dutch oven, heat 2 Tbsp (30 mL) of canola oil over medium-high heat.
Add the onion and sauté for 5 minutes, until translucent. Stir in carrots and garlic.
Add the lentils and stir to coat. Add stock, cover and bring to a boil. Reduce heat to medium-low and simmer for 15 minutes, stirring occasionally, until lentils are soft.
Remove pot from the heat. Use an immersion blender to purée the soup (or purée in batches in a blender or food processor), then stir in the cream. If the soup seems too thick, thin it out with more stock or water. Season to taste with salt and pepper
Chopped fresh herbs, such as dill, parsley, chives, or basil would make a great garnish to this soup.
Nutrition Information:
Yield:
10
Serving Size:
1
Amount Per Serving:
Calories:

329
Total Fat:

23g
Saturated Fat:

7g
Trans Fat:

0g
Unsaturated Fat:

14g
Cholesterol:

84mg
Sodium:

361mg
Carbohydrates:

12g
Fiber:

4g
Sugar:

4g
Protein:

20g