This post contains affiliate links to Dayspring — one of my all time favorite sites for all things Bible Journaling — like this new kit — Created to Create 2 from Illustrated Faith.
This year, I have truly found myself. I've been a Christian since September of 1999, but this year — my confidence level has went from zero to 100+ and I think it all has to do with knowing who I am in Jesus — and understanding my calling.
For the past 10 years I have been online, I have done a lot of going back and forth about what I want to do, who I want to be, what I want to write about online. I started out with the hobby homeschool blog. For a time, it was EVERYTHING to me because I wrote from the heart.
There was a passion and a fire burning within me to create — to write all the lessons that God was teaching me — and sharing those with my community. I was reaching people — speaking to them from a level of expertise that even I did not understand. I had no clue where those words were coming from, but I knew God. And I knew that He was calling me to do something that I longed to do all my entire life — write — to become an author.
But then — somewhere along the way, I lost myself. I mean — really lost myself. I started making money by writing about household chores, homeschool lessons, creating recipes. And my passion for writing and empowering women to love God and their family took a backseat.
And further down the spiral I went — writing about other things — until I lost myself. One day I looked in the mirror and I couldn't even recognize the gift in me anymore.
But then GOD — He brought into my life Bible Journaling — and slowing myself down to really meditate on certain scriptures. It has been through these kits — like this one — Created to Create 2 — that I am reminded of my gift, and once again — the passion has started to flow.

I feel that urge rising in me again to just sit and write and share my heart with my readers. The fire flowing from my fingertips as I write this post is crazy! The confidence of the calling God has put on my life is definitely coming back and I am so excited to be writing and sharing my heart more with my readers.
God truly shines through Bible Journaling. He shows me repeatedly exactly who I am in Him and what I am to do with my life. My meaning and purpose and passion are all back and I won't lie. It feels good 🙂
About the Created to Create 2 Bible Journaling Kit
In the September Illustrated Faith devotional kit, Created to Create #2, Shanna invites you on a four week journey of discovering more and more of who you are in Jesus—unique and special, with a God-sized plan designed especially for you.
"Today I ask that you put down all the "I can'ts" and pick up the "I cans!" Maybe you are creative in how you put colors together, or how you see the world, whatever it may be—creativity is inside of you!" —Shanna
The "Created to Create 2" kit includes:
1 Note Card from Shanna
• 3 heart-shaped tip-ins
• Small stamp set
• Roll of Washi Tape
• 21 paper pieces
• 2 sticker sheets
• 4 devotional cards
• 4 journaling cards
Don't Miss This $10 Sale on Shanna's Favorite Watercolor Set
Shanna's favorite watercolor set is only $10 through September 5th. The sale is almost over so you need to hurry to get it.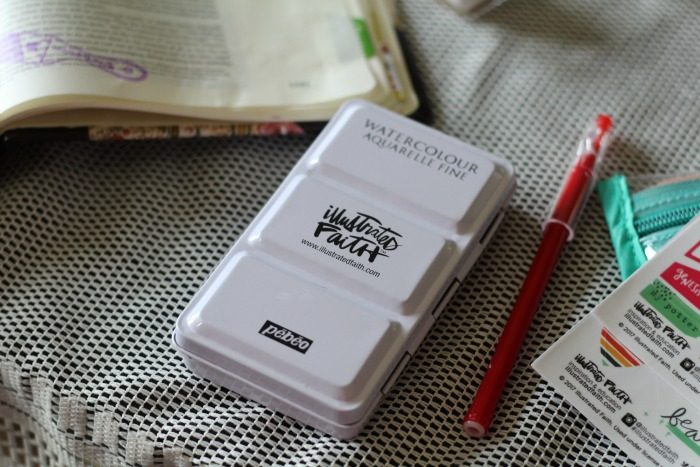 There are TONS of great deals on many of my favorite Bible Journaling supplies — even as low as 70% off, so be sure to check it out.