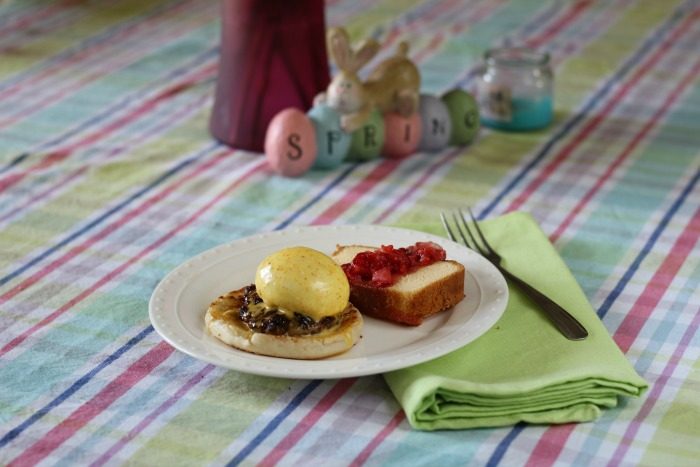 Sponsored post written by me on behalf of Tyson Foods, Inc. All opinions are entirely my own.
Last year, my mother-in-law moved in with us. For the last 27 years, and especially the last 7 when my own mother passed away, she has been like a mom to me. When I needed a friend, she was there and she has never left my side.
When the time came for her to leave her own home and move in with us, we did not hesitate to make her comfortable. She's been with us now since November 2016 – but recently she had a health setback and is now having to spend part of her time in the nursing home doing rehab for a severely broken elbow and mobility issues.
She is coming home right before Mother's Day, so I thought I would go over and above to make her a special meal – my delicious Sausage and Egg Benedict with Easy Hollandaise Sauce, as well as Sara Lee® Pound Cake with my delicious strawberry glaze on top.
I wanted to make her something that is absolutely out of this world, but one that did not have me spending TONS of money on. Thankfully, when I was shopping at Walmart – I found everything I needed and didn't really spend a lot of money at all.
That is one of the things I love about Tyson® and Walmart – between their foods and the cost of the product, a fancy Mother's Day brunch is very doable.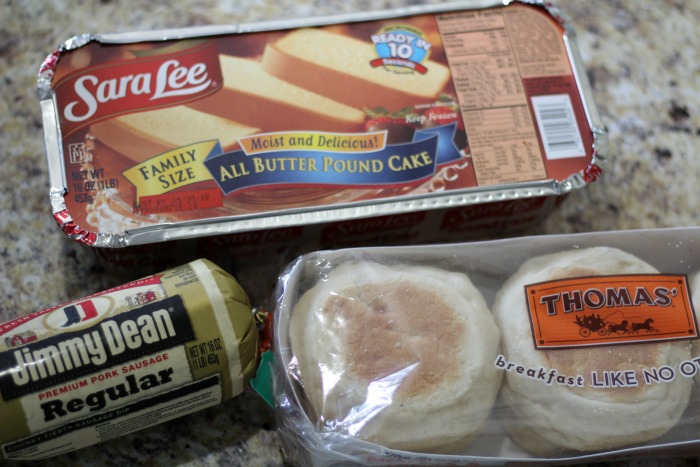 For starters, my sweet mother-in-law has always talked about having Eggs Benedict, so I decided to make some for her Mother's Day brunch, but instead of using Canadian bacon, I decided to use Jimmy Dean® Premium Pork Sausage, so she could get that sausage and egg feel.
Of course, the English muffin is one of the main components of the Eggs Benedict, so I made sure to get the freshest they had on the market – Thomas® Nooks and Crannies English Muffins. They are perfect when split, slathered with butter and then toasted before topping with a slice of Jimmy Dean sausage.
They are so moist and fresh, you just cannot go wrong with them.
I topped each Sausage and English Muffin with a perfectly poached egg. You just take your egg and place it on top and then drizzle on the hollandaise. This was so easy to do and turned out fantastic!
How to Perfectly Poach an Egg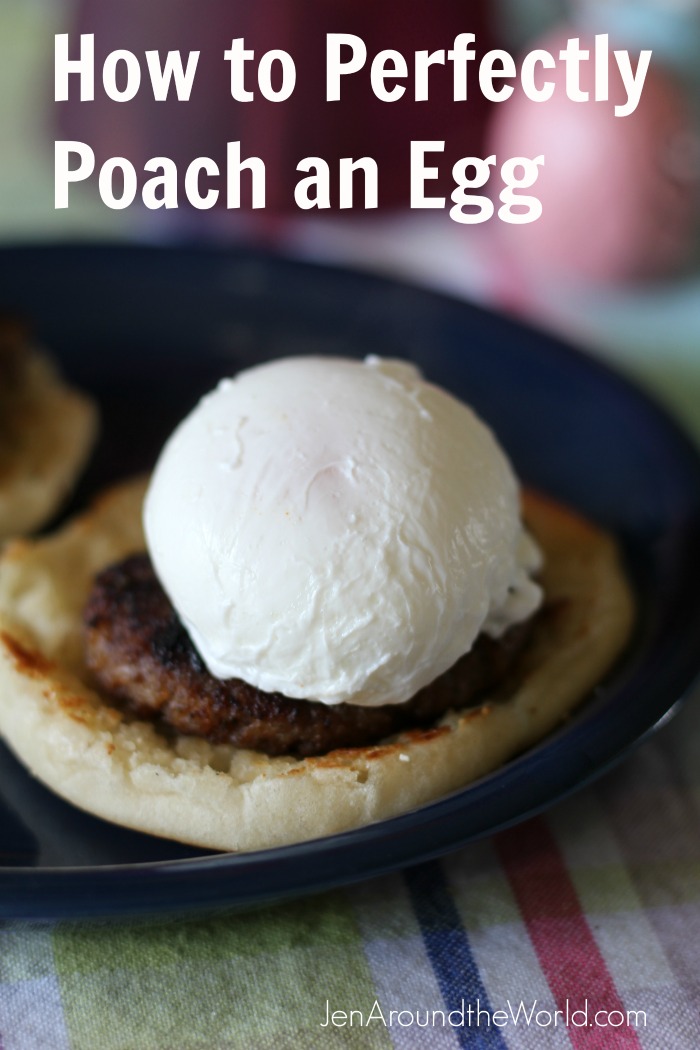 How to Perfectly Poach an Egg
Heat the water: Add enough water to come 1 inch up the side of a narrow, deep 2-quart sauce pan

Add 1 teaspoon kosher salt and 2 teaspoons white vinegar and bring to a simmer over medium heat.

Meanwhile, crack 1 cold large egg into a custard cup or small ramekin.

Use the handle of a spatula or spoon to quickly stir the water in one direction until it's all smoothly spinning around.

Add the egg: Carefully drop the egg into the center of the whirlpool. The swirling water will help prevent the white from "feathering," or spreading out in the pan.

Let it poach for about a minute or two.

Turn off the heat, cover the pan and set your timer for 5 minutes. Don't peek, poke, or stir the egg.

Lift it out: Remove the egg with a slotted spoon and serve immediately.
On top of ALL of this delicious flavor, we added another layer of flavor with my easy 3 ingredient Hollandaise Sauce – which is TO DIE FOR.
My daughter, who is not an egg lover AT ALL — ate several bites of this dish and said that it was absolutely scrumptious, so I know it is a win win in her book and mine.
How to Make Easy Hollandaise Sauce
Ingredients
4 egg yolks

1 tablespoon freshly squeezed lemon juice

1/2 cup unsalted butter, melted (1 stick)

Pinch cayenne

Pinch salt
Directions
Vigorously whisk the egg yolks and lemon juice together in a stainless steel bowl and until the mixture is thickened and doubled in volume.

Place the bowl over a saucepan containing barely simmering water (or use a double boiler,) the water should not touch the bottom of the bowl.

Continue to whisk rapidly. Be careful not to let the eggs get too hot or they will scramble.

Slowly drizzle in the melted butter and continue to whisk until the sauce is thickened and doubled in volume.

Remove from heat, whisk in cayenne and salt. Cover and place in a warm spot until ready to use for the eggs benedict.

If the sauce gets too thick, whisk in a few drops of warm water before serving.
Now, no brunch is complete without something sweet, so we opted for a Sara Lee pound cake and topped that with my homemade strawberry topping.
It is seriously one of the BEST desserts around.
Easy Strawberry Topping
Ingredients
2 cups Chopped Strawberries
¼ cup of sugar
Directions:
Mix the two ingredients together in a bowl and allow the sugar to create a natural strawberry juice. Then use to spread on top of the pound cake for the perfect ending to your favorite brunch meal.
What Will You Make on Mother's Day?
You can create the perfect Mother's Day Brunch with the help of Walmart, Tyson and Thomas products – and the best part? Your wallet will be congratulating you on all the money you will be saving in the process.
Want to Win a $200 Walmart Gift Card? Enter the #TysonLovesMom #Sweepstakes
Visit TysonLovesMom.com and register your account. It literally takes seconds to do this. Post a photo of your mom and how you are celebrating her on this special day with the tag @TysonFoods.
My beautiful daughter and my mother in law from 2014
My daughter and I April 2017
5 lucky people will be chosen to win a $200 gift card!! It's really that simple.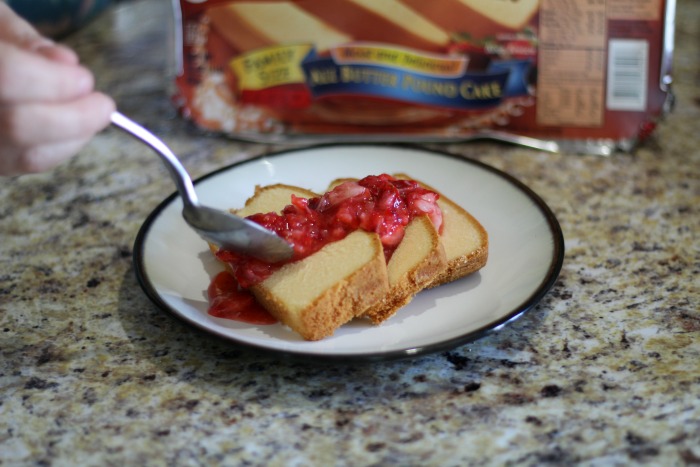 This Mother's Day, shop Walmart for Tyson Foods and Thomas products for all your Mother's Day brunch needs. You will find everything you need to create the perfect dish to celebrate the mom in your life.