Thanks to Best Buy for sending this CUJO Smart Firewall for me to review. All opinions listed are 100% my own.
I will be honest with you — I suck at keeping our electronics safe. I use a free antivirus software and have now for several years and just by the grace of God nothing has ever been hacked. I know that I need to beef up our virus software, but I didn't know where to start. I was very excited to have the opportunity to review CUJO Smart Firewall. It's a pro firewall, perfect for businesses or big families that have a lot of electronics — like ours!
It detects malicious hacks and blocks them all, all the while keeping your electronics completely safe.
It's as simple as hooking the CUJO Smart Firewall right up to your wireless router and from there, this super smart device will start protecting your well connected home like a boss.
Not only that, but this little device is perfect for what your kids access online. Now, for me — I have grown kids — but they still live with me. We have certain rules in our home about what can be viewed and what can't be viewed. By setting this up to protect everyone — even them — I can control what is seen or not seen in my home.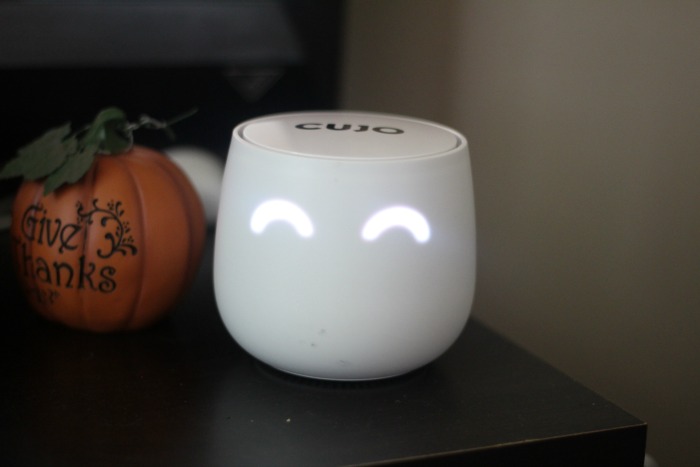 To control it, all you have to do is download the app and then from your Iphone or Android, you can control all the settings. It's really that easy.
Parental controls features:
                  – parental controls for all devices
                  – internet filter
                  – time limits
                  – social media monitoring
                  – pause internet
                  – alerts and reporting
                  – remote administration
                  – user profiles and settings
I can see this as being a great thing for a parent who has a child who likes to spend just a bit too much time on electronics. With the time limit feature, it will lock everything down and they will not be able to get back on until you let them.
Knowing that I can have peace of mind with all of my electronics being protected through the CUJO Smart Firewall makes me breathe a little easier. Nothing is scarier than someone hacking your work computer and installing a virus on it! UGH! Thank goodness for this beautiful tech gadget. Additional reading
You can pick up a CUJO Smart Firewall at your local Best Buy. Be sure to visit the website to find out more information.