I have been falling in love with Indian food lately. In fact, not too long ago, I fixed a delicious Slow Cooker Curry Chicken, but it takes FOREVER to get done. I wanted something quick and easy, but still give me that delicious Indian food flavor, so I created this recipe for Curry Ginger Chicken Salad Crostini — which hits the spot and only takes 15 minutes to make.
I adapted the recipe that I found in my Gourmet Gardens cookbook and put a few little twists on it to make it my own.
Curry Ginger Chicken Salad Crostini #15minutesuppers
Ingredients
1/2 cup plain Greek yogurt
2 tablespoons Gourmet Garden Chili Pepper
2 tablespoons Gourmet Garden Ginger
1 teaspoon of Gourmet Garden cilantro
2 tsp mild curry powder
1/2 cups grapes sliced in half
1/4 cup golden raisins
1/4 cup sliced almonds
1/4 teaspoon black pepper
3 cups of shredded cooked chicken breast
1 head of leaf lettuce
1 pat of butter for grilling bread
1 loaf of sliced Italian bread slices
I did use a couple of shortcuts to cut down on the cooking time on this recipe.
I used Tyson Grilled and Ready chicken breast strips and this really yummy bread I found at WalMart. It smells amazing through the bag, so you can imagine what it smells like when it is cooked.
The chicken takes about 3-4 minutes to cook in the microwave and the bread takes just a couple of minutes to toast in the broiler or on the stove in a grill pan.
I topped the pieces with a few more slices of almonds and it was a hit with the family!
For me, I took my chicken salad and wrapped it in a piece of leaf lettuce and made like a burrito for a super healthy dinner option.
Need more quick 15 minute recipe ideas? Check out these other great #15MinuteSuppers!
Follow 15 Minute Suppers on Facebook | Twitter | Instagram | Pinterest
and look for the #15MinuteSuppers hashtag too!
Head over to our #15MinuteSuppers Pinterest Board to see all the past recipes and more delicious goodness!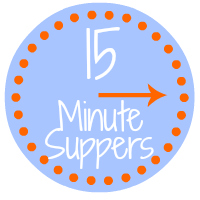 BLOGGERS: Would you like to join us at #15MinuteSuppers? We'd love to have you! Please check out the 15 Minute Suppers website or ask to join the Facebook group (for bloggers) to participate on Fridays…we'd love to have you join us.