*Products received for consideration. Post contains affiliate links. All thoughts are 100% my own.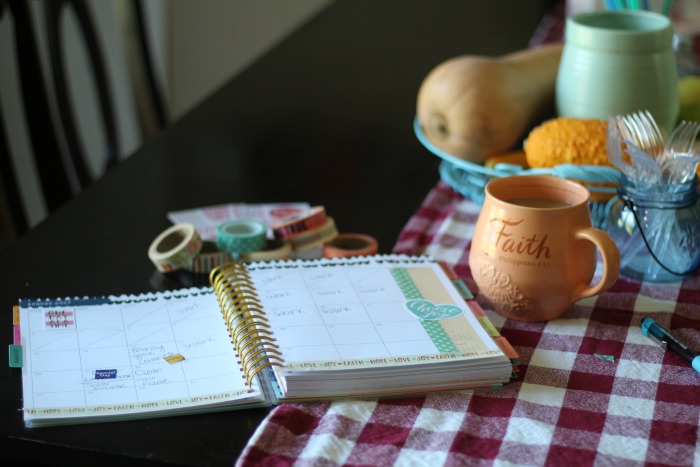 Life gets so busy around here. Some days I can't even tell if I am coming or going. Have you ever felt that way? I say yes to so many things  — yes to singing on the praise team, yes to teaching a youth class, yes to fixing dinner for someone who is sick – yes, yes, yes. Then — when I look at my planner, I realize that I have overbooked myself.
That's when that overwhelming feeling of doing too much hits.
I am definitely working more on thinking I have to be everything for everyone, be everywhere, and do everything. I am learning to say no. And for me — that starts on Sunday night.
I pull out my Dayspring planner, my favorite writing pens and I get to work planning my week. I have started really checking my planner each week so that I don't overbook myself.
I would truly be 100% lost without my planner. As things come in, I have to write them down- bills due, pay days, projects due, school events, church events… they all go into the planner! Being a visual personal, this helps me to see exactly what I have coming up at a glance!
Not only does writing it down help, but I love to decorate my planner with washi tape, stickers, and more. Dayspring has a TON of cute supplies that you can check out here.
On days when my life feels hectic and overbooked, I pull out my planner, all my washi tape (yes I have a lot), my fun planner stickers and I plan.
I even plan in time for God because that is important too!
If you love this coffee mug, it's only $12.99 at Dayspring! Click here to order yourself one.
Spending just a little time with God can truly help you get through the day. I know for me, sometimes my days are so packed and busy that I say "I'll save doing that later" and before you know it, the day is over and I have not spent any time with God.
We pack our days so full that we don't have room to breathe, we also find that we don't have time for God. If you want to keep your home running smoothly and everything on the best track possible, you and I NEED to make time for God — no excuses.
For me, I wake up earlier than everyone else in my home so that I can have devotional and prayer time before the day begins, but for you — it might be ending the night that way.
That little bit of time can make a world of difference. Our schedules might not be any lighter, but our burdens can be — right?
Whatever you do, stop saying yes to everything. Start saying no so that you can carve out some time in your day for more important things — like Jesus and family 🙂
How do you say no? Do you use a planner to plan your week?