Awhile back Kayla and I were looking for a new recipe to make. We stumbled upon this one for Dr. Pepper Cookies. Of course we both squealed with delight, because Dr. Pepper is her all time favorite drink, and my hubby likes it too, so I was willing to make the cookies just for them.
Looking for more easy recipes? Check out my huge database of delicious, homemade goodies.
These cookies really are delicious and honestly, I am not a Dr. Pepper fan — and I loved these. They don't even have a really strong taste of Dr. Pepper, just a hint of it.
I will tell you that these cookies do harden after a while, so you will want to heat them in  the microwave to soften them again when you go to eat them.
If you have leftover batter laying around, then you can do like my daughter and pretty much just use the remaining batter to make one HUGE cookie for her daddy 🙂
Here's the recipe. Hope you enjoy it! 🙂 We did .
Dr. Pepper Cookies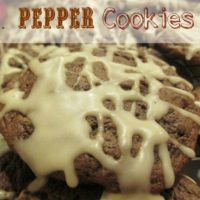 Ingredients
3/4 cup margarine
1/3 cup brown sugar, packed
1/8 tsp salt
1/4 cup Dr. Pepper soda
2-1/4 cups cake flour
1 cup semisweet chocolate chips
1 tsp vanilla
2 cups powdered sugar
2 tablespoons of Dr. Pepper Soda
Instructions
Preheat oven to 325 degrees F.
Cream margarine and sugar; beat until fluffy. Add flour and salt alternately with Dr. Pepper. Add vanilla, pecans and chocolate chips. Shape into balls, place on ungreased cookie sheets. Bake at 325 degrees for 30 minutes and the remove the cookies and allow them to cool.
To make the glaze, add 2 cups of powdered sugar and 1-2 tbsp Dr Pepper Soda and drizzle over cookies. You can also dunk them in the cookie.
What new cookies have you been making?