It won't be long before the weather starts getting warm and staying warm. When that happens, I always opt for a salad of some sort. For me, this Easy Fruit Salad pretty much hits the nail on the head when it comes to delicious and mouth watering flavors.
Easy Fruit Salad #15minutesuppers
Ingredients
1 15 ounce can of pineapple tidbits with juice
1 small can of mandarin oranges, drained
1 cup of grapes
1 pint of strawberries, sliced
1 granny smith apple, diced
2 bananas, sliced
1 large box of instant vanilla pudding mix
Instructions
Take the pineapple with the juice and place in a large mixing bowl. Add in all the other fruits as well.
Take the vanilla pudding mix and pour over the fruit. Mix together until well blended. Cover and place in the refrigerator until ready to serve.
This is such an easy salad to make. You can eat it as it is, or use it as a side dish one night for dinner.
What are some of your favorite salads?
Need more quick 15 minute recipe ideas? Check out these other great #15MinuteSuppers!
Follow 15 Minute Suppers on Facebook | Twitter | Instagram | Pinterest
and look for the #15MinuteSuppers hashtag too!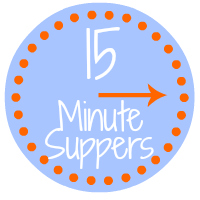 BLOGGERS: Would you like to join us at #15MinuteSuppers? We'd love to have you! Please check out the 15 Minute Suppers website or ask to join the Facebook group (for bloggers) to participate on Fridays…we'd love to have you join us.