This shop has been compensated by Collective Bias, Inc. and its advertiser. All opinions are mine alone #FreschettaFresh #CollectiveBias
New Year's Eve is right around the corner and this year, I am serving foods that are easy, fun, and equally delicious. In fact, we are making it a pizza party and serving Freschetta Naturally Rising Canadian Bacon and Pineapple pizza alongside my easy garlic knots with homemade pizza dipping sauce.
While I was out at Walmart picking up all our party supplies, I headed over the frozen foods section to see what I could find food wise for the party. The minute I came upon the frozen pizzas, the Freschetta canadian bacon and pineapple caught my eye. Then I remembered that there was an Ibotta coupon offer too, so I knew I was getting a great deal for my party.
Because Freschetta is undeniably the better choice when it comes to frozen pizzas, I picked up three to bring home for our party.
Honestly — I have never seen another brand include canadian bacon and pineapple on a pizza — which happens to be my all time favorite flavor of pizza when we eat out — so offering a pizza with unique ingredients sets this brand apart from the rest. It is freshness you can taste — that's for sure!
I love that the crust on this pizza rises naturally — thanks to the perfect blend of 3 grains that are kneaded and rollled together. It makes for the perfect pizza — and knowing that they use vine ripened tomatoes and 100% real provolone and mozzarella cheese — you couldn't ask for a better frozen pizza brand.
So let me tell you how to make my easy garlic knots
Now — when I serve pizza, I always like to have a type of bread stick and dipping sauce to go alongside. For me, these easy garlic knots are where it's at. They literally take minutes to prep and minutes to cook — and they taste amazing.
All you need is a can of 10 biscuits (the bigger size) and a few spices to make the garlic butter sauce — and in just a bit, you will have about 20 easy and delicious garlic knots.
Start by taking your can of biscuits and cutting them in half.
Now, take each half and roll it out like a snake until you get it long enough you can make a knot. Usually about 5-6 inches is all you need.
Now — to tie them is easy — just as if you were tying a knot in a string, you do the same thing with the dough. Pick it up and "tie" it. Then lay it on the tray and tuck the ends under.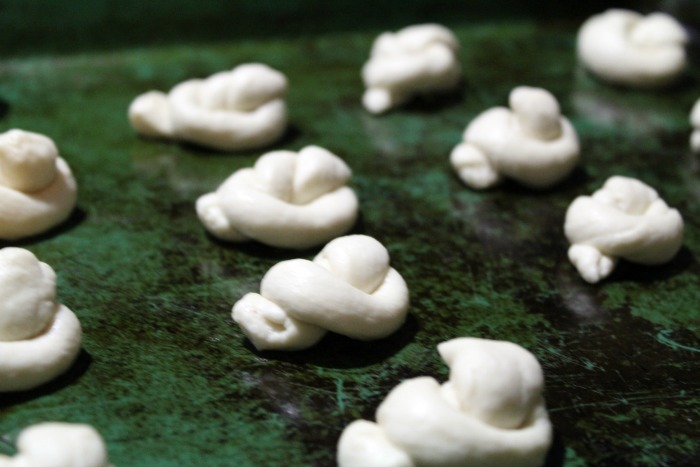 Now — let's make the garlic butter sauce.
You need —
1/4 cup unsalted butter, melted
2 tablespoons freshly grated Parmesan
3/4 teaspoon garlic powder
1/2 teaspoon dried oregano
1/2 teaspoon dried parsley flakes
1/4 teaspoon salt
Mix all of those together and slather on top of the garlic knots.
Then bake in a 400 degree oven for about 8-10 minutes or until they are golden brown. Then serve them alongside my easy marinara pizza sauce.
Easy Garlic Knots and Dipping Sauce - the perfect pairing with Freschetta Pizza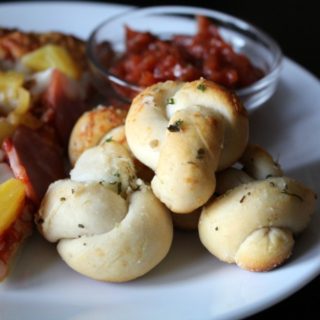 Ingredients
1/4 cup unsalted butter, melted
2 tablespoons freshly grated Parmesan
3/4 teaspoon garlic powder
1/2 teaspoon dried oregano Coupons
1/2 teaspoon dried parsley flakes
1/4 teaspoon salt
1 16-ounce tube refrigerated buttermilk biscuits
Instructions
Preheat oven to 400 degrees F. Lightly oil a baking sheet or coat with nonstick spray.
In a small bowl, whisk together butter, Parmesan, garlic powder, oregano, parsley and salt; set aside.
Halve each of the 8 biscuits, making 16 pieces. Roll each piece into a 5-inch rope, about 1/2-inch thick, and tie into a knot, tucking the ends.
Place knots onto the prepared baking sheet and brush each knot with half of the butter mixture. Place into oven and bake until golden brown, about 8-10 minutes.
Serve immediately, brushed with remaining butter mixture.
To make the pizza sauce you need —
8 ounces of tomato sauce
1 teaspoon of sugar or honey
½ teaspoon basil
¼ teaspoon of oregano
¼ teaspoon garlic powder
1 teaspoon onion powder
1 tablespoon of olive oil
Mix together and serve with your slices of pizza and garlic knots for the perfect New Year's Eve bash!
Be sure to grab your Ibotta coupon offer if you are going to purchase some Freschetta pizza. Cash back savings are always a win win in my book!