This weekend, I had my very first try of the Pioneer Woman's Egg in the Hole recipe. I am usually not an egg person per-say, but this recipe was DA BOMB!
Around here, breakfast is definitely an important meal of the day. My hubby loves meat and potatoes with every meal, while I prefer fruit or a breakfast burrito.
The bread on this Egg in the Hole is crusty and buttery, and the egg did not even taste like an egg at all. The juicy yellow was just scrumptious with each tantalizing bite!
You should try it. In fact, you should try it today! Enjoy!
Egg in the Hole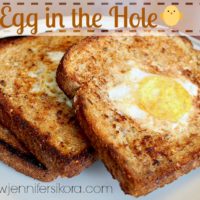 Ingredients
1 slice Of Your Favorite Kind Of Bread
1 Tablespoon Butter
1 whole Egg
Salt To Taste
Pepper To Taste
Instructions
With a biscuit cutter or the rim of a glass, press a hole in the center of the slice of bread.
Next, heat a skillet over medium-low heat and melt a Tablespoon of butter in it. When the butter is all spread out, place the piece of bread in the skillet and crack the egg straight into the center of hole.
Cook for at least 45 seconds or so before attempting to move the bread. If you don't, you will break the white and it will run.
Sprinkle the egg with salt and pepper to taste. After about a minute, flip it over with a spatula and salt and pepper the other side.
At this point, you can add another tablespoon of butter if needed. Allow the bread to soak it all in.
Let it cook until the yolk feels, to the touch, still soft without feeling over-jiggly. Here's the key: golden brown toast, white (not brown/burned) whites, soft unbroken yolk.
This is definitely one of those meals that you will want to eat time and time again.
What is your favorite go-to breakfast?