This shop has been compensated by Schwarzkopf. #CareWithKeratin #sponsored
As I write this, I am beginning to look at myself with new eyes. No longer am I a homeschool mom filled with days of schoolbooks and lesson plans. No longer am I this stay at home mom devoted to her children's welfare. No — I am in the second phase of my life — the empty nest phase. For a long time I struggled with what to do with myself. Every day when I got up and looked in the mirror, I felt confused. Who am I? What am I to do with my life? I am not going to lie. I felt . . . lost.
This feeling made for a lot of days of not knowing what to do with myself. I sat on the couch and binge watched countless hours of my favorite shows. I ate a lot of ice cream and popcorn.
But then, something in me clicked and I decided that I wanted more out of life than to just sit on the couch all day. So I decided to do something about it.
I wrote out a list of bucket list items for myself and my husband to accomplish. When I looked at the list, I realized a lot of what was on it was travel related.
During those trips, it was then that I found myself. One day, standing on the beach with my toes in the sand and my face turned up to the sun, I decided to reinvent myself. That is how I started this journey of my newly named site — Jen Around the World — and turned my blog into a food and travel blog.
I write a lot about my travels and about how I am not afraid to go somewhere by myself. It is empowering to know that I can go anywhere I want to in the world and enjoy myself without the fear of the unknown. It is exciting to just be.
Another thing that can make a woman feel empowered? Her hair. Yes — a woman who has fantastic hair can conquer anything.
That's why I love Schwarzkopf Keratin Color and the Dress for Success® initiative. There is just something about a woman whose hair color makes her feel like she can rule the world.
In fact, my hair was looking quite dull and the grays were really starting to pop out. I'm not gonna lie. It was looking a bit frumpy.
But, after getting the gumption to make some changes in my life with my eating, the way I dress, and learning to style my hair — I started to feel like the successful person I know I am.
How to Enjoy the Second Phase of Your Life
#1 Update your hairstyle
This includes cut, color, and style. Seriously — don't go with the same old, same old. Do something different.
Choose a cut that makes you look and feel your best.
And don't forget to grab your favorite shade of Schwarzkopf Keratin Color which you can find at Walmart in the hair color aisle. It offers professional quality hair color at home that offers flattering colors while caring for the hair.
I decided to go for the Red Velvet Brown color as I knew from looking at the back of the box that it would be a shade darker than my color now. I wanted a deeper red that was full of shine. You know what they say about redheads right?
Following the directions are simple and easy — it's a 4 step process.
Start by putting the pre treatment on your ends to make sure you get all over even coverage.
Then, mix together the 2nd step — 2a and 2b. Using the gloves so you don't die your hands, put it all over your hair and massage in.
Then wait 30 minutes and wash out just like you would if you were shampooing.
Once you rinse out the color, you just condition it and then style it as usual. What's left behind is a beautiful color, a woman who feels successful and a personality to match.
#2 Choose a New Outfit
Pick an outfit that makes you look and feel like a woman — not a housewife, not a momma, not a frumpy middle aged woman. Pick one that flatters your body.
#3 A New Pair of Sexy Shoes
Seriously every woman needs a pair of shoes that makes her feel like she can kick butt and take names. I found these the other day when I was out shopping and while they cost more than I normally pay for them, when I slip them on, I feel like a brand new woman.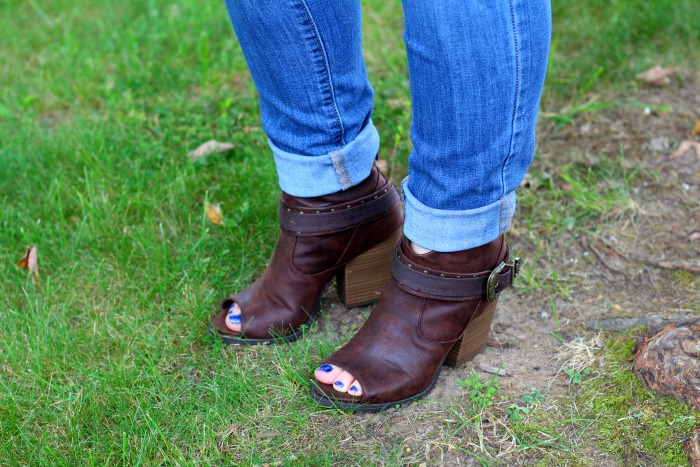 About Dress for Success
Dress for Success Worldwide empowers women by providing them with the tools they need to achieve economic independence. Through education and mentoring, they're making a difference in your community and across the globe. Over one million women have been served by this international organization and its programs. This partnership empowers women looking for upward mobility to revitalize women's hair and clothing options so they can be as successful as they look.
I absolutely love how my hair turned out. The grays are gone and the shine and luster left behind is simply amazing. My hair has never felt softer.
You can find the perfect color shade for you here. And — if you want to make your hair shine even more, grab a rebate here to try any of the other products for free.
Don't let the second phase of your life go by in a blur. Grab life by the horns and determine to do something with your life — something that YOU love — something that you decided — not someone who decided for you. What is it that you love to do more than anything else? Do it!
Where are you at in life? I would love to hear how you are reinventing yourself. Tell me in the comments below.