I am part of the Dayspring Affiliates team and I received the Faith Over Fear Bible Journaling Kit in exchange for writing this review. Affilliate links also included which means I earn a little bit of money if you use my links to purchase.
Ever since I joined the team of Bible Journaling ladies for Dayspring.com, I have found my artistic side. Seriously — I love sitting down with my journaling Bible that I got from Dayspring last year and letting each new kit speak to me before I do any type of journaling.
The newest kit — Faith Over Fear — really got me this month while I was looking through all the cut outs. When I ran across the saying "Create in Me a Clean Heart", I felt the Lord tell me to stop and ponder on this verse in the Bible.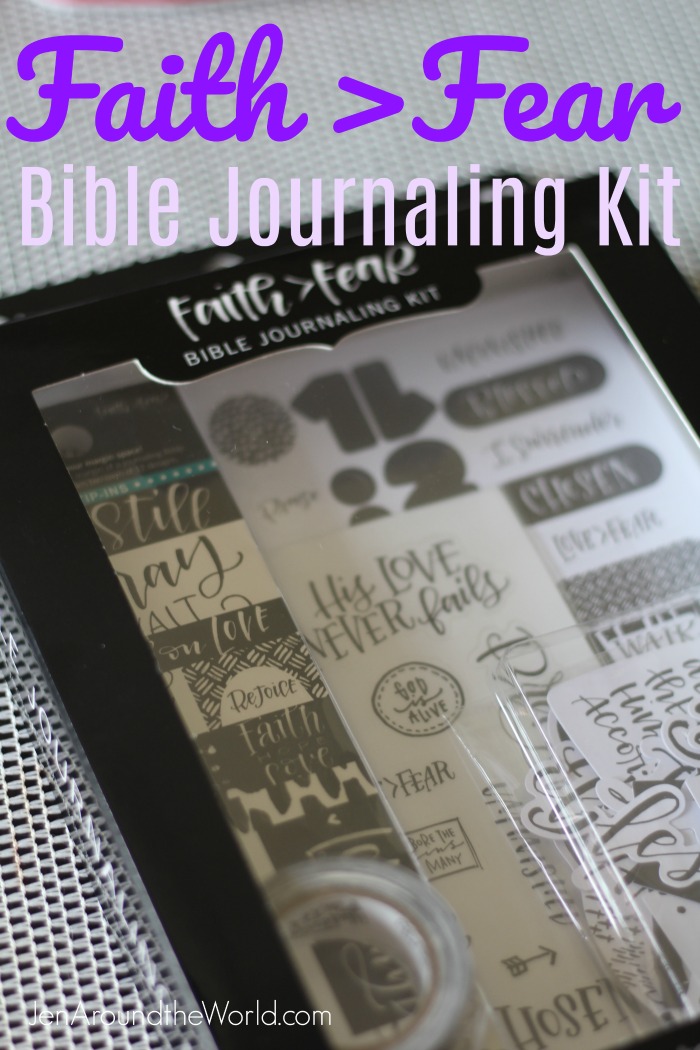 If you are not sure about this Bible verse, it says —
Create in me a clean heart, O God, And renew a steadfast spirit within me. Psalm 51:10

This verse has been a life verse of mine ever since I gave my heart to the Lord back in September of 1999. This month is my 18th birthday with Jesus and I could not think of a better verse to ponder on than this one.
Faith Over Fear Bible Journaling Kit
The Faith Over Fear Bible Journaling Kit is 1 of 3 new kits that just came out at Dayspring.
Faith Over Fear
Gratitude Documented
Advent
Each kit comes with the normal components of a Bible Journaling Kit, but just a few more of each.
The washi tape in this kit is so neat. I love all the words around — Forgive, pray, trust.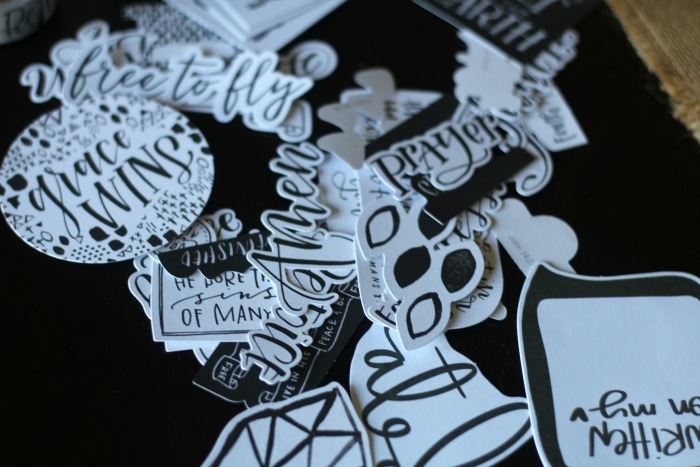 Items in kit:

3 cardstock sticker sheets, 136 stickers
1 clear sticker sheet, 19 stickers
35 die-cut pieces
1 roll washi tape, 36′
1 tip-ins booklet, 24 pages – 12 designs
My Process for This Kit
I started watching Hello Jillsky and her process videos for creating and I have learned SO much about Bible Journaling.
For one — I have two separate bibles — one for reading and then one for my Bible Journaling. This has freed me up to really be creative.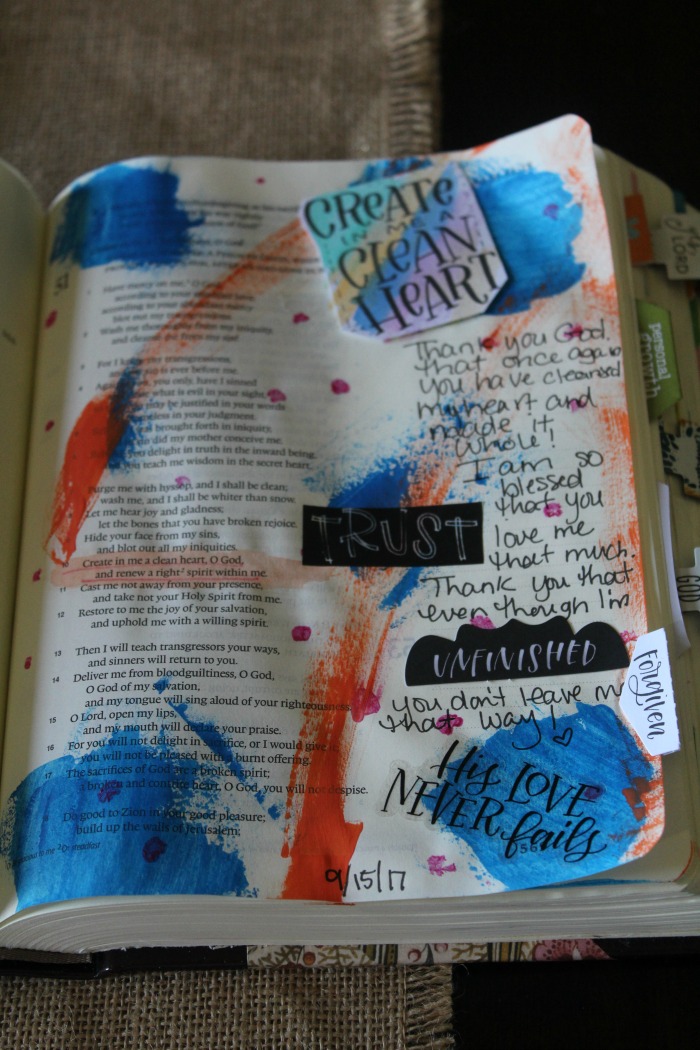 I am not worried so much anymore of the words get covered. I am focused on that one verse and making my journaling reflect my heart as I create.
For this page, I started by using my new Illustrated Faith Paints I got when they were on sale for $10. I've never used these before but Jillsky shows how she uses them with her technique of a credit card and let me just tell you — it is SO fun!
You just kind of smear it wherever. It is so freeing and empowering 🙂
Another thing I learned is that water color paints are your friend — especially for this kit. Since everything is black and white, you can pretty much color anything you want. Which is what I did to the tip in I cut up and pasted on the page.
The other thing I love is making sure to have the correct pens so that you can write on the pages. Make sure to put your Bible Mat underneath the page so nothing leaks through.
Don't forget the stickers – you can place in the middle of your writing — which really adds for the perfect Bible Journaling effect.
These kits are always so fun and really make for an amazing time of spending time with God and being creative. Check out the list below of all the supplies I used in this post.
I hope that if you decide to start Bible Journaling, you will give yourself permission to be as creative as you want!!