This shop has been compensated by Collective Bias, Inc. and its advertiser, Walmart Family Mobile. All opinions are mine alone. #DataAndAMovie #CollectiveBias
This summer, I decided that I was going to do a few things different instead of being stuck inside on the computer like normal. My daughter graduated school this year and this is her last summer for a while to really enjoy herself, so we decided to kick things up a notch. Being the end of the school year and the beginning of summer means that there is a lot of fun stuff in store for us!
The beginning of summer at our house is a time where we relish in ALL the fun things we love to do — fishing, swimming, going to the drive in and more. BUT — this year, instead of going to the drive in, I am bringing the movie time outside for an outdoor movie theater night!
We are a movie loving family — action, adventure, comedy, drama –we love it all so for the movies, we chose some of our family favorites to watch.
Since the guys were out having a guy night, the daughter and I made some of our favorite snacks and headed to the  back porch to watch a movie while we were enjoying dinner and our treats.
This is great bonding time for us and it is also a way for my daughter to reflect on her last year of high school and just take into account all that she has accomplished for the year (and she got accepted into the Rocky Mountain College of Arts and Design for the Spring 2017 semester!)
Watching movies together outside on our television with snacks and drinks makes for a fun drive in like environment right in our own backyard!
Of course, this night would not have been possible without the Walmart Family Mobile Plus plan. Let me tell you what I found out. . .
Soooooo. . .
We have been playing around with the idea of dropping our current cell phone provider because the price is just way too high. So, while I was at Walmart getting some groceries, I decided to pop over and check out the
Walmart Family Mobile plans
.
With the Walmart Family Mobile PLUS plan — I can totally save and it not break the bank. Compared to what I pay now — it is a BIG difference and worth me checking out. My current provider has me paying around $350 a month for the exact same plan for 5 lines of service.
Yes — I bought a phone and a Starter Kit to get me going. I am definitely going to give it a try. AND –our plan features Unlimited Talk, Text, & Data which includes up to 10GB of 4G LTE data PLUS a free movie on VUDU (new release rental $7 value) every month, per line for $49.88, so our movies are totally covered!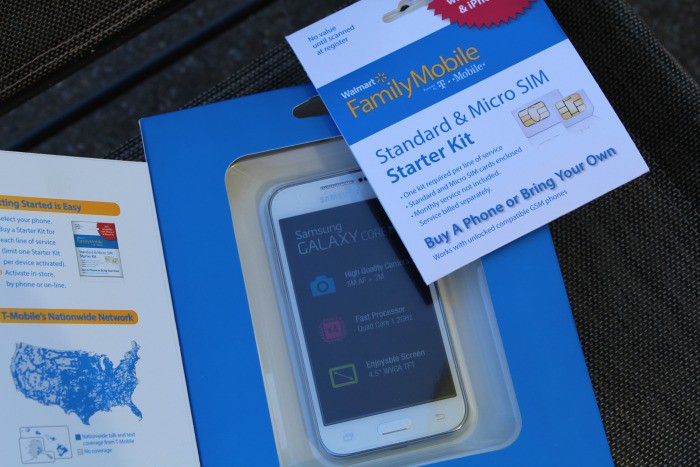 How to Set Up an Outdoor Movie Theater
To set up an outdoor movie theater, all you really need is a television. As light as they are today, you can simply just pack it right outdoors and set it on a step or a table and voila! Instant outdoor movie theater.
Then just add in a smart device like an Apple box or a Roku tv, and your Walmart Family Mobile PLUS Plan — and you can watch ALL the movies you want.
Of course, every single movie night requires the right snacks. Our favorites are popcorn, chips and salsa, salted pretzels and a refreshing blackberry mint spritzer mocktail!
I chose to get the Samsung Galaxy Core Prime and I love it. It's only $79.92 at Walmart (on Rollback from $99.92.) Before this, I have always been an iphone user, but I am quickly beginning to love these phones that Walmart Family Mobile PLUS offers.
You will also need to purchase the Starter Kit for Walmart Family Mobile, which for the first time ever is on rollback for $19.88 (from $25.) Since Family Mobile bills you later, you only have to pay $19.88 when you sign up. It's a great deal for Unlimited anything you need which for us is amazing!
All prices for phones and plans included in this post are accurate as of the date of posting; however, these prices are subject to change. Please refer to this page or your local Walmart store (in the Entertainment/Electronics section) for current pricing.
I hope showing you how to make a fun outside movie night for you and your family helps you set up your own fun Family Movie Night with Walmart Family Mobile and your free VUDU movies!