If you know anything about me at all, you know how much I love to shop. I recently put together an adorable outfit and everything from the shoes to the jewelry cost me less than $10. Because of that easy shopping trip, I decided to share my tips with you on how you too can put together cute outfits like this one.
Let's start with the jewelry that I have on.
Jewelry
Anytime you want to style up a piece of clothing you are wearing, go for something simple like silver. You can purchase beautiful necklace and earring sets for super cheap at thrift stores, clearance racks, and more. The set that I have on I got from Kohl's on their clearance rack.
It came with earrings and a bracelet and was marked down to $3. Total score for me because I wear this set with everything.
Shoes
Now — I love shoes, especially heels. Anytime I can find a bargain I snatch it up. I got these gorgeous sandals/heels/flip flops at a yard sale for only$1!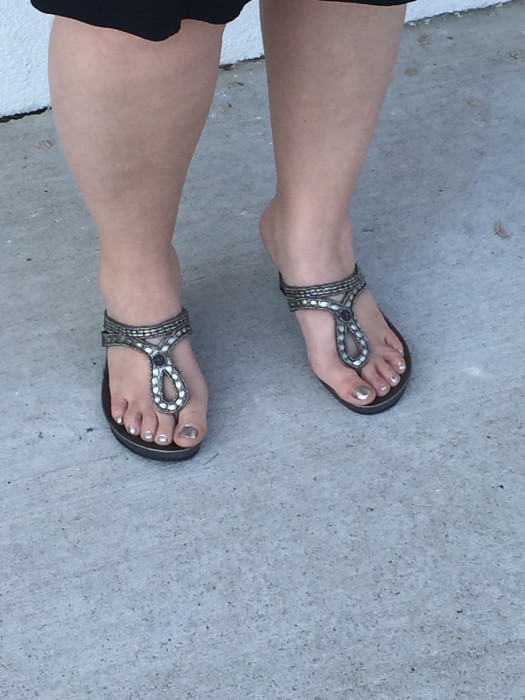 They have little silver studs on them and they practically go with just about anything I put on.
Blouse/Sparkly Shirt
My shirt I picked up one day when I was shopping with my friend at the Goodwill store. I got it on the mark down rack for $2. It is form fitting in the places it needs to be, but then it has flowy arms and is sparkly which makes it the perfect choice for me.
Black Skirt
The black skirt that I have on in this picture is definitely one of my favorite finds. I picked it up at a yard sale for only 25 cents! I pair it with everything from a casual t-shirt and flip flops, or dressing it up a bit like I did in this picture, and then — you can go so far as to really bling it out to wear out on the town for a more formal occasion.
Putting together this simple outfit costs me a total of $6.25 and it looks like I shopped for hours at a department store.
My secret to creating gorgeous outfits like this one is shop your thrift stores, scour the clearance racks, and hit up those garage sales!